World Routes 2018 - three days in one video
Watch three action-packed days of meetings, conference talks, exhibitions and entertainment distilled down into three minutes.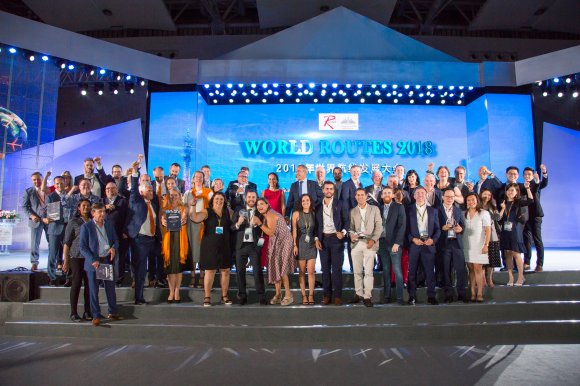 Relive World Routes 2018 with our highlights video. Our videographers were on hand to capture everything that happened at the event, and we've compiled all the best bits into one short video. Watch it and see if you can spot yourself!
Next year, the route development community will be heading to Adelaide in Southern Australia, where our hosts the South Australian Tourism Commission, Tourism Australia and Adelaide Airport promise delegates an unforgettable time in their beautiful and vibrant city.
Register now for World Routes 2019
Hear why our delegates will be returning to World Routes next year
"Our team heard business cases from over 75 airports and destinations at World Routes 2018. It is an unmissable opportunity for us to meet and negotiate with our industry partners. World Routes is a fixed event in our calendar – see you in Adelaide!"

Gabriel Schmilovich
Director Network Strategy, Development & Planning
Vueling

"The event was well organised and very professionally presented. I learned a lot from the meetings I had, particularly from the Chinese airport management companies. "

David Smith
Head of Long Haul
British Airways
"This is a must attend event. I enjoyed meeting people from different disciplines across the aviation industry. I made a lot of contacts and have already started to work on some business matters."

El Mostafa Zaouli
Network Planning & Scheduling
Royal Air Maroc

"World Routes gives Birmingham a great platform to showcase just what our airport and the wider region has to offer. Having so many airlines in one place is a brilliantly cost effective way to catch up with both existing partners and partners of the future."

Tom Screen
Acting Aviation Director
Birmingham Airport
"By exhibiting at World Routes, we at Copenhagen Airport believe that we can achieve excellent exposure to the major players and senior leaders in the industry. As a mid-sized airport, we have to fight for our position and a strong visibility at World Routes helps us to do just that."

Simon Nathan
Senior Manager, Commercial Strategy and Route Development
Copenhagen Airports A/S
"World Routes is the place to be to catch up with the airline industry. Amsterdam Airport Schiphol has over 60 airline meetings and 35 airport meetings in the space of three days. No wonder that Amsterdam has attended all the Routes events since it all started way back in 1995."

Wilco Sweijen
Director Route & Business Development
Amsterdam Airport Schiphol