Interview: what Quito did next
Since hosting Routes Americas 2018, Quito's Mariscal Sucre Airport has increased its international links and continued a $90m expansion and improvement plan. Andrew O'Brian, president and chief executive of Corporación Quiport, explains why Ecuador has become a "hot destination".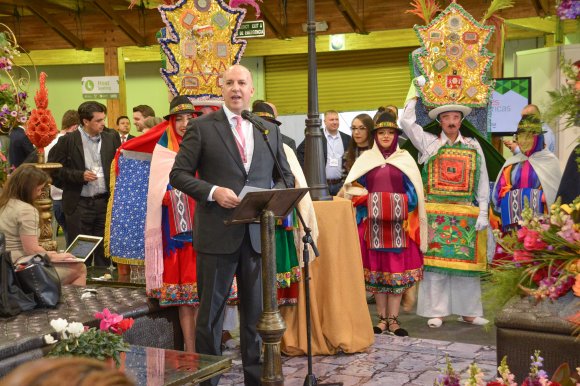 "We really believe in Europe," Andrew O'Brian told Routesonline on the opening morning of Routes Americas 2018 last February.
Speaking as more than 600 delegates gathered in Quito for the annual three-day route development forum, the president and chief executive of Corporación Quiport stressed that securing new air services to Europe were among its key priorities.
Now, less than eight months on, and Ecuador's capital city Quito is set to gain access to a third European capital in 2019. From 14 May, Air France subsidiary Joon is to operate a three-weekly service from Paris Charles de Gaulle.
The route is in addition to KLM's daily flight between Quito - Guayaquil and Amsterdam-Schiphol, plus Iberia and Air Europa's links to Madrid.
"The new Joon by Air France service is very important, not just because Paris is a very interesting market for Quito given the tourism potential in both directions, but because the connection with Charles de Gaulle Airport opens wide connectivity options in Europe, Asia and Africa," says O'Brian.
"We believe that with the start of operations of Joon by Air France, the airport's connectivity network is guaranteed in the short- and medium-term, with four airlines serving the European market and offering significant seat availability."
Since the turn of the year, Quito has been successful in attracting a number of service additions.
As well as Europa's flights from Madrid to Guayaquil and Quito, AeroMexico has further increased service on its Mexico City – Quito and Brazil's GOL is to start a three-weekly service from São Paulo in December 2018. The latter route came after talks made a "decisive breakthrough" during Routes Americas 2018.
O'Brian said Ecuador's tourism offer is a huge plus point in helping to attract airlines, but this was largely thanks to the "major strategic efforts" by local and national authorities.
However, he added: "Eliminating the need for the Schengen visa for Ecuadorians would be a big step towards boosting traffic and this could lead to further services."
Joon's impending arrival in Quito comes as the city's Mariscal Sucre Airport continues to be upgraded and expanded as part of a three-year $90m investment.
Corporación Quiport, the concessionaire of Quito's airport services, has already increased cargo capacity this year with the construction of one additional aircraft parking spot and expanded the apron parking area for ground service equipment.
Other improvements include extending the passenger terminal by 18 percent, with a 3,200 sq m increase to the departures area; as well as the introduction of a concourse area to facilitate connections of in-transit passengers.
By 2020, the departures hall and arrivals area are also set to be reconfigured.
Looking ahead, O'Brian said Quito is targeting "several" important South American cities where it does not yet offer a direct service, as well as working to increase capacity at some hubs across the Americas, including North America.
"We are also working hard to attract low-cost airlines which stimulate the market and may further boost traffic growth given their capacity to offer more accessible prices to the market and make those potential customers who don't fly, fly and those who do fly, fly more," he added.
"Routes Americas 2018 was a great platform to showcase Quito and Quiport as the administrator and operator of the city's airport.
"The success of the event definitely helped us to better position ourselves and is contributing to the increasing supply of air services in our city."
The 12th Routes Americas will take place in Québec City, Canada and is your opportunity to meet with senior decision makers from the region's airlines, airports and destinations to discuss new market opportunities and the evolution of existing services. Register your place.