New South America route among JetBlue's sweeping network changes
JetBlue is making a series of changes to its network, including the launch of five new services and the addition of a destination in South America. But the low-cost airline is also cutting routes in some markets and ending operations from three airports.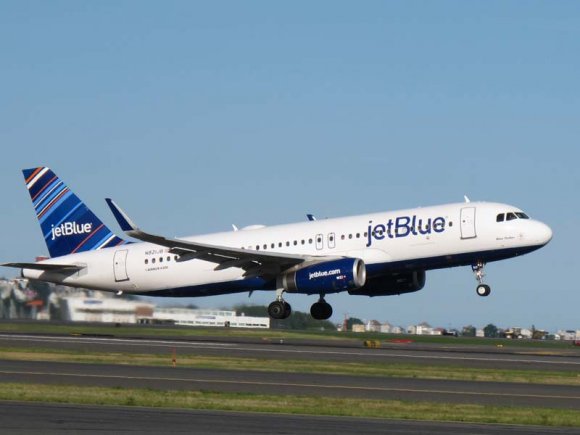 US low-cost carrier JetBlue has unveiled a series of network changes, including reducing flights in some existing markets and eliminating service in others, as it focuses on more profitable routes.
From 8 January 2019, the airline will end flying from Washington Dulles International, Henry E. Rohlsen in St. Croix and Daytona Beach, Florida.
The services affected are:
Daytona Beach International Airport (DAB): once daily New York-JFK service
St. Croix's Henry E. Rohlsen (STX): once daily San Juan service
Washington Dulles (IAD): daily New York-JFK and Boston service
JetBlue is also scaling back flying on a number of other underperforming routes and frequencies in January. The weekly routes being eliminated include:
Fort Lauderdale to Baltimore, Detroit, Long Beach and Pittsburgh
Orlando to Baltimore
San Juan in Puerto Rico to Santiago, Dominican Republic
In Mexico City, the airline will reduce twice daily service from both Fort Lauderdale and Orlando International Airport (MCO) to once daily between each Florida focus city and the Mexican capital in the first quarter of 2019.
At the Portland International Jetport (PWM) in Maine, JetBlue will transition from year-round daily service to daily summer seasonal service. The final day of current service levels will be 7 January 2019. Service will then resume on a summer seasonal schedule starting in spring 2019.
"We constantly review network performance and make adjustments to support our focus city strategy, which is about building up our key markets to be stronger and even more relevant to local travellers," said Joanna Geraghty, president, JetBlue.
"In total, these changes are forecast to generate a substantial improvement in annual profit and strengthen our business as a whole, while allowing us to invest in our growth and our industry-leading customer experience."
However, a series of new services are being launched in 2019, including a route to Guayaquil in Ecuador with flights from Fort Lauderdale-Hollywood. Service will operate daily using Airbus A320 aircraft and is expected to start in the first quarter of 2019.
Guayaquil becomes the second JetBlue city in Ecuador after launching Quito in 2016 and its sixth city in South America overall.
"I believe that the connectivity between Guayaquil and the United States is growing every year," said Ángel Cordova, CEO of Guayaquil Airport.
"Adding this new JetBlue operation into the market will give the passengers additional options to get to the country and also gives more United States passengers the opportunity to get to know the beauties of Ecuador."
JetBlue will also introduce four new routes to the airline's network starting this winter. They are: Boston - Greater Rochester International; Fort Lauderdale to Phoenix Sky Harbor and St. Maarten's Princess Juliana International; and Providence's T. F. Green International - Palm Beach International.
In addition to the new nonstop JetBlue markets being introduced, the airline will also increase flights on nearly two dozen other routes.
In Boston, the airline will boost flights on nine existing routes, while in Fort Lauderdale it will increase frequencies on two. Service on eight routes to/from New York JFK will also be increased.