WestJet confirms Calgary as home to initial Dreamliner hub
Canada's WestJet is to launch its first three Boeing 787-9 Dreamliner international destinations from Calgary, Alberta.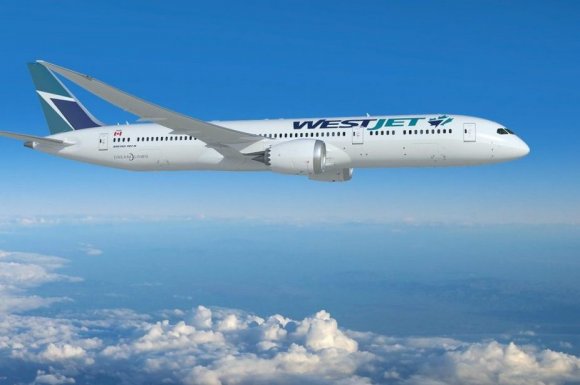 WestJet is to operate three routes on its new 787-9s from Calgary to London Gatwick, Paris Charles de Gaulle and Dublin from 28 April, 17 May and 1 June respectively.
"WestJet is investing in Alberta to bring further economic growth, boost tourism to the province, and to further position our city as an international aviation hub," said Ed Sims, WestJet president and chief executive.
It is expected that the three new flights from the UK and Western Europe will bring up to 185,000 visitors to Calgary on a yearly basis.
The first of ten Boeing 787-9 Dreamliners ordered by WestJet will arrive in Calgary early in 2019, with two more arriving by April. The aircraft will operate on domestic flights for crew training and regulatory compliance before the first scheduled international flight in April.
WestJet also has options for an additional ten aircraft to arrive between 2020 and 2024. Hub locations and routes for the remaining seven aircraft have not yet been announced.
WestJet's Dreamliners will carry 320 guests in a three-class cabin configuration including the airline's newly revealed Business cabin featuring 16 private pods with lie-flat seats, an upscale Premium cabin and an updated Economy cabin.
The Dreamliner route from Calgary to London Gatwick will replace the Boeing 767 service that currently operates the route from Calgary.
WestJet is Calgary's largest airline, and by June 2019, will offer flights to 65 non-stop destinations with an average of 1,100 flights per week.
Bob Sartor, president and chief executive of YYC Calgary Airport Authority, said: "Calgarians now have more choices when travelling abroad thanks to WestJet's major investment at our airport and in our city.
"These new jets will drive further growth in our international terminal, allowing us to expand our retail and food and beverage offerings. They will also bring more tourism and business travellers to our great city and region."
According to OAG Schedules Analyser, Calgary is currently connected to three cities in Europe. Air Canada operates a daily service to Frankfurt and London Heathrow, while British Airways also serves Calgary - Heathrow daily.
Air Transat and WestJet have a once-weekly and three-weekly service to London Gatwick respectively and KLM operates a daily service to Amsterdam.
Details of WestJet's new non-stop Dreamliner service:
| | | | | |
| --- | --- | --- | --- | --- |
| Route | Frequency | Departing | Arriving | Effective |
| Calgary – London Gatwick | Daily | 7:20pm | 11:00am +1 | 28 April 2019 |
| London Gatwick – Calgary | Daily | 1:30pm | 3:40pm | 29 April 2019 |
| Calgary – Paris | Four times weekly | 7:20pm | 12:10pm +1 | 17 May 2019 |
| Paris – Calgary | Four times weekly | 2:10pm | 3:30pm | 18 May 2019 |
| Calgary – Dublin | Three times weekly | 8:45pm | 11:38am +1 | 1 June 2019 |
| Dublin– Calgary | Three times weekly | 1:45pm | 3:05pm | 2 June 2019 |