Bulletin board: aviation industry news round-up
This week: Small Planet Airlines to restructure; Norwegian's latest financials, fuel costs weigh heavy for JetBlue; Vistara secures cash injection; Q3 Boeing deliveries and more.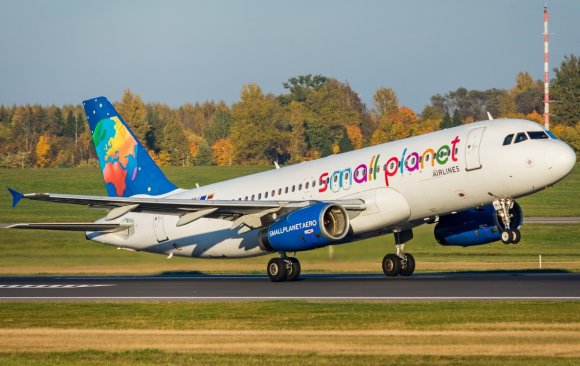 A round-up of the latest news from the aviation industry this week.
Small Planet Airlines to restructure Lithuanian arm
Leisure carrier Small Planet Airlines announced that its Lithuanian business, Small Planet Airlines UAB, has filed for restructuring under Lithuanian law.
The move follows similar restructuring proceedings at its German and Polish businesses.
In a statement, Small Planet Airlines said its Lithuanian arm was expected to make an operating profit of €3.4m in 2018, but it has been exposed to the debts of the Polish and German companies.
"Small Planet Airlines in Poland and Germany were loss-making companies, whereas Small Planet Airlines Lithuania continued to operate successfully this year," said Small Planet Airlines Lithuania chief executive Kristijonas Kaikaris.
"However, the debts accumulated due to the situation in Germany and Poland will be greater than profit.
"For the restructuring to be successful in Germany and Poland, finding a new investor is vital, whereas Lithuanian company can survive without it.
"However, we are leaving this option on the table and having talks with potential investors since additional financial injection would allow Small Planet Airlines Lithuania to go through the restructuring easier and faster."
Kjos says Norwegian enjoyed a "solid" quarter
Norwegian's has reported a rise in net profit for the third quarter of the year to 1.3 billion Norwegian kroner ($156m), compared with 1.11 billion a year earlier. Total revenue increased by 33 percent to 13.4 billion kroner.
The low-cost airline said it carried 10.9 million passengers during the quarter, compared with 9.8 million for the same quarter last year.
Total operating expenses, excluding leasing and depreciation, increased by 45 percent to NOK 10 billion kroner, up from 6.9 billion kroner a year ago, mainly because of a 33 percent rise in fuel prices.
Chief executive Bjørn Kjos describe the quarter as "solid" but said tough competition, high oil prices and a strong dollar means the carrier plans to further streamline operations and reduce costs.
Fuel costs weigh heavy for JetBlue
Rising fuel costs have hit US low-cost carrier JetBlue's bottom line. The airline said earnings fell to $0.43 per share from $0.55 in the year-ago quarter. The figure excluded $112m in one-time costs related to its E190 fleet transition and a recently signed pilot contract
"Our financial performance was impacted by fuel prices that increased approximately 37% year over year," said president and chief operating officer Joanna Geraghty.
"In the short term, we are focused on improving our earnings, particularly in the areas we can control, and have a plan to improve margins in 2019, and again in 2020. We are taking actions to recapture higher fuel costs through price – both with fare increases over recent months and through higher ancillary revenue initiatives."
Capacity is expected to increase between 7.5 percent and 9.5 percent year-on-year in the fourth quarter of 2018.
Gatwick outlines proposals to use emergency runway
London's Gatwick Airport has published a draft masterplan to bring more than 100,000 additional flights a year by 2032. The 15-year plan includes routine use of its existing standby runway.
Under its current planning agreement, Gatwick's existing standby runway is only used when the main runway is closed for maintenance or emergencies.
However, a 40-year planning agreement will come to an end in 2019. The draft master plan sets out how Gatwick could potentially bring its existing standby runway into use for departing flights, alongside its main runway, by the mid-2020s.
Air Canada increases North Carolina service
Air Canada is enhancing services to North Carolina beginning next spring, including with the launch of a non-stop daily flight between Montreal and Raleigh.
The airline will also deploy larger aircraft on flights between Toronto and Raleigh and Charlotte to increase capacity on these routes and introduce Business Class service.
The daily Montreal-Raleigh service begins 3 June 2019 using a 50-seat Canadair Regional Jet (CRJ). From Toronto, starting 1 May 2019, three-times daily flights to Raleigh and twice-daily service to Charlotte will be upgauged to a 76-seat, Embraer E175 from a CRJ.
"While always a popular leisure destination, North Carolina is also experiencing strong economic growth and Air Canada is making it more convenient and comfortable for customers to travel between Canada and the state," said Mark Galardo, vice president, network planning at Air Canada.
Record quarter for Hawaiian Airlines
Hawaiian Airlines carried more than three million passengers across its network during the third quarter of 2018, a record for the period.
The increase helped third quarter profit rise to $93.5m, up almost 31 percent from the $71.6m a year ago. President and chief executive Peter Ingram described it as an "eventful" quarter.
He said: "Through back-to-back hurricanes in Hawai'i and a typhoon in Japan, my colleagues minimised disruptions to operations, kept our guests safe, and supported community relief efforts all while delivering our authentic Hawaiian hospitality that is unmatched in the industry."
Vistara secures cash injection
Tata Sons and Singapore Airlines have invested Rs20 billion ($273m) into Indian carrier Vistara. The cash boost will help the airline to finance its $3.1bn aircraft order.
New Delhi-based Vistara plans to induct 56 aircraft between 2019 and 2023.
It has placed a firm order for 13 Airbus A320neos and six Boeing 787-9s. A further 37 A320neos will also be taken on lease.
Revenues flat at Boeing Commercial Airplanes
Boeing Commercial Airplanes has reported largely unchanged revenues of $15.3bn for the third quarter of the year.
It delivered 190 aircraft during the period, including 57 737 MAX airplanes. The company added the 777X programme remains on track for delivery in 2020.
Boeing Commercial Airplanes booked 171 net orders during the quarter, valued at $13bn. The 787 programme alone has captured more than 100 orders so far in 2018.
| | | |
| --- | --- | --- |
| Aircraft | Three months to 30 September 2018 | Three months to 30 September 2017 |
| 737 | 138 | 145 |
| 747 | 2 | 4 |
| 767 | 4 | 2 |
| 777 | 12 | 16 |
| 787 | 34 | 35 |
| Total | 190 | 202 |