Mexican voters opt to scrap $13bn new airport
Construction of a new $13bn international airport for Mexico City looks set to be scrapped following a four-day public referendum.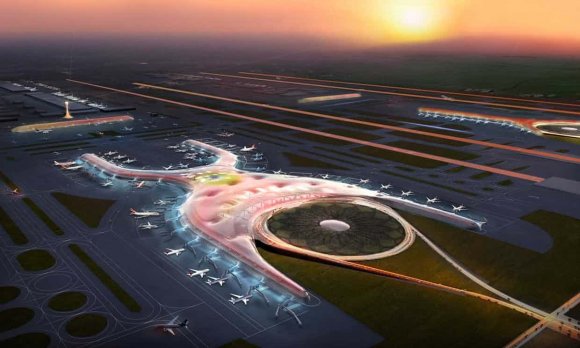 Construction of a new $13bn international airport for Mexico City looks set to be cancelled despite the huge infrastructure project being about one third completed.
About one million people voted in a referendum, which consulted on whether to continue the construction of a new airport at Texcoco or else renovate the existing Benito Juárez International Airport and add two runways to a military base at Santa Lucía, about 50 km north of the capital.
The Arturo Rosenblueth Foundation, a non-profit institution responsible for counting the votes, said that 747,000 votes were for the Santa Lucía option, and 310,463 to continue with the Texcoco scheme.
However, the extremely low turnout represented less than 1 percent of Mexico's electorate. Opposition parties said that the vote did not follow the proper rules.
The four-day public consultation was launched by President-elect Andrés Manuel López Obrador, commonly referred to by his initials AMLO, who takes up office on 1 December 2018. He has argued that the new airport was tainted by corruption and would be a financial burden for the country.
Although the result of the referendum is not legally binding, AMLO has stressed that he would abide by the results of the vote. The new airport has been under construction on the drained bed of Lake Texcoco, located east of Mexico City, since 2015.
A report from the International Air Transport Association (IATA), published in April 2018, claimed that if the new airport is not built, it could mean 20 million fewer passengers per year by 2035.
This translates into a negative impact of up to $20bn in future GDP contribution, the report added, and up to 200,000 fewer jobs in Mexico supported by aviation in 2035.
"The current airport is bursting at the seams. It serves 47 million passengers, almost 50 percent over its design capacity of 32 million," said Peter Cerda, IATA's regional vice president for the Americas.
"A new airport is vital to enable Mexico City to benefit more fully from its ideal geographic position linking North America and Latin America."
Aviation already supports one million jobs and 2.9 percent of GDP in Mexico, including the economic contribution of foreign tourists arriving by air.
According to figures provided by Sabre Market Intelligence, Benito Juárez International handled 45.8 million passengers in 2017, up from 42.8 million during the previous 12 months. During the first six months of 2018, the figure was 23.4 million passengers, a rise of 5 percent on the first half of 2017.
The airport is the largest in Mexico based on departing capacity, OAG Schedules Analyser figures show, accounting for 31 percent of one-way domestic capacity and 36 percent of international departure seats in 2018. In total about 29.4 million departure seats are on offer this year.