Icelandair agrees to buy rival WOW
Icelandair has agreed to buy Skúli Mogensen's low-cost rival WOW air in an all share deal.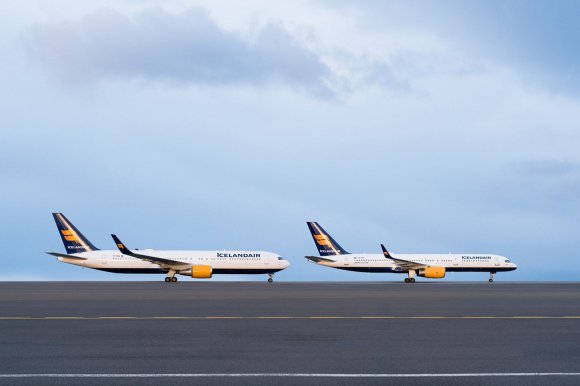 Iceland's flag carrier Icelandair has agreed to buy low-cost rival WOW air in an all share deal.
The acquisition, which is subject to shareholder approval, will give Wow's shareholders the equivalent of 5.4 percent of the group's shares once the transaction completes.
The airlines will continue to operate under separate brands.
"WOW air has in recent years built a strong brand and enjoyed great success in the company's markets to and from Iceland and across the Atlantic," said Bogi Nils Bogason, interim president and chief executive of Icelandair.
"There are many opportunities for synergies with the two companies but they will continue to operate under their own brands and operating approvals.
"The tourism industry is one of the cornerstones of the Icelandic economy and it is important that flights to and from Iceland will remain frequent."
The combined business' market share on transatlantic routes is about 3.8 percent. Icelandair said the deal creates opportunity for both companies to "become even better prepared" to provide international carriers with strong competition in the international airline market.
Skúli Mogensen, chief executive and founder of WOW air, said: "I am very proud of the success and development that we at WOW Air have enjoyed in the past few years and I am thankful for the response we have received since our very first flight. We have created a strong team that has reached remarkable success and has been a pioneer in low-cost flights across the North Atlantic.
"A new chapter now starts where WOW air gets an opportunity to grow and prosper with a strong backer like Icelandair Group that will strengthen the foundations of the company and strengthen its international competitiveness even further."
Prior to the proposed acquisition WOW had hoped to raise between $200m and $300m through an initial public offering.
WOW has grown rapidly in recent years by pursuing a transatlantic connecting strategy, similar to that of Icelandair, stimulating demand with its low-cost seats.
According to data from OAG Schedules Analyser, the carrier almost doubled seat capacity in 2017, increasing it by 96.2 percent to 2.98 million seats. The figures show the airline is set to grow by a further 21.8 percent this year 3.63 million, boosted by frequency increases and new route launches.
Among its top ten destinations from Reykjavik by capacity during the first half of 2018, six were in North America and four in Europe. Of the ten, WOW competed with Icelandair on nine of them and had a dominant position by capacity on four (Baltimore Washington, Toronto, San Francisco and Dublin). It also was the only operator on Reykjavik - Los Angeles.
However, the strong competition between WOW and Icelandair has put financial pressure on both carriers.
In August 2018, Icelandair's president and chief executive Björgólfur Jóhannsson resigned after the airline saidits full-year results would be worse than predicted. Passenger revenues are expected to be up to $80m lower than previously expected.
Iceland's oldest airline posted a loss of $25.7m for the second quarter of 2018, compared with a profit of $9.9m for the same period a year ago. This was despite income rising by 9 percent to $398.9m.
While the significant rise in fuel costs over the past 12 months has undoubtedly played a part in the carrier's financial outlook, intense competition in Icelandair's key markets has been a decisive factor.
According to OAG Schedules Analyser, 30 airlines serve Keflavík Airport in 2018, compared with just ten a decade ago. The total number of departure seats has also surged from 1.2 million in 2009 to 5.1 million in 2017. This year it is on track to top 5.7 million.
Over the past five years, Icelandair's capacity share of the market from Keflavík has also shrunk from 75.9 percent in 2013 to about 45 percent this year.