China will need 7,400 new aircraft in the next 20 years - Airbus
China will account for almost one fifth of the world's new aircraft demand over the next two decades, according to estimates from Airbus.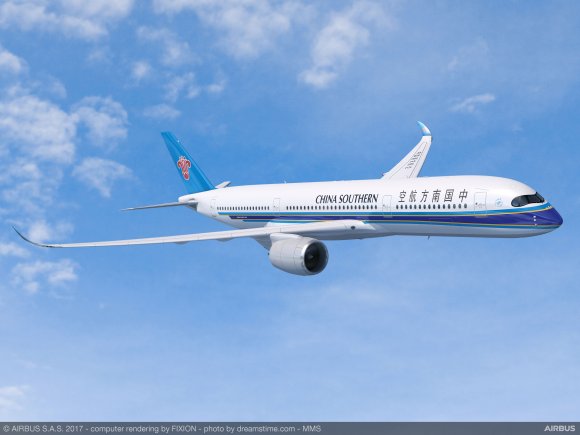 China will need more than 7,400 new passenger aircraft and freighters from 2018 to 2037, with a total market value of $1.06trn, according to Airbus' latest China Market Forecast.
It represents more than 19 percent of the world total demand for 37,400 new aircraft in the next 20 years.
The latest forecast said there is a requirement for 6,180 single-aisle aircraft over the coming two decades, plus 870 passenger and freight aircraft smaller wide bodies and longer-range single-aisle aircraft.
For additional capacity and range flexibility, in the large segment there is a need for 240 aircraft. In the extra-large segment Airbus forecasts demand for 130 aircraft.
"China is one of the most powerful growth engines of global air transport. It will become the world's number one aviation market in the very near future," said Christian Scherer, Airbus' chief commercial officer.
"Airbus' share of the China mainland in-service fleet has steadily increased and now exceeds incumbent and competing aircraft types and keeps growing thanks to our cost-effective new generation products.
"In parallel, the total value of our industrial cooperation with Chinese aviation industry is growing to $1bn by 2020."
By 2037, the propensity for the Chinese population to fly will more than triple from 0.4 trips per capita today to 1.4. Private consumption from a growing middle class (550 million people today to 1.15 billion by 2037) is expected to be the main driver of future air traffic growth.
Today this private consumption accounts for 37 percent of the Chinese economy, a share that should rise to 43 percent by 2037.
Between 2018 and 2037, the average annual growth rate for all international traffic from/to mainland China is forecast to be 6.3 percent.
Earlier this week, ATR released its China market forecast which estimates a total market for 1,100 turboprop aircraft in the next 20 years.
It said that regional aviation (up to 100 seats) will be eight times bigger in 2037 than it is today. The necessity for some 300 turboprops (70 50-seat and 230 70-seat) is estimated to connect 200 regional aviation airports, creating nearly 700 new routes in this regional segment.
---

Hear from Chinese aviation expert Hang Zhao, business development manager at leading aviation consultancy ASM, at a special event in London next month. The Fundamentals of Route Development Training Event will take place on 4-5 December and forms part of ASM's 25th anniversary celebrations.
During a series of panel debates, workshops, new technology demonstrations and classroom style sessions, delegates will examine and debate the factors impacting the industry's future growth ambitions. Other speakers include Vueling's Gabriel Schmilovich Isgut and Léon Verhallen, head of aviation development at Brussels Airport. Click here to find out more.