Bulletin board: aviation industry news round-up
This week: SaudiGulf to buy ten A320neo aircraft; Gulf Air and Etihad sign MoU; Emirates reveals half-year results and more.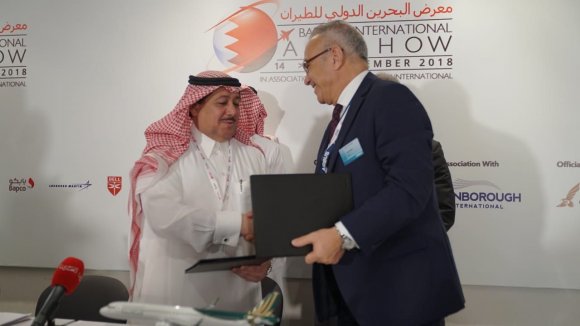 A round-up of the latest news from the aviation industry this week.
SaudiGulf to buy ten A320neo aircraft
Al-Qahtani Aviation, owner of SaudiGulf Airlines, has signed an agreement to purchase ten Airbus A320neo family aircraft. The commitment was announced at the Bahrain International Airshow.
SaudiGulf Airlines currently operates a fleet of six A320 aircraft from its hub in Dammam. The carrier commenced operations in 2016 serving domestic destinations. It launched its second international destination with flights to four destinations in Pakistan.
Sheikh Tariq Abdulhadi Al Qahtani, chairman of Al-Qahtani Aviation and SaudiGulf, said: "As a premium service boutique airline we are excited to be adding the A320neo to our fleet. This expansion is in keeping with our intention to see the Saudi aviation sector continue to develop and grow in support of the Saudi Vision 2030."
Gulf Air and Etihad sign MoU
Gulf Air, the national carrier of the Kingdom of Bahrain, and Etihad Airways, the national airline of the United Arab Emirates, are set to explore deeper cooperation following the signing of a Memorandum of Understanding (MOU) at the Bahrain International Airshow.
The MOU covers scope to introduce joint codeshare operations between Abu Dhabi and Manama, as well as on the global flight networks beyond the two carriers' hubs.
It also contains plans for greater commercial cooperation in the fields of cargo, engineering, guest experience and the optimisation of pilot training facilities.
Gulf Air's chief executive Krešimir Kučko said: "The relationship between Bahrain and UAE is strong in many fields including aviation and today with the signing of this MOU we enrich the relationship by cooperating with Etihad Airways. This is an example of how two airlines can work hand in hand for greater mutual benefits."
Gulf Air currently operates four return daily flights between Bahrain and Abu Dhabi while Etihad currently operates three return daily A320 operations between Abu Dhabi and Bahrain.
United to deploy 787-10 on six routes from Newark
United Airlines is to operate its newest Boeing 787-10 Dreamliner on six transatlantic routes from Newark beginning in March 2019. The aircraft will serve Frankfurt and Tel Aviv from 30 March 2019, followed by Paris and Barcelona from 29 April, and Brussels and Dublin from 22 May.
"United is proud to offer more seats between New York and Europe than any other carrier and our Boeing 787-10 aircraft based in New York/Newark will enable us to connect even more New York City customers to Europe and beyond," said Patrick Quayle, United's vice president of international network.
Emirates reveals half-year results
Emirates Group has posted steady revenue growth during the first half of its financial year. However, profits were impacted by the rise in oil prices and "unfavourable currency movements" in certain markets.
Overall group revenue up 10 percent to $14.8bn, compared with the corresponding six-month period last year, but profit dropped by 53 percent to $296m. Its airline division posted revenues of $13.3bn, up 10 percent, but an 86 percent drop in profit to $62m.
During the first six months of 2018-19, Emirates received eight wide-body aircraft – three Airbus A380s, and five Boeing 777s, with five more new aircraft scheduled to be delivered before the end of the financial year. It also retired seven older aircraft from its fleet with further four to be returned by 31 March 2019.
Emirates carried 30.1 million passengers between 1 April and 30 September 2018, up 3 percent from the same period last year