Air France-KLM and China Eastern extend JV agreement
Air France-KLM and China Eastern have signed an agreement to extend their joint venture partnership to two additional routes.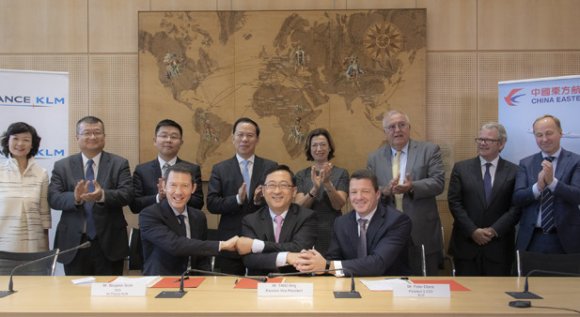 SkyTeam partners Air France-KLM and China Eastern are to extend their joint venture partnership from 1 January 2019 on two additional routes, Paris–Wuhan and Paris–Kunming.
The three airlines will offer their respective customers new codeshare and connection opportunities.
"I am very pleased to be finalizing this agreement with China Eastern," said Benjamin Smith, chief executive of Air France-KLM and CEO of Air France.
"It solidifies our objectives, as outlined in July. Our strong and long term strategic partnership with China Eastern Airlines offers our customers even more extensive and harmonized benefits across all airlines. China is an essential market for the Air France-KLM Group, with strong growth, and we must be able to offer our customers the best possible travel experience."
Liu Shaoyong, chairman of China Eastern, added: "It is really a pleasure to witness this historical moment in cooperation with Air France and KLM.
"The document we signed today is not only an extension of our joint venture agreement, but also an indication of our continuous joint commitment to provide best possible service to our customers, with better connections and a larger variety of flight choice."
Air France and China Eastern started their cooperation in 2000 in the form of a codeshare agreement on the Paris–Shanghai route.
The partnership was formalised in 2012 thanks to a joint venture agreement. KLM joined this joint venture in 2016, extending the agreement to the Amsterdam–Shanghai route.
Since October 2017, China Eastern has held 8.8 percent of Air France-KLM's share capital, and has one member on the Air France-KLM doard of Directors.