Bulletin board: aviation industry news round-up
This week: Jet2.com hits 100 aircraft milestone; Airbus warns over no deal Brexit; IndiGo parent appoints former United president and more.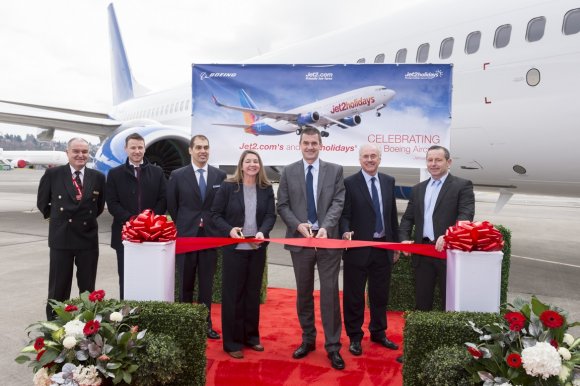 A round-up of the latest news from the aviation industry this week.
Jet2.com hits 100 aircraft milestone
Jet2.com has taken delivery of the last of 34 737-800s from Boeing, taking the number of aircraft in its fleet to 100.
The new aircraft, which seats 189 passengers, was handed over to Jet2.com and Jet2holidays at a ceremony at Boeing's Seattle Delivery Centre in the US.
CEO Steve Heapy said: "The arrival of the 100th aircraft into our fleet is a momentous occasion and demonstrates the confidence we have in our growing business."
Earlier this month, Routesonline revealed that Jet2.com ranked third in the list of fastest-growing major carriers in the world.
Airbus warns over no deal Brexit
Airbus has warned that it could pull out of the UK in the event of a no deal Brexit and branded the UK government's handling of its EU withdrawal a "disgrace".
Chief executive Tom Enders admitted the manufacturer would "have to make potentially very harmful decisions for the UK" in the event of no deal.
He added: "Please don't listen to the Brexiteers' madness, which asserts that because we have huge plants here we will not move and we will always be here. They are wrong."
Airbus employs about 14,000 staff across 25 sites in the UK and supports a further 110,000 in the supply chain.
IndiGo parent appoints former United president
Aviation heavyweight Ronojoy Dutta has been appointed chief executive of Interglobe Aviation, the parent of Indian low-cost carrier IndiGo. Airline founder Rahul Bhatia has been acting in the role since the departure of Aditya Ghosh.
Dutta was president of United Airlines between 1999 and 2002 and president of Indian low-cost carrier Air Sahara between 2005 and 2008.
He said: "IndiGo is blessed to be operating in one of the highest growth economies of the world, and this opens up future opportunities for rapid growth."
Interglobe has also named Meleveetil Damodaran as its new chairman.
IAG to sell Norwegian stake
International Airlines Group (IAG) has confirmed it is no longer pursuing a takeover of Norwegian and intends to sell its shareholding.
The group, which includes British Airways and Iberia, told investors that it plans to dispose of its 3.93 per cent shareholding in "due course".
IAG made two takeover offers for Norwegian in 2018 but each one was rebuffed.
SMBC signs for 65 addition A320neo aircraft
Aircraft lessor SMBC Aviation Capital has boosted its total order book for the A320neo Family to 181 aircraft after signing a firm order for an additional 65 A320neo Family aircraft, comprising 15 A321neo and 50 A320neo.
In addition, the agreement includes an upsizing of 15 A320neo from a pre-existing order to 15 of the largest member of the single-aisle Family – the A321neo – taking SMBC Aviation Capital's total for the type to 30.
The order was finalised in 2018 and included in the year-end order figures but has only just been announced.
"In the current environment, airlines are seeking more fuel efficient aircraft. The make-up of our order book positions us very well for the future to deliver on those needs," said Peter Barrett, CEO of SMBC Aviation Capital.