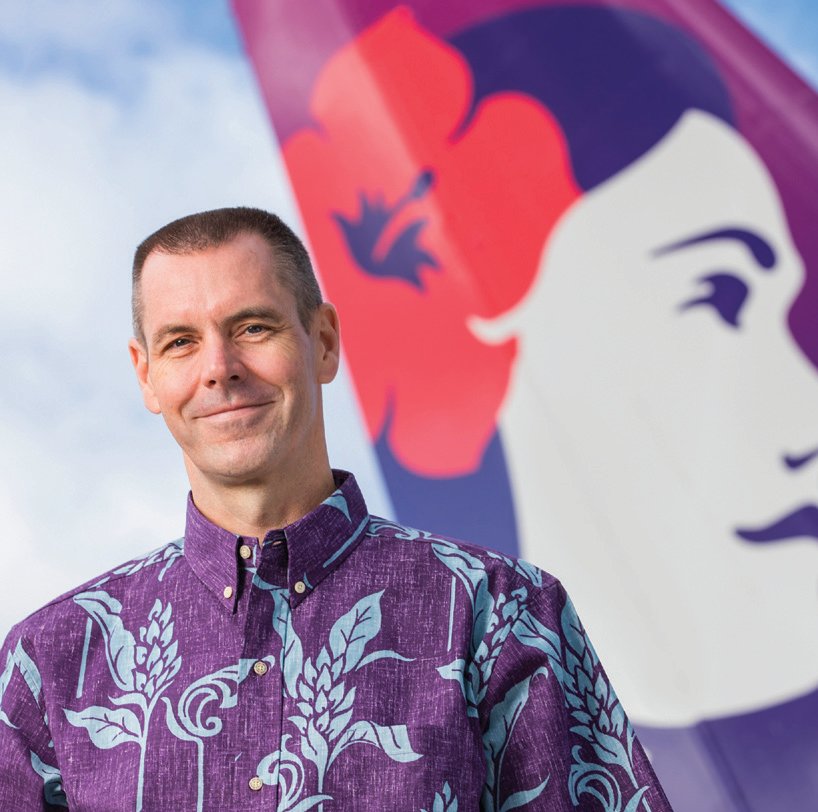 The global rush to order thousands of new aircraft is driven by two things - seemingly unlimited passenger growth and significant reductions in operating costs. For some airlines, such as Qantas, new aircraft designs bring the opportunity for non-stop, ultra-long-haul flying for routes like Sydney to New York or London.
For others, particularly the low-cost carrier sector, it's an opportunity to push ticket prices down, open previously unprofitable routes and grab market share. But to Hawaiian Airlines it is neither of those, and yet the airline is in the middle of a major fleet transformation as it upgrades its aircraft.
Hawaiian's strategy is not about drawing circles on maps and picking new destinations now within range; it is about taking what the technology offers and consolidating its own place in the market.
President and CEO Peter Ingram says he is using the new aircraft to shift capabilities and capacities to where they are best suited and that "describing this, as right-sizing would be a reasonable thing to do".
"Looking at route development," he adds. "A lot of what's going on for us in 2018 and continuing in 2019 is bringing the Airbus A321neo into our fleet to serve some of our mid-haul destinations with a different-sized aircraft than the old wide-body fleet.
"That's allowing us to connect some of the dots in the network, and essentially a lot of it is flying to cities we already fly to like Los Angeles, Oakland and San Jose."
The airline has expanded destinations out of Maui to Portland and San Diego, previously only served from Honolulu, and has introduced a new route from Honolulu to Long Beach.
Ingram says: "So a lot of what we have been doing is bringing those new 321neos in, retiring some of our 767s and adding some of these new mid-sized routes that were poor candidates for a wide-body-only fleet. "As we get into next year and continue to bring A321neos on, we will free up a wide-body A330, which will allow us to launch Honolulu to Boston five times a week."
Taking a chance
The Honolulu-Boston route starts in April 2019 and will be the longest scheduled domestic route in the US. The flight will cover 8,200km with a flying time between 10 and 11 hours; a long-haul flight but a domestic trip.
"We will still fly A330s on some of the largest routes – Los Angeles, San Francisco and Seattle – but the A321neo is better suited to those routes that are thinner in terms of demand suitable for a wide-body deployment," Ingram says.
"We are, relative to many of our competitors, a small airline and we need to be thoughtful and disciplined and have a rigorous process for selecting new routes.
"But what I always tell people is that if absolutely everything works then we probably are not taking enough chances. From a commercial perspective we do want to take some risks that will allow us to take advantage of opportunities that may not be so obvious."
Ingram says the airline had 11 A321neos in the fleet by the end of 2018 with another six expected this year. "That allows us to retire the last of our 767s and puts us in a position where every one of our interiors will either be a brandnew delivery or a redesigned interior on the aircraft in the last five years," he adds.
"That gives us the opportunity to offer people some products that we didn't always have as part of our line-up. Both the A330 and A321 have a product we call 'extra comfort', which is a main cabin seat but with five extra inches of legroom.
"Airlines like Hawaiian are very focused on the demand at the other end of the route. Hawaii has a population of about 1.4 million people so it's not a big outbound market. We've got to look at the sources from where people are coming to Hawaii.
"The western US is top of that, with growth from eastern US by adding Boston and from an international perspective they are the markets where we are already well positioned, Japan and Australia."
Japanese battle
Japan is the main source of international visitors to Hawaii, accounting for more than 60 percent of arrivals. To ensure the market is effectively catered for, Hawaiian Airlines has 19 flights a week to four destinations in Japan.
However, this might not be enough to safeguard its market share. The route between the two island destinations is so successful that Japanese airline All Nippon Airways has three Airbus A380s on order, with the first planned to enter service on the Tokyo-Honolulu route in 2019.
With ten 787-Dreamliners on order and options for ten more, the Dreamliner will play a big part in Hawaiian's route development when they start arriving in 2021, Ingram believes.
He adds: "We are a premium leisure carrier setting ourselves apart from the ultra-low-cost model. Hawaii is a premium destination and we are a premium carrier but because we are leisure we also have to make sure we have a good cost structure.
"The biggest parts of the cost structure in flying long-haul is fuel, aircraft and maintenance costs. The 787 with its modern technology is going to give us advantages on all of that. Tokyo is the cornerstone of our route map today, as is Sydney, New York, Los Angeles, San Francisco and Seattle, and we have got to make sure we have an airplane that is going to perform very well in those markets.
"Having said that, there are other opportunities we see out there and with increased efficiencies we will be that much more competitive in those markets, which we will look at over time. Most of our growth in the southern hemisphere is going to be in countries like Australia, New Zealand and some from Tahiti, but we see greater opportunities in North America and, down the road, in Asia."
Ingram will also receive a boost if a proposed joint venture (JV) with Japan Airlines is approved as expected in 2019. He adds: "We are very excited about the opportunity because we have got two carriers with strong brands that are well respected and well situated in their core local markets. Bringing those two together in a JV allows us to give our guests the best of both worlds – all the strength of JAL's network and our routes connecting the islands of Hawaii."
Ingram also says the ongoing trade war between China and the US has also had little impact on the airline's Asian market. He adds: "One of the things that keeps us a little insulated is that even though Hawaii is part of the US, if someone is coming to Hawaii they would rarely say they are going on vacation to the US. The current environment is not necessarily part of their thinking."
Capitalising on the operating efficiencies of new technology aircraft may not seem as exciting as pioneering ultra long-haul routes but there is much to like about Hawaiian Airlines strategy. Their future is as a premium leisure carrier and by developing their fleet to fit routes inbound visitors are coming from, they are getting as much from technology as any other airline in the world.
Produced by TTG Media on behalf of UBM, Routes News is the official, bi-monthly magazine of World Routes and the regional Routes events
Routes News provides interviews, analysis and insight for airlines, airports and tourism authorities involved in route development decision-making. Serving the route development community for 13 years, the magazine continues to expand its presence in this ever-changing market, connecting all sides of the industry in the same way as the Routes events.