Bulletin board: aviation industry news round-up
This week: Qatar Airways converts ten A321neos; AirAsia commits to new Lombok hub; Cebu Pacific to add 12 aircraft; Norwegian to cut routes after fundraising and more.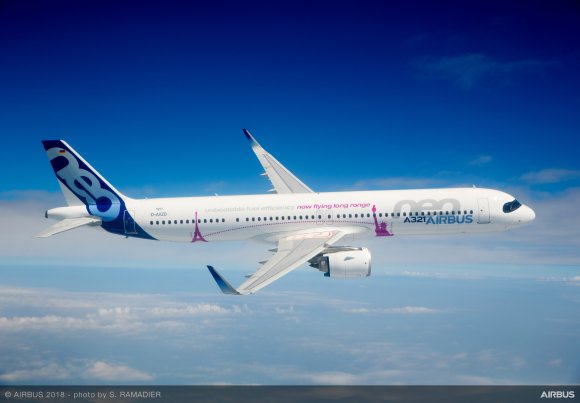 A round-up of the latest news from the aviation industry this week.
Qatar Airways converts ten A321neo orders to A321LR
Qatar Airways is to convert ten of its 50 Airbus A321neo on order to the A321LR aircraft.
The airline said it would use the long range variant to connect Doha to new growing markets where today demand is not sufficient for widebody aircraft or where current narrow bodies are unable to reach.
Chief executive Akbar Al Baker said: "We have reassessed the requirements of our fleet and determined that the A321LR will bring the additional capability and range to our existing portfolio of aircraft types that we require to successfully support our global route expansion.
"Based on this analysis we have agreed with Airbus that we will convert ten of our 50 A321neo on order to the longer range A321LR, the first of which will be delivered in 2020."
The A321LR is able to fly longer routes of up to 4,000 nm (7,400 km).
AirAsia commits to new Lombok hub
AirAsia has confirmed its intention to develop a new hub on the island of Lombok in Indonesia's West Nusa Tenggara province. The airline said the announcement follows a series of post-earthquake recovery discussions.
It expects its Indonesian affiliate will base two Airbus A320 aircraft in Lombok, with plans to double existing frequency to Kuala Lumpur in Malaysia, as well as operate services to Perth, Yogyakarta and Bali.
AirAsia Group chief executive Tony Fernandes said: "The past year has been a very sad and challenging time for the people of Lombok, including the local tourism industry which has suffered as a result of the recent earthquakes. To be able to say that help is on its way is a great thing.
"In the next few months, we will be working with airports and government authorities to turn Lombok into our newest hub in Indonesia, making this commitment a reality."
Cebu Pacific to add 12 aircraft
Cebu Pacific is set to receive 12 brand new aircraft in 2019 to support the carrier's expansion plans this year. The deliveries comprise six Airbus A321neo; five A320neo; and an ATR 72-600.
The Philippine carrier said the range of the A321neo would allow it to "explore new destinations" like India, Russia, northern Japan and other cities in Australia.
"2019 is the year we accelerate growth," said Cebu Pacific president and chief executive Lance Gokongwei, who will be speaking at Routes Asia 2019.
"On average, we will be receiving one brand-new aircraft per month which we can use to increase capacity in key markets or even launch new routes. For 2019, we expect capacity to grow from low to mid-teens."
Gokongwei will provide a keynote speech on the first day of Routes Asia, taking place in Cebu from 10-12 March 2019.
Norwegian to cut routes after fundraising
Norwegian is raising NOK 3bn ($357m) from is shareholders as it seeks to switch its focus from growth to profitability.
The rights issue is fully underwritten by its executives and largest shareholders, including chief executive Bjørn Kjos and chairman Bjørn Halvor Kise.
The Scandinavian carrier said that as a consequence of the changed focus, its capital expenditure would be reduced. This will include aircraft divestment, the postponement of deliveries and ending non-profitable routes.
"With the strengthened balance sheet, the organization can now devote all its attention to further development of the company," said Kjos.
Record year for Vienna
Vienna Airport has hit the 27 million passenger milestone for the first time in its history. The airport is now targeting growth of more than 10 percent this year to in excess of 30 million.
"2018 was once again a records year at Vienna Airport, with more than 27 million passengers," said Julian Jäger, joint CEO and COO.
"The main growth drivers at Vienna Airport were in particular Austrian Airlines followed by Laudamotion and the easyJet Group. On balance, there was a strong expansion of the low-cost offering, particularly due to the opening of three new bases by Wizz Air, Laudamotion and LEVEL.
"Moreover, long-haul routes developed very well."