Milan Malpensa targets 25 million passengers after record year
SEA Group's Milan Malpensa Airport is targeting more than 25 million passengers this year following a record 12 months when it boosted its domestic and international network.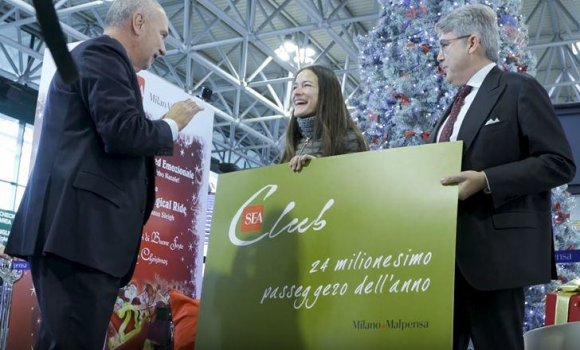 Milan Malpensa Airport (MXP) handled a record 24.6 million passengers in 2018, its highest for more than a decade and 11.5 percent higher than the previous year.
The airport, which is managed by SEA Group, surpassed its previous high of 23.7 million, which was set in 2007.
Last year, Milan Malpensa was served by 105 airlines collectively reaching 209 destinations.
Air Italy was a major contributor to the airport's growth after making MXP its hub and adding routes to New York, Miami, Bangkok, Delhi and Mumbai.
"Despite some of the new destinations having had an annual O&D demand of over 100,000 travellers, surprisingly they had not been served by any airline for a decade," said Andrea Tucci, VP aviation business development at SEA.
Among the fastest growing European country markets from MXP in 2018 were the domestic Italian market, along with Germany and Spain. When it comes to long-haul the top markets were the US, China and Canada.
"We fully expect the North Atlantic to be one of this year's star performers," added Tucci. "2018 already gave a boost to our intercontinental traffic, growing by 7.8 percent, and we expect some further development in the short-term."
In July 2018, it was revealed that SEA has won the bid to host World Routes 2020 on behalf of Milan and the Lombardy region.
Stakeholders including the SEA, Ministero delle Infrastrutture e dei Trasporti, Regione Lombardia, Comune di Milano and Fiera Milano Congressi will be involved in hosting the 26th annual World Routes forum.
The three-day gathering grants unprecedented opportunities for senior decision makers to meet face-to-face and discuss the future of air services, develop and plan network strategy and explore new route opportunities.
"Malpensa was built as a hub airport and it is exciting to see it being used in that way again," enthuses Tucci. "The ten million inhabitants of Lombardy, Italy's wealthiest region, need and deserve a true hub and spoke carrier and the connecting opportunities that such a network approach brings.
"With 70 percent of the country's outbound traffic generated in our Northern Italy catchment, we are confident about our future traffic development."
In 2019, MXP hopes annual throughput will exceed 25 million passengers for the first time. New routes this year include Los Angeles, San Francisco, Chicago, Toronto and Cagliari.