PRESS RELEASE:Oakland International Airport named Overall Winner at the Routes Americas 2019 Marketing Awards
The annual Routes Americas Marketing Awards took place at The Québec City Armoury in Québec City, with Oakland International Airport being named the overall winner after winning the 4-20 million passengers category.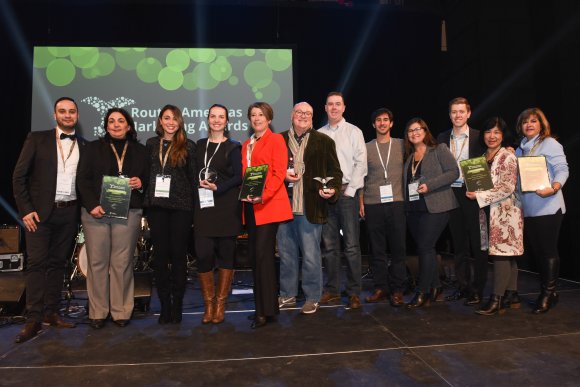 The annual Routes Americas Marketing Awards took place at The Québec City Armoury in Québec City tonight (13/02). Nominated and judged by airlines, the annual Routes Americas Marketing Awards are highly regarded in the aviation industry for recognising the outstanding marketing services that have supported the launch of new air routes or the development of existing services.
Oakland International Airport (OAK) was named the Overall winner after winning the 4-20 million passengers category. Oakland International Airport's highlights in 2018 included a record ten new destinations and 14 new routes. Southwest Airlines added five year-round routes, while new air carrier Contour Airlines added two destinations. OAK ended 2018 with 13.6 million total passengers, up 4 percent year-on-year.
They were recognised for providing more than $5m in support in the form of waived fees and cooperative marketing funds for the new routes, as well as other marketing activities such as developing a bespoke 30-minute TV show on CBS TV San Francisco in support of new air service to Rome by Norwegian, Orlando and San Antonio by Southwest and Lihue by Hawaiian Airlines.
"We're all very pleased and proud to be acknowledged in this way," said John Albrecht, Manager Aviation Marketing for the Port of Oakland, "This acknowledgement is especially welcome as it comes from the airlines we work with around the world. It tells us that we're on the right track as we continue doing our work in getting the world to Fly The East Bay Way while focusing on excellence."
Greenville-Spartanburg International Airport, who took home the award for an airport under 4 million passengers were congratulated for passenger activity at Greenville-Spartanburg International Airport (GSP) increasing by 18.5 percent since 2015, with nearly 9 percent of that growth occurring in 2018 alone. During the past year, five of the airport's six airlines introduced enhanced service which included new non-stop destinations, increased frequency or aircraft upgrades.
Marketing activity has included free parking for passengers travelling on Delta Air Lines' new flights to New York-LGA, while it recently partnered with the Las Vegas Convention and Visitors Authority, the winners of the Destination category, and Frontier Airlines to give away free trips.
Scott C. Carr, Vice President of Commercial Business and Communications for Greenville-Spartanburg International Airport said, "It is an honour to be recognized by Routes Americas for our innovative, results-driven marketing strategies.
"To win an award voted on by the airlines is a testament to GSP's commitment to the success of our carriers. We look forward to continuing to work with our partners to expand air service and ensure the ongoing success of our existing routes at Greenville-Spartanburg International Airport."
The award for an airport with over 20 million passengers was won by São Paulo – GRU Airport, who launched 13 new international services in 2018, and saw an all-time record of 42.2 million passengers - an impressive rise of 11.8 percent compared to 2017.
New city pair routes were launched to Boston, Las Vegas, Tucuman, Tel Aviv and Quito, while Munich will reopen in 2019 after a three-year suspension. Overall, GRU expanded its network by adding more than 200 weekly one-way frequencies.
Joao Pita, Head of Airline Business at GRU Airport said, "It's a true honour for GRU to be named winner at the Marketing Awards. It is a prestigious award that recognises the work done by the team to increase the number of passengers in a sustainable way.
"GRU was competing against some of the best airports in the region and to be named winner is something to cheer about. It means that we are on the right track despite the challenging conditions in Brazil. We can look forward with a smile because Brazil is coming back and we are ready to receive airlines wishing to fly south to our beautiful country."
The destination marketing award was won by the Las Vegas Convention and Visitors Authority. The Las Vegas Convention and Visitors Authority (LVCVA) and McCarran International Airport (LAS) have formed a comprehensive partnership to support initiatives to grow air service for the destination. The efforts of LVCVA and LAS have resulted in an estimated annualised overall economic benefit to Las Vegas of over $1bn for air service started in 2018. After securing the first route to Brazil in 2018, KLM and El Al are set to launch new international services this year. LVCVA conducts substantial research, providing carriers with the information they need for planning decisions.
Cathy Tull, Chief Marketing Officer for the Las Vegas Convention and Visitors Authority said, "We are thrilled to be recognised by Routes and the aviation industry for our work promoting air travel to Las Vegas. We believe that establishing direct routes across the globe is of vital importance to our ability to grow as a destination, and we're honoured to receive this award.
"Receiving this recognition by the aviation industry is important to us because it tells us that our efforts to create innovative marketing strategies and meaningful partnerships are working. We look forward to continued growth of access to Las Vegas thanks to the many opportunities and partnerships formed through Routes."
Oakland International Airport will go through to compete for the title of overall winner at the World Routes Marketing Awards which will take place in Adelaide on the 23rd September.
Awards in summary:

Overall winner
Oakland International Airport
Airport under 4 million passengers
Winner: Greenville-Spartanburg International Airport
Highly commended: Curaçao-Hato International Airport
Airport 4-20 million passengers
Winner: Oakland International Airport
Highly commended: Cartagena Airport - Rafael Núñez International Airport
Airport Over 20 million passengers
Winner: São Paulo – GRU Airport
Highly commended: Seattle-Tacoma International Airport
Destination marketing
Winner: Las Vegas Convention & Visitors Authority
Highly commended: Visit Orlando