Air Italy one year on
A year after unveiling its new corporate identity, Routesonline speaks to Air Italy's chief operating officer Rossen Dimitrov to find out more about the carrier's ambitions.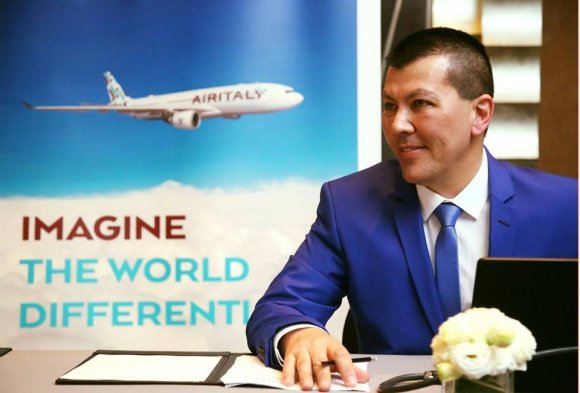 A year has passed year since Italy's second-largest carrier Meridiana unveiled plans to rebrand as Air Italy, outlining an aim to transport ten million passengers per year by 2022.
The move came just months after it secured an investment from Oneworld member Qatar Airways, which acquired a 49 percent stake in holding company AQA Holding in October 2017.
Speaking at a press conference in Milan, Qatar Airways' chief executive Akbar Al Baker said the Gulf carrier and Air Italy would "work together to build a sustainable airline alternative for the people of Italy and global travellers".
In addition to the name change, the new-look carrier announced Milan Malpensa would be its home hub and revealed a string of new routes it planned to operate, including services to New York, Miami and Bangkok.
"Since our launch last year, we have received eight new aircraft and opened multiple new routes," chief operating officer Rossen Dimitrov told Routesonline.
"Our cabin crew and ground staff have been fully trained on the new product and service and this is clearly paying dividends as we can see from our load factors and the ongoing feedback that we are receiving from our passengers."
Air Italy's fleet currently comprises three Boeing 737 MAXs, five Boeing 737 NGs and five Airbus A330s.
Since launching, the airline has opened new domestic routes from Milan to Rome, Naples, Palermo, Catania, Lamezia Terme and Cagliari, plus international services to New York, Miami, Bangkok and Delhi.
Flights from Milan to Los Angeles and San Francisco will start on 3 April and 10 April respectively, with Milan Malpensa - Toronto opening on 6 May. However, Bangkok and Delhi will end this month.
"We had an extremely satisfactory summer thanks to the great customer support, which helped us achieve our goals on our US flights to New York and Miami, with a load factor of more than 90 percent," says Dimitrov.
"It is even more impressive that more than half of our customers choose Air Italy to fly from and to the south and the centre of Italy via Milan, confirming that we are delivering on our promise of providing our customers with a new choice for their worldwide journeys.
"These routes continue to be among our best performing international routes."
Dimitrov adds that Milan Malpensa, which is operated by World Routes 2020 host SEA Group, has so far proved to be an ideal base from which to expand.
He explains: "First of all, Italy deserves an airline that it can be proud of both domestically and internationally. At the same time, for a business model based on a combination of domestic feeder plus long-haul international, you need to base your hub in a highly populated area.
"Thirdly, to ensure you have a solid audience for repeat customers, it makes sense to locate yourself in an area that has people with high disposable incomes. Clearly Malpensa facilitates all of these requirements."
Looking ahead, Dimitrov says the focus for the rest of the year will be to make sure its current routes, plus the three new flights to North America, are a success before it announces any additional services. A three-weekly route to Chicago had been pencilled in for a May launch, but it is understood to have been postponed until 2020.
However, Dimitrov adds: "With our longer-term growth plan for 2022, there are clearly more new destinations to come and we will announce those in due course. In the meantime, we are focusing on launching these new destinations and enhancing our feeder connectivity on both ends."
According to figures from OAG Schedules Analyser, Air Italy operated more than 160,000 two-way seats between Italy and the US in 2018, compared with Meridiana's 130,000 in 2017. Overall capacity on the Italy-US market rose by 17.3 percent to more than 4.8 million seats.
However, Air Italy's expansion in the US has drawn criticism from an alliance of US-based carriers, including Delta Air Lines, American Airlines and United Airlines. They allege that Qatar Airways is using Air Italy to add flights between the US and Europe, despite a voluntary agreement that it would not add additional US services.
Despite this, Dimitrov is adamant that it is not the case. "Air Italy is an Italy based and Italy registered independent airline," he stressed. "As we have said on several occasions, Air Italy does not codeshare with Qatar Airways on any routes west of Milan and has no plans to do so."
In November 2018, Air Italy entered into a codeshare agreement with LATAM Airlines Brazil. Air Italy's IG code will be placed on LATAM flights between Milan Malpensa and São Paulo, while LATAM will put its LA code on Air Italy flights to seven destinations in Italy.
A codeshare was also agreed with Bulgaria Air in February 2019, with Air Italy's IG code to be placed on Bulgaria Air flights between Milan Malpensa and Sofia, Varna and Burgas.