Bulletin board: aviation industry news round-up
This week: Airbus secures STARLUX order; Etihad Airways and Gulf Air agree codeshare; easyJet ends Alitalia interest and more.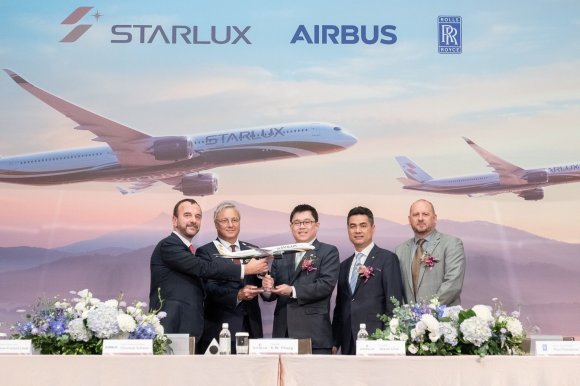 A round-up of the latest news from the aviation industry this week.
Airbus secures STARLUX firm order
STARLUX Airlines of Taiwan has signed a firm order with Airbus for 17 wide-body aircraft, comprising 12 A350-1000s and five A350-900s.
The start-up plans to deploy these aircraft on its long-haul services from Taipei to Europe and North America, as well as selected destinations within the Asia-Pacific region.
"We are very glad to sign the official purchase agreement today for Airbus wide-bodies," said K.W. Chang, founder and chairman of STARLUX Airlines.
"The A350's combination of extra-long-range capability, significantly lower operating costs and high passenger comfort were key factors in our decision."
At the end of February 2019, the A350 XWB Family had received 852 firm orders from 48 customers worldwide.
Etihad Airways and Gulf Air agree codeshare
Etihad Airways and Gulf Air are to begin a codeshare partnership this summer between Abu Dhabi and Bahrain and onwards from both hubs.
The agreement will see Etihad place its EY code on Gulf Air flights from Bahrain to and from Abu Dhabi, Baghdad, Casablanca, Dhaka, Faisalabad, Larnaca, Malaga, Multan, Najaf, Peshawar, Sailkot and Tbilisi.
Gulf Air will place its GF code on Etihad flights from Abu Dhabi to and from Bahrain, Brisbane, Chicago O'Hare, Jakarta, Lagos, Los Angeles, Melbourne, New York JFK, Sydney and Washington.
The announcement follows the signing of a Memorandum of Understanding (MOU) between the two carriers at the Bahrain International Airshow in November 2018.
Tony Douglas, group chief executive of Etihad, said: "The relationship between Abu Dhabi and Manama stretches back nearly 70 years, with established and deep-rooted ties between both countries and carriers."
TUI sells majority Corsair stake
TUI Group has sold its majority stake in French leisure carrier Corsair to German investor INTRO Aviation.
INTRO will acquire a 53 per cent stake in Corsair, while TUI will initially retain a minority stake of 27 per cent. Corsair's Employee Benefit Trust will retain a 20 per cent stake.
The sale will reduce TUI's fleet by seven long-haul aircraft: three 747-400s as well as two A330-200s and A330-300s each.
TUI chief executive Fritz Joussen said: "We are exiting non-core business areas that do not leverage any synergies for the group."
easyJet ends Alitalia interest
easyJet has walked away from a potential deal for Italy's flag carrier and SkyTeam member Alitalia.
In a statement, it said following discussions with Ferrovie dello Stato Italiane and Delta Air Lines about forming a consortium to explore options for the future operations of Alitalia, it has taken the decision to withdraw from the process.
"easyJet remains committed to Italy, as a key market for the company, where it currently carries 18.5 million passengers every year and employs 1400 pilots and crew, all on local contracts," the airline said.
"We continue to invest in the three bases in Milan, Naples, Venice, as we have done by basing additional aircraft in Venice and Naples last summer."
Aeroflot to introduce hand baggage-only fares
From 2 April 2019, Aeroflot Group will introduce hand baggage-only fares on a number of medium-haul routes operated by Rossiya Airlines and Aeroflot where there is an increased demand for this service.
The new hand-baggage-only fares are being introduced in response to "popular demand from passengers who travel light". Previously, passengers travelling only with carry-on luggage were forced to pay for a service they did not use.
All Rossiya and Aeroflot flights will continue to offer economy class fare options including free hold baggage.