Routes Europe 2019 Marketing Awards finalists - part two
In the second of a two part feature, Routesonline takes a closer look at the airports and destinations named as finalists in the Routes Europe 2019 Marketing Awards.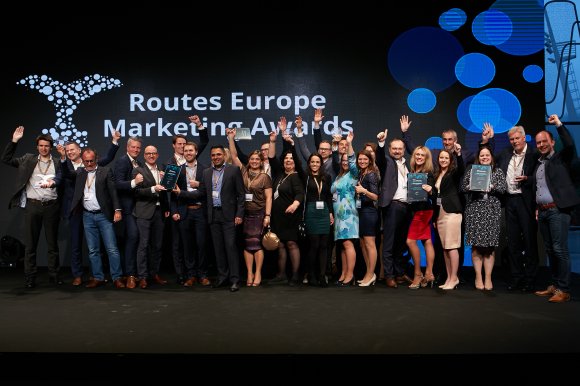 This week, we profile the airports shortlisted in the Over 20 Million Passengers category, as well as the tourism organisations in the running for Destination award.

Routes Europe 2019 Marketing Awards finalists - part one
Read the full shortlists
---
Over 20 Million Passengers
Athens International Airport
More than 24.1 million passengers used Athens International in 2018, a rise of 11 percent compared with the previous 12 months. The airport secured 62 new routes during the period and welcomed four new airlines. Volotea and Ellinair opened bases, while Ryanair started 21 sectors and Aegean Airlines commenced 15 new routes. Thirteen carriers also added capacity across 34 routes. However, the airport's airline development team did not rest on their laurels and last year took more than 70 flights and delivered in excess of 100 presentations. These efforts have resulted in 37 new services so far in 2019, including 12 new destinations such as Chicago and Muscat. Athens' incentive scheme comprises 13 different elements, covering any possible type of route development from home-based airlines, LCCs or visiting carriers. To help ensure routes are sustainable and profitable, the airport also spent €3.5m on marketing support in 2018.
Avinor Oslo Airport
Oslo Airport, Norway's main airport, had more than 28.5 million passengers in 2018, an increase of 3.8 percent compared to the previous year. A total of 13 new airlines opened routes to the airport between 2017 and 2019, including Hainan Airlines' new direct route from the Chinese capital Beijing. Transfer traffic has also increased, growing 14.2 percent from 2016. Alongside the strong passenger growth, Oslo's cargo results are similarly impressive. It has experienced 43 percent growth in cargo from 2016 to 2018, helped by new airlines such as Turkish Cargo, Emirates Sky Cargo and Ethiopian Cargo. The airport attributes its success to its team's ability to develop meaningful connections, nurturing a business culture based on personal relations, openness and humour. Looking ahead, to further develop its marketing efforts Avinor is introducing the Explorer's Society, a platform to initiate dialogue and co-creation.
Brussels Airport
In 2018 Brussels Airport crossed the 25 million passenger barrier for the first time in history, reaching an all-time record of 25.7 million. Three new passenger airlines and four new cargo airlines commenced flights during the year, including Cathay Pacific, Georgian Airway and Sichuan Airlines Cargo. A total of 12 new passenger destinations have also been confirmed or launched in the past 12 months. Marketing support included airline incentives of €8m, 25 on-site advertising campaigns, 13 financial contributions and 15 airline inaugurals and events. Brussels' B2B marketing includes a loyalty card for 6,200 travel professionals; newsletters; and an annual roadshow with 55 airlines in three cities. One of the airport's key B2C tools is BRUXX, a free online search engine for all airlines operating out of Brussels that offer return fares below €100.
Copenhagen Airport
Copenhagen Airport reached a milestone in 2018, breaking the 30 million passenger barrier for the first time, registering 1.1 million more travellers than in 2017. The headlines were grabbed by intercontinental traffic, which delivered an impressive 11 percent growth. During 2018, 17 new destinations were added to its network and 19 routes were opened to existing points, bringing the total routes from Copenhagen to 183. Five new long-haul services were started, lifting its total to 41 long-haul routes. The airport contributes to Copenhagen Connected, a route development fund which has helped to attract 21 new long-haul frequencies. In 2018 it also joined forces with other Danish airports, SAS and other regional carriers to promote domestic travel, providing €2.5m to the campaign. As part of the team's commitment to the cause, its five route development professionals flew on average for 7.2 days and went around the world more than three times each.
Moscow Vnukovo International Airport
Vnukovo International Airport handled a record 21.5 million passengers in 2018, a rise of 18.4 percent compared with 2017. A total of eight new airlines operated from the airport during the year, collectively carrying 1.1 million passengers, while 47 new destinations were added to its route network. Vnukovo is now served by 43 airlines, flying to 185 destinations in 40 countries. Traffic growth was boosted last year by the FIFA World Cup, with a peak traffic load recorded on 16 July with 83,841 passengers and 910 flights handled. The airport's marketing efforts in 2018 included hosting more than 100 events, with a particular focus on community and social outreach work. It also took part in 15 trade shows.
Munich Airport
Munich says the best evidence of its success in 2018 was a gain of 1.7 million passengers, despite the loss of three of its top ten airlines in 2017. Last year the airport ranked eighth busiest in Europe with 46.3 million passengers. And this year has already started with record passenger figures of more than three million in each of January and February. This summer will see the launch of new daily flights by American Airlines to Charlotte and Dallas/Ft. Worth, the relocation of Lufthansa's daily Osaka service from Frankfurt to Munich, and a new daily Lufthansa flight to Bangkok. In addition, new routes and service extensions are being introduced by the likes of United, British Airways and TAP Air Portugal among others. Other recent successes have included Avianca's new five-weekly Bogotá-Munich, which opened last November and has enjoyed a load factor of more than 90 percent since launching.
Destination
Croatian National Tourist Board
Croatian National Tourist Board undertook campaigns to promote the country during the pre- and post-season, with a specific focus on nautical tourism and efforts to raise awareness of its health and wellness offer. As well as arranging a number of InstaMeets with bloggers and influencers to promote the region of Slavonia and the country's Michelin starred cuisine, it organised the 'Croatia full of colour' exhibition at the Louvre in Paris. One of its most successful strategies was a brand ambassador campaign during the FIFA World Cup, using famous footballers like Luka Modrić from Croatia's national team. More than 70 new air routes were secured in 2018, helped by the organisation's focus on growing foreign inbound tourists and co-promotion activities with partner airlines.
Go Vilnius
Go Vilnius is responsible for attracting tourism, business investment and conferences to Lithuania's capital city. One of its key objectives for 2018 was to attract more tourists from Western Europe, particularly millennials. However, it estimated that just 8 percent of the target audience in Britain and Germany knew that Vilnius existed. This insight led to the development of an innovative, multi-channel marketing campaign aimed at provoking interest in the city using irreverent humour. The campaign - "Vilnius – the G-spot of Europe. Nobody knows where it is, but when you find it, it's amazing." - went viral around the world, gathering $10.5m in earned media for an initial budget of €76,000. A total of 1.2 million guests stayed in Vilnius during 2018, up 12.2 percent compared with 2017. German visitors rose by 37.8 percent and UK visitors were up by 21 percent.
Seville Tourist Board
Seville is the third most visited city in Spain and was named the top city in the world to visit in 2018 by travel guide Lonely Planet. Seville Tourist Board has a long history of promoting air connectivity together with Aena Aeropuertos and other stakeholders. In 2018, it worked to position fast-growing Seville Airport as a centre for budget long-haul travel by hosting the first CAPA European Low Cost Long Haul Global Summit. It comes as the airport undergoes a huge expansion project designed to increase capacity from 6.5 million passengers per year to more than ten million. Other activities last year included raising awareness of the city's cinematic credentials by hosting the 31st European Film Awards and the Goya Awards 2018, an annual celebration of Spanish cinema.
Tampere Region
The marketing of air transportation development in the Tampere Region in southern Finland is carried out on a global scale through inflight magazines, aviation events and targeted social media campaigns. The emphasis has been on building awareness of Tampere, said to be the 'sauna capital of the world' and the 'home of hockey'. Domestically, the marketing focus has been on promoting Tampere-Pirkkala Airport to inhabitants within a two-hour catchment area. In 2018, its message was visible at more than 120 national hockey games and had 40 adverts in inflight and professional aviation magazines. Although the airport was closed for renovations during the peak summer months of July and August, passenger numbers were up 11.4 percent during the other ten months meaning it sustained almost zero passenger loss for the full year.
Vienna Tourist Board
Vienna exceeded 16.5 million overnight stays for the first time ever in 2018, a rise of 6.3 percent compared with 2017, while total arrivals grew by 6.2 percent to 7.5 million. Air service development forms part of Vienna Tourist Board's Tourism Strategy 2020, which outlines an objective of securing 20 new international flight connections. That target has already been met, two years ahead of schedule. In 2018, the tourist board carried out marketing activities with 23 airlines, including hosting a gala dinner to promote the new Shenzhen-Vienna flights with Hainan Airlines, and organising business breakfast for selected media and trade partners. In 2019, three new direct routes that are expected to drive significant incoming tourism to Vienna have already been confirmed.