Jet2.com prepares for post-Brexit future
Britain's planned exit from the EU may be causing untold disruption across the aviation sector. But for thriving Jet2.com, it's simply business as usual.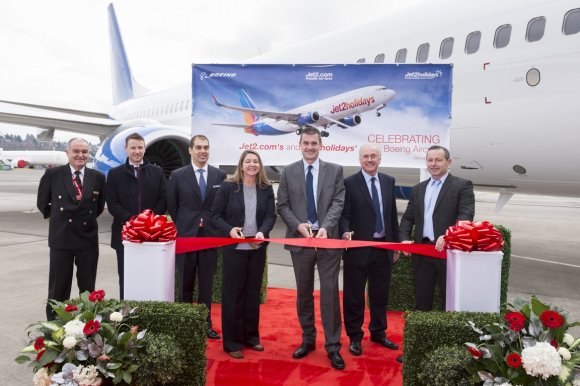 The only thing one needs to know when considering life in the UK at the moment is the shadow that Brexit throws over everything. This is certainly the case with the aviation market, although fears have lessened following an agreement that flights will still operate between the two parties even with a no-deal Brexit.
When a number of journalists sit down at the end of January with Steve Heapy, chief executive of Jet2.com and its sister tour operator Jet2holidays, in Seattle where he has just taken delivery of his 100th aircraft, a Boeing 737-800 Next Generation, the talk quickly turns to Brexit. The subject feels even more pressing as, with less than 100 days to go from the exit date, no agreement was in place, with both the UK and EU governments refusing to compromise.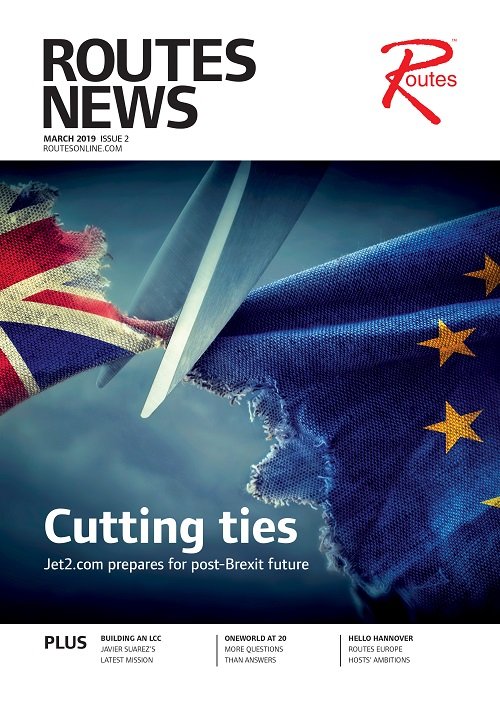 ---
This article first appeared in Routes News edition 2 2019
---
While Heapy admits that in a worst-case scenario flights between the UK and most of Europe could be grounded, he thinks it's unlikely to come to that and puts the chances of such an event happening as "very low-single-digit percentages". He also believes his next worst-case scenario – flight numbers and destinations being capped at 2018 levels for UK airlines – is also extremely unlikely to happen.
He adds: "We've spent a lot of time speaking to the government and various industry bodies and people in Europe, and we're very hopeful we'll get a resolution to this issue. With it being a negotiation, it will probably be taken up to the deadline where both parties try to extract the maximum they can from the deal, but it would be extremely damaging for Europe as well as the UK if we had a no-deal."
Heapy also argues that even if the UK aviation and tour operating markets face severe difficulties and contraction in the event of a no-deal Brexit, the Jet2 businesses are significantly better placed to deal with the issues than some of their British rivals.
He says: "One thing that we have is our financial strength and stability. We have a very healthy bank balance and, if it comes to a tough time where business perhaps is lower than normal, we have a lot of cash in the bank and we'll be able to continue operations for significantly longer than a number of our competitors."
Furthermore, he adds his companies, which are owned by Dart Group, are on schedule to meet their current growth predictions. His strategy also has the backing of his key shareholders, including the group's executive chairman Philip Meeson, who has a 38 percent stake in the company.
Looking on the bright side
However, Heapy remains optimistic a deal will be struck, adding: "I would hope common sense will prevail and trump politics and a sensible conclusion will be reached, but there's a lot of positioning at the moment."
He points out that it is in both parties' interests to do so, especially in the travel market where there is a significant tourism deficit between the two parties, which he says means travellers from the UK spend £34bn a year in the EU, while those coming in the other direction spend £4bn. However, in the meantime he is keeping his focus on the events he can control, rather than worrying about those he can't.
Heapy says: "If we reacted to every bit of news, I think you would go insane working through all the various outcomes of all this. There is an element of while we're keeping our eyes and ears very closely to what's happening, we have to get on with the day-to-day business and sell the holidays and sell the seats.
"We'll end up we are able to fly into Europe. It might be slightly more expensive or there might be some minor restrictions, but we're pretty confident we'll get everything we need."
He also warns against using Brexit as an excuse for a business performing badly, adding: "There's always the temptation when you have problems in a business to look for other causes that might not be dead obvious.
"The heatwave [in the UK in summer 2019] probably had a small impact, but it didn't have a massive impact on us. The World Cup might have had a small impact, but it wasn't massive; fears about the economy, fears about Brexit, I'm sure they all had some impact, but I don't think any were massive on their own."
Heapy says from Jet2.com's point of view if there were a block on flights into Europe, Turkey would probably be the main beneficiary thanks to the value for money it offers, while the airline has already boosted capacity there. But, as he hopes for the best, Heapy says Jet2.com's main focus with its new aircraft is to continue developing its current operations – particularly out of Birmingham and London Stansted airports, where bases were opened in 2017.
Since then, Birmingham has gone from being a home to four aircraft to ten, while Stansted has doubled the original six aircraft based there in the same period. He adds: "We will be mainly thickening routes. Where we've got some routes going to a destination four, five, six times a week, our aspiration is to go on a daily basis, and we're also still heavily investing in our bases at Birmingham and Stansted as well."
Short-haul programme
While Heapy admits that one or two shorthaul routes will be launched this summer, a final decision as to where they might be is yet to be made. He adds plenty of work goes into deciding a new route and that it can take time for the decision to be justified.
He adds: "We put in a lot of research before we launch routes. We speak to our customers through surveys, we look at market statistics and the Civil Aviation Authority (CAA) statistics showing who's flying from which airport, and we look to see if there's a gap because a destination isn't served or a destination is underserved.
"Some of them work, some of them don't work, but when you launch a new route and destination, you have to give them a period of time and investment [to succeed]. Year one is never great in terms of profitability, but it's an investment year and you have to build on it in years two and three. You need to take a long-term view."
Heapy also rules out developing a long-haul programme beyond the 20 or so New York shopping packages offered in the run-up to Christmas from six UK airports.
"Doing a small number per year of shopping trips is about right," he adds. "A transatlantic operation is a big thing and we've still got a lot more to do in our current sphere of operation, which is the eastern and western Mediterranean primarily."
Now all he needs is an answer on Brexit and what the future holds, as does the rest of the UK.