Bulletin board: aviation industry news round-up
This week: Air Peace places E2 order; new Quito - Santiago service launches; Hawaiian Airlines and Virgin Australia expand codeshare and more.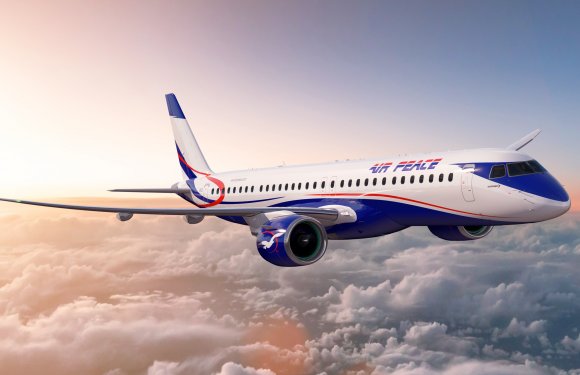 A round-up of the latest news from the aviation industry this week.
Air Peace places E2 order
Nigerian airline Air Peace has signed a firm order for ten Embraer E195-E2 jets, with purchase rights for a further 20.
The airline has grown rapidly since it commenced flight operations in 2014. It is now the largest airline in Nigeria with a fleet of 20 aircraft.
Air Peace is the launch customer for the E2 in Africa and will also be the first operator in the region. The first aircraft is to be delivered in the second quarter of 2020.
Arjan Meijer, chief commercial officer, Embraer Commercial Aviation, said: "The market in Africa presents significant opportunities for airlines to deliver the connectivity that the whole continent needs.
"Aircraft however must be right-sized to develop those routes profitably; more than 90 percent of intra-African flights depart with fewer than 150 passengers on board.
"And more than 70 percent of markets are served with less than one flight per day."
Air Peace subsidiary, Air Peace Hopper, started operating six ERJ145 last year on short thin routes.
New Quito - Santiago service launches
LATAM Ecuador has launched its inaugural flight on the new direct route between Corporación Quiport - Quito International Airport and Santiago. The route is served by an Airbus 320neo four times per week.
The carrier will offer approximately 72,000 seats per year on this route, a 62 percent increase in capacity between Ecuador and Chile. About 45,000 tourists from Chile visited Ecuador in 2018, an increase of 2 percent compared with the previous 12 months.
Álvaro Maldonado, secretary of productive development and competitiveness at Quito Municipality, said: "LATAM has been a strategic partner who has known how to make the most of the advantages offered by Mariscal Sucre Airport, the city as a destination and the open skies policy implemented by the national government."
Quito hosted Routes Americas 2018.
Hawaiian Airlines and Virgin Australia expand codeshare
Hawaiian Airlines and Virgin Atlantic Airways have signed an expanded codeshare agreement. The enhanced partnership builds on Virgin Australia's codeshare flights operated by Hawaiian between Sydney Airport Corporation Limited (SYD) and Honolulu International Airport (HNL).
Passengers travelling to Hawaii from cities including Melbourne Airport (MEL), Cairns Airport (CNS), Townsville (TSV) and Mackay (MKY) can now connect on Hawaiian codeshare flights to Brisbane Airport Corporation and SYD operated by Virgin Australia.
Starting 10 April, Virgin Australia passengers will also be able to book non-stop flights to Honolulu (HNL) from BNE on Virgin Australia codeshare flights operated by Hawaiian for travel from 17 April. This is in addition to existing codeshare flights between SYD and HNL, as well as Maui (OGG), Kauai (LIH), and Kona on Hawaii (KOA).
New Zealanders in Christchurch (CHC), Wellington (WLG), Dunedin (DUD) and other cities, including the alpine resort town of Queenstown (ZQN), will also be able to travel across the Tasman on Hawaiian codeshare flights operated by Virgin Australia.
Qantas opens Uluru route
Qantas Airways Limited has commenced its new twice-weekly year-round service between Darwin International Airport and Uluru. Flights will operate on Wednesdays and Saturdays with Boeing 737-800 aircraft.
"The direct flights from Darwin to Uluru will give both locals and international tourists some extra options when planning their visit to the 'Red Centre'," said Ian Kew, chief executive of NT Airports.
"Darwin International Airport is delighted to have partnered with Qantas and Tourism NT to see the capital directly linked with Uluru for the first time."
The Northern Territory airport provides direct services to 18 Australian destinations across 164 weekly flights with five domestic carriers.
Norwegian starts first Brazil flights
Norwegian this week started its first route to Brazil with a non-stop service from London Gatwick Airport to RIOgaleão - Rio de Janeiro Intl. Airport.
Outbound flights depart London at 12:00, arriving in Rio de Janeiro at 19:25 and the inbound flights depart Rio de Janeiro 22:25 arriving 13:35 at Gatwick Airport.
Bjorn Kjos, chief executive of Norwegian, said: "We are delighted to continue to make travelling to South America affordable for all with our new service to Brazil. Our route to Rio de Janeiro breaks the monopoly on direct flights between the UK and Brazil and builds upon our expanding services to South America."
Norwegian also opened a new base at Billund Airport this week, stationing a 186-seat Boeing 737-800 there. Four of the routes that the carrier will launch, namely Malaga (launched 1 April), Palma de Mallorca (launches 6 May), Ponta Delgada (7 May) and Faro (11 May) will be flown as scheduled services, while the following four destinations of Chania (5 May), Zante (6 May), Rhodes (10 May) and Kos (16 May) will be flown on behalf of Bravo Tours, one of the largest travel agencies in Denmark.
Record summer expected at Dublin
Dublin Airport will welcome a total of 23 new routes and four new airlines in the coming weeks, making this the busiest summer in the airport's 79-year history.
More than 1.3 million extra seats have been added across the airport's route network, which is a 6 percent increase in capacity when compared to last summer.
Four new airlines, airBaltic, Great Dane Airlines, SunExpress and TAP Air Portugal are joining Dublin Airport's growing list of airline customers.
Six long-haul routes and 17 short-haul destinations are being added to Dublin Airport's flight schedule this summer.