Hannover seeks to increase European network
Dr Raoul Hille, chief executive of Hannover Airport, has outlined the airport's ambitions on the opening day of Routes Europe 2019.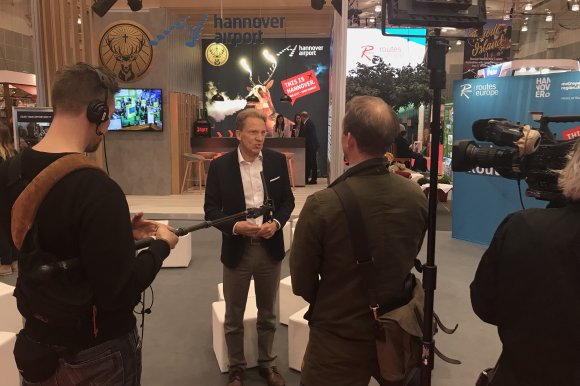 Speaking to Routesonline, he said a key aim this week is to showcase the city to carriers with the aim of securing new short-haul routes.
"Hannover is not the capital Berlin or a mega-hub like Frankfurt. We are a medium-sized city, but one with fantastic potential," he said.
"It's our aim to showcase the core strengths of the region so that airlines will recognise the ambition we have and add new routes or increase frequencies on existing ones.
"Our main focus at the moment is increasing our short-haul network in Europe, although longer term we hope to attract long-haul routes to the US and Asia."
Dr Hille said the reaction from delegates so far has been hugely positive: "We're delighted that Hannover's time to host Routes Europe has arrived. It's a fantastic exhibition and I'm sure will be a huge success. We've already had some amazing feedback from delegates enjoying the city."
Speaking as part of the Conference Programme, Sabine Tegtmeyer-Dette, director of economic and environmental affairs and first city councillor of City of Hannover, outlined the city's excellent transport infrastructure, as well as its economic might.
She said the diversity of such multinationals like TUI Group, Continental and Volkswagen, which are all based in the region, makes it resilient to downturns.
Tegtmeyer-Dette also highlighted the strength of Hannover as a conference and events destination: "Hannover is a very important trade fair and congress venue. We have the biggest exhibition grounds in the world with 466,000 sq m of covered space."
Meanwhile, Routes' brand director Steven Small outlined to delegates why Routes is taking place in Hannover as well as what can be expected over the course of the event.
He said: "Although it's one of the most mature global aviation markets, with less growth than some of the other locations we hold events, Europe remains an absolute powerhouse in global aviation.
"It's also a market where change continues to happen at a rapid pace. Just a few weeks ago we sadly saw the final flights of WOW, one of the most ambitious airlines on the continent.
"There has been a constant theme of consolidation and fluctuation in the European market in recent years, and new aircraft technology could completely alter the traditional travel patterns.
"Which is why it's more important than ever that we get together as an industry as often as possible to discuss what the future holds.
"The meetings, relationships and decisions made at this event over the next few days will shape how that evolves. All of you here, together, are making connections that will change the future of the world's skies forever."