UK airlines and airports feel Brexit impact
Even though timing and conditions of Brexit are unclear, as is its impact on air transport regulation, UK airports and airlines say they are already feeling substantial negative effects on their business.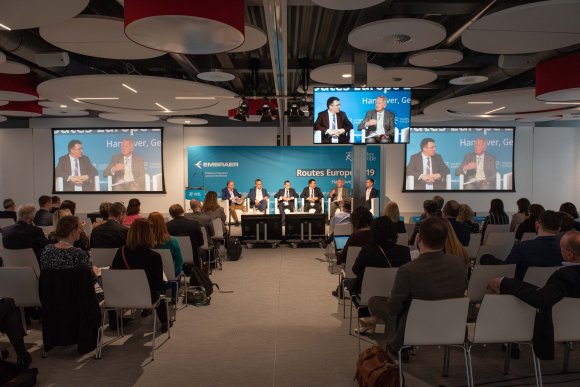 "Brexit has been there for us since 2018," Francois Bourienne, chief commercial officer of AGS, told delegates at the Routes Europe conference here in Hannover. AGS runs the airports of Aberdeen, Glasgow and Southampton.
"We have lost routes, and airlines tell us that [intra] Europe is more profitable," said Al Titterington, managing director of Cornwall Airport Newquay, who is expecting growth of 5 percent this summer, but that compares to earlier expectations of 10-15 percent.
"International demand is soft, the German market is actually shrinking [for Newquay airport]. Europeans don't feel welcome in the UK."
Some of the shortfall can be compensated for by resilient domestic traffic. But UK holidaymakers spend only about 50 percent of what European visitors would spend, leading to shortfalls in tourism revenues.
The impact of Brexit comes in various different ways, Aboudy Nasser, chief commercial officer of London Stansted Airport said. He pointed to forecasts that the UK's GDP will grow 35 percent less over the next ten years than before the referendum.
At the same time, real wages are at their lowest since 2008 and household expenditure is exceeding income for the first time in 30 years, Nasser explained. "People just don't have money to spend on travel," he said. Also, business investment has turned negative.
The UK's economic slowdown "is also affecting the rest of Europe" with Germany's economic development losing momentum and Italy facing a recession.
The cost side isn't helpful for airlines based in the UK either as the pound has lost 18 percent of its value vis-à-vis the U.S.-dollar, making big parts of their cost base such as fuel and aircraft leasing/financing more expensive.
Some carriers are trying to get cost relief from airports, Titterington said. "Airlines are asking for renegotiations of terms because of Brexit," he confirmed.
Tim Alderslade, chief executive of Airlines UK, believes that aviation has come a long way nonetheless as traffic between the UK and the European Union is "now protected" even in a no-deal scenario. He also pointed at the decision to guarantee visa-free travel for UK and EU citizens reciprocally.
However, John Hanlon, Norwegian's head of international government and industry relations, stressed there is more work to do. "We need a comprehensive air transport agreement [between the EU and the UK]. The problem needs to be resolved quickly ahead of the new planning cycle," he said. "It should not be part of a trade deal, aviation has always been separate."
Hanlon believes that ultimately a resolution will be found as people expect to be able to continue to travel and "self interest [of politicians] will lead to a common-sense outcome. Citizens should not be the innocent victims of this."
Norwegian has air operator certificates in the UK, Norway, Sweden and Ireland to ensure its traffic rights leading to "a diverse spread of exposure to Brexit."
But even though new limits for flying between the EU and the UK are expected this summer regardless of the outcome of negotiations and the timing of Brexit, Alderslade expects substantial disruption: "We are expecting a difficult summer" as far as border control at airports are concerned.
In 2018, queueing in excess of two hours at Heathrow immigration "was common," he recalled. "It was terrible for the airlines and their customers." And it is "immensely frustrating" that the upcoming summer could be more of the same as border officers may be moved away from airports for more urgent tasks at UK ports.
"If it is difficult to come to the country people will take their business elsewhere."
Another pain point is the lack of clarity over whether or not duty free sales will be allowed for flights to the EU post-Brexit. "Nobody in the UK has made the decision," Nasser complained, yet the country might crash out of the EU on April 12. Bourienne agreed that the issue is undecided, but "we should get some good news soon."