TUI fly boss warns of "tough" summer ahead of 737 MAX reintroduction
German leisure airline TUI fly has sufficient spare capacity in its schedule to cope with air-traffic control related disruption this year, its managing director has told delegates at Routes Europe 2019 in Hannover, but he expects it to be another difficult summer.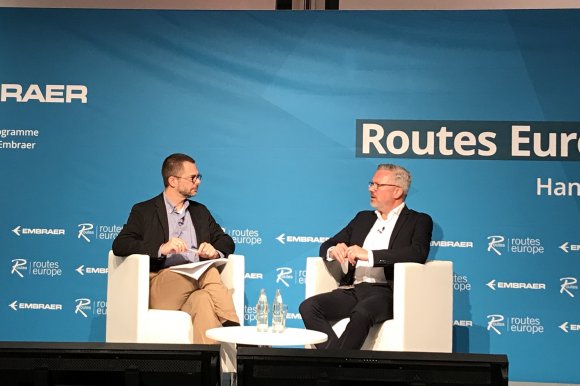 In a wide-ranging interview, Oliver Lackmann also stressed that Boeing and its airline customers will need to work together if they are to win back passenger confidence in the 737 MAX 8 aircraft, and he confirmed that TUI fly will take four 737 MAX 10 aircraft by 2023.
Lackmann said the carrier planned to have 39 aircraft this summer - four of which were due to be the MAX 8s - but it will instead have 38. Replacing the MAX 8s will be leased aircraft, plus one of its own that was due to be put into storage.
The MAX fleet was grounded worldwide in March after the crash of Ethiopian Airlines' flight ET302.
"Our homework has been done, but nevertheless it will be a tough summer," he said. "We'd planned to have 39 aircraft in our fleet but if things don't change it will be 38. That's two more [than last summer]."
TUI Group warned in March that the grounding of Boeing 737 MAX aircraft could cost it up to €300m. In an update to investors, it said it would take a €200m hit should the jets be grounded until mid-July.
However, if mid-July proves to be an unrealistic date, TUI plans to extend the measures it is taking until the end of September, costing it a further €100m.
The group has a fleet of about 150 aircraft, including 15 of the grounded MAX 8 jets. TUI fly received its first 737 MAX 8 on the same day of the grounding.
Lackmann admitted that Boeing has much work to do to restore passenger confidence, but said airlines also need to work hard to win back trust.
He explained: "It's all about confidence and trust. We have to be very transparent to explain what happened, what has been done, what design changes have been made, and why we are now confident that it will not happen again. It's a lot of work, but I'm confident it can be done."
Lackmann also provided an update to delegates about how TUI fly plans to deploy the 737 MAX 8 jets once they enter its fleet, which he hopes will be in July.
He said: "The range of this aircraft is optimum for our longer routes. For now, we don't fly long-haul routes but we've been looking into whether it could be used on longer routes. For example, to the US east coast or the Caribbean, but we've decided that's not the right option for us.
"Instead, because the fuel burn is about 60 percent lower than the NG, we've decided to use it on our longer mid-haul routes, like Cape Verde and the Canary Islands."
In addition, Lackmann confirmed that TUI fly plans to take four MAX 10 aircraft by 2023.
"We think they will be a good addition to our present fleet," he said. "We looked very deeply at the business case for the MAX 10, but the average seat cost is much lower so that made the decision much easier."