Budapest Airport named as overall winner at Routes Europe 2019 Marketing Awards
The annual Routes Europe Marketing Awards took place at Hannover's Herrenhausen Gardens.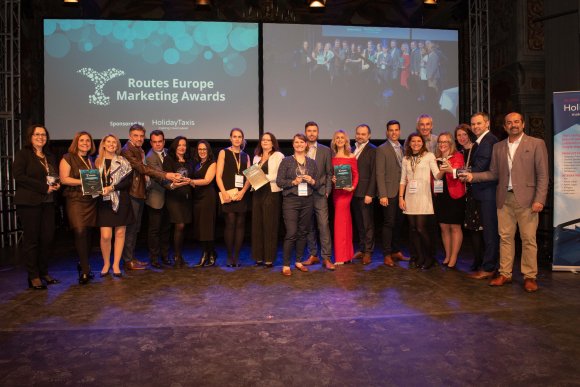 Nominated and judged by airlines, the annual Routes Europe Marketing Awards are highly regarded in the aviation industry for recognising the outstanding marketing services that have supported the launch of new air routes or the development of existing services.
Budapest Airport was named the overall winner after winning the 4-20 million passengers category. Budapest Airport's passenger traffic has increased by double digits over the last four years with 2018 recording a rise of 13.5 percent. A total of 18 new routes, including 12 new destinations, were launched between April 2018 and April 2019. They include direct flights to Philadelphia with American Airlines and to New York JFK, Chicago and London City with LOT Polish Airlines. Fifteen new routes have already been announced for 2019, the highlight being service to Shanghai operated by Shanghai Airlines.
Budapest Airport held more than 170 face-to-face meetings over the last year, while its other marketing efforts include destination-focussed campaigns, holding trade events, Facebook contests, regular newsletters and tours for foreign journalists and bloggers.
Kam Jandu, chief commercial officer of Budapest Airport, said: "When you invest in your marketing strategy and you invest in a great team who fly around the world to meet with airlines and attend the Routes conferences, it's fantastic that the airlines take notice of that and recognise what you're trying to achieve.
"For us this means the world. It means the airline community - who are the people who matter - voted for my team in a category with so many other outstanding airports. I am very proud."
Billund Airport, who took home the award for an airport under 4 million passengers were congratulated for a ninth consecutive year of growth in 2018, passing the 3.5 million passenger mark for the first time in its history. New destinations added last year included Athens, Bergen, Lisbon, Vienna and Warsaw, while LOT Polish Airlines and Widerøe commenced service. As the town of Billund is too small to support any direct air services, the airport's marketing strategy has focused on positioning it as the gateway to west Denmark and a catchment area of seven cities.
In 2018 more than 40 airline meetings and site visits were arranged, resulting in nine new routes for 2019, 21 new weekly flights on five existing routes, and a new Norwegian base. Billund Airport has invested €6m in incentives to support new routes and capacity increases, with 20 out of 23 scheduled airlines growing their presence in 2018.
The award for an airport with over 20 million passengers was won by Athens International Airport . More than 24.1 million passengers used Athens International in 2018, a rise of 11 percent compared with the previous 12 months. The airport secured 62 new routes during the period and welcomed four new airlines. Volotea and Ellinair opened bases, while Ryanair started 21 sectors and Aegean Airlines commenced 15 new routes. Thirteen carriers also added capacity across 34 routes.
Last year, the airport's airline development team took more than 70 flights and delivered in excess of 100 presentations. These efforts have resulted in 37 new services so far in 2019, including 12 new destinations such as Chicago and Muscat. Athens' incentive scheme comprises 13 different elements, covering any possible type of route development from home-based airlines, LCCs or visiting carriers. To help ensure routes are sustainable and profitable, the airport also spent €3.5m on marketing support in 2018.
The destination marketing award was won by Vienna Tourist Board. Vienna exceeded 16.5 million overnight stays for the first time ever in 2018, a rise of 6.3 percent compared with 2017, while total arrivals grew by 6.2 percent to 7.5 million.
Air service development forms part of Vienna Tourist Board's Tourism Strategy 2020, which outlines an objective of securing 20 new international flight connections and that target has already been met, two years ahead of schedule.
In 2018, the tourist board carried out marketing activities with 23 airlines, including hosting a gala dinner to promote the new Shenzhen-Vienna flights with Hainan Airlines, and organising business breakfast for selected media and trade partners. In 2019, three new direct routes that are expected to drive significant incoming tourism to Vienna have already been confirmed.
Budapest Airport will go through to compete for the title of overall winner at the World Routes Marketing Awards which will take place in Adelaide on the 23rd September.
Awards in summary:
Overall winner
Budapest Airport
Airport under 4 million passengers
Winner: Billund Airport
Highly commended: Kalamata Airport
Airport 4-20 million passengers
Winner: Budapest Airport
Highly commended: St Petersburg, Pulkovo Airport
Airport Over 20 million passengers
Winner: Athens International Airport
Highly commended: Brussels Airport
Destination marketing
Winner: Vienna Tourist Board
Highly commended: Tampere Region