Why Jet Airways has temporarily suspended all flights
Jet Airways has temporarily suspended all its domestic and international flights after failing to find fresh funding.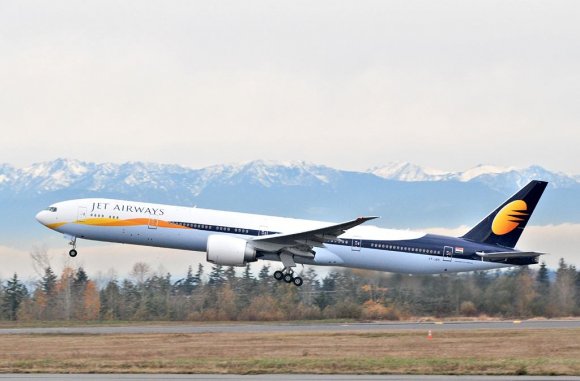 When Jet Airways' chief executive Vinay Dube spoke to Routes little over a year ago, he outlined his growth ambitions for the airline, stressing that despite India's bullish market capacity growth would be lower than some of its rivals in order to ensure the carrier becomes a "strong and healthy airline".
At the time, the airline expected to introduce 150 new narrow-body aircraft over the next five years. This included an existing order with Boeing for 75 737 MAX aircraft, plus a second planned order for another 75 short-haul aircraft.
"Indian aviation has the kind of numbers that make any other country jealous," Dube enthused. "There will be a transformation over the next five years between 2018 and 2023 as we take delivery of all 150 aircraft."
But today (18 April 2019) the troubled Indian airline stands on the brink of collapse. It has temporarily suspended all its domestic and international flights after failing to find fresh funding.
The carrier has debts of more than $1.2bn and in March was taken over by a consortium of investors led by the State Bank of India. The move resulted in the exit of its founder and chairman Naresh Goyal, who established the airline in 1992.
Jet Airways, which was previously India's second-largest airline by market share, boasted a fleet of 120 aircraft at its peak, flying 600 domestic and 380 international routes. Etihad Airways acquired a 24 percent equity stake in 2013.
However, it has now cancelled all flights indefinitely, but said it hoped to "bring the flying sun back into the skies".
A statement said: "Since no emergency funding from the lenders or any other source is forthcoming, the airline will not be able to pay for fuel or other critical services to keep the operations going. Consequently, with immediate effect, Jet Airways is compelled to cancel all its international and domestic flights."
It added: "Over the last several weeks and months, the company has tried every means possible to seek both interim and long-term funding. Unfortunately, despite its very best efforts, the airline has been left with no other choice today but to go ahead with a temporary suspension of flight operations.
"This has been a very difficult decision but without interim funding, the airline is simply unable to conduct flight operations in a manner that delivers to the very reasonable expectations of its guests, employees, partners and service providers.
"After 25 years of sharing the Joy of Flying with Indian and international guests, Jet Airways has been forced to take this extreme measure as prolonged and sustained efforts with lenders and authorities did not yield the desired results."
As reported by Airlineroute, reservation for flights from Mumbai to Manchester, Bahrain and Abu Dhabi remains closed on/after 1 May 2019, while such services as Delhi – Riyadh and Pune – Singapore are closed beyond that.
On 14 April, Air France-KLM discontinued reservation for codeshare flights operated by Jet Airways, and two days later other carriers such as ANA and Qantas followed suit.
Jet Airways' financial struggles in recent years have been exacerbated by the rapid growth of low-cost rivals in India, a rise in fuel prices and an unfavourable exchange rate. It has been unable to reduce its cost base in line with some of its counterparts, partly because of its less fuel-efficient fleet, and reported a net loss of $620m last year on revenues of $3.6bn.
According to data from OAG Schedules Analyser, Jet Airways had a 14 percent capacity share of available seats in India's burgeoning domestic market in 2018, second to IndiGo. However, its share has been steadily eroded in recent years, dropping from 22 percent in 2012.
The decline has largely been fuelled by the growth of low-cost carriers. IndiGo's domestic capacity share increased from 23.9 percent in 2012 to 41.9 percent in 2018. GoAir's share has increased from 6.6 percent to 8.8 percent over the same period, while new entrants like AirAsia India and Vistara have eaten into Jet Airways' position in the market.
Jet Airways' domestic and international capacity (2014-18):
Looking at Jet Airways' largest routes by capacity in 2018, its top five were all domestic led by Mumbai (BOM) - Delhi (DEL) with 1.98 million available seats. In second was Mumbai - Bengaluru (BLR) with 1.28 million, third was Mumbai - Chennai (MAA) and fourth was Mumbai - Kolkata (CCU). Completing the top five was Delhi - Bengaluru with 891,000 available seats.
On the international front, Mumbai - London Heathrow (LHR) has the most capacity with 757,700 seats followed by Mumbai - Dubai (DXB) with 744,800. It is thought that Air India and SpiceJet are already seeking to secure the traffic rights for the Mumbai - Dubai from India's Civil Aviation Ministry.
Jet Airways' top ten routes by capacity in 2018: