Bulletin board: aviation industry news round-up
This week: Air Mauritius takes delivery of A330neo; AirAsia still keen on Vietnamese LCC; Norwegian delays aircraft deliveries; Ryanair starts Charleroi connecting service and more.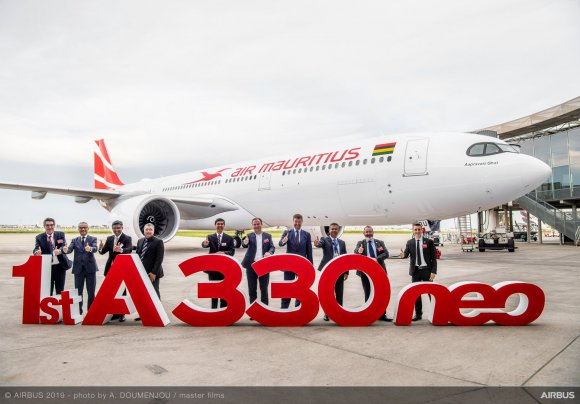 A round-up of the latest news from the aviation industry this week.
Air Mauritius takes delivery of A330neo
Air Mauritius has taken delivery of its first Airbus A330-900neo aircraft, which it will use on direct services from Heathrow Airport to Mauritius. Of the 288 cabin seats on board, 28 are business class.
"The addition of two new A330neos to our fleet will bring more flexibility and efficiency to our operations, while supporting our network strategy," said Somas Appavou, CEO of Air Mauritius.
"The A330neo offers similar levels of comfort as the A350 XWB, which has received very favourable feedback from our guests. I strongly believe that with the addition of the A330neo to our fleet, Air Mauritius will further reinforce its focus and emphasis on the customer, who are the very core of our business model."
Meanwhile, Air Mauritius and KLM will suspend their joint venture operations between Mauritius and Amsterdam at the start of the 2019 winter season. The current joint operations on the two weekly Air Mauritius' operated flights will continue through the current summer season.
The long established joint venture between Air France and Air Mauritius will be unaffected.
AirAsia still keen on Vietnamese LCC
AirAsia has dropped its latest plans to create a joint venture airline in Vietnam but stressed it was still keen to launch a low-cost carrier in the country.
In a Malaysian stock market filing, the carrier said it had ended an agreement with Gumin Company Ltd and Hai Au Aviation to set up a new LCC, signed in March 2017.
But it added it "remains interested in operating a low-cost airline in Vietnam due to its favourable geographical location, expanding aviation market and overall growth potential".
AirAsia Group chief executive Tony Fernandes tweeted that he was still hopeful of "being in Vietnam by end of the year".
https://twitter.com/tonyfernandes/status/1118686689700921344
Norwegian delays aircraft deliveries
Norwegian Air Shuttle, through its Dublin-based aircraft leasing subsidiary Arctic Aviation Assets DAC, has reached an agreement with Airbus to delay more aircraft deliveries, including both A320neos and A321LRs.
The airline said the postponement is expected to reduce the company's capital expenditure commitments by approximately $570m in total for 2019 and 2020. It has declined to provide further details on the number of aircraft deliveries that have been postponed.
In February, Norwegian said it was postponing deliveries of 12 Boeing 737 MAX 8 aircraft from 2020 to 2023 and 2024, and four Airbus 321LR aircraft from 2019 to 2020.
KLM adds Guanacaste Liberia
KLM is expanding its network with the opening of Liberia Airport Authority in Costa Rica. As per the start of the winter 2019 schedule, this region on the Pacific coast of Costa Rica will be served four times per week with a direct KLM flight from Amsterdam. On the southbound sector, this flight will make an intermediate landing in San José (Costa Rica), a destination that is currently already served by KLM in its winter schedule.
KLM will commence service on 29 October 2019 on Tuesdays, Fridays, Saturdays and Sundays between Amsterdam-Schiphol, San José and Guanacaste-Liberia. The flights will be operated with a Boeing 787-9 Dreamliner.
Ryanair starts Charleroi connecting service
Ryanair has launched a connecting flights service at Brussels South Charleroi Airport. The service connects 27 routes including Alicante, Budapest, Milan Bergamo and Prague.
Passengers flying via Charleroi airport will have bags checked through to their final destination when switching aircraft. They will transfer airside between connecting flights.
Air Arabia receives first A321neoLR
Air Arabia has received its first Airbus A321neoLR, becoming the first Middle Eastern airline to operate the extended-range aircraft.
The addition of the A321neoLR will enable Air Arabia to expand to new medium-haul markets, such as Kuala Lumpur, in addition to strengthening the existing routes with increased seat capacity.
Adel Al Ali, chief executive of Air Arabia, said: "The addition of this new aircraft allows us to expand our service to farther and newer destinations while remaining loyal to our low-cost business model."