Bulletin board: aviation industry news round-up
This week: 737 delivery fall hits Boeing, Malaysia Airlines mulls major order, Frontier starts at BOS, JetBlue eyes Europe and more.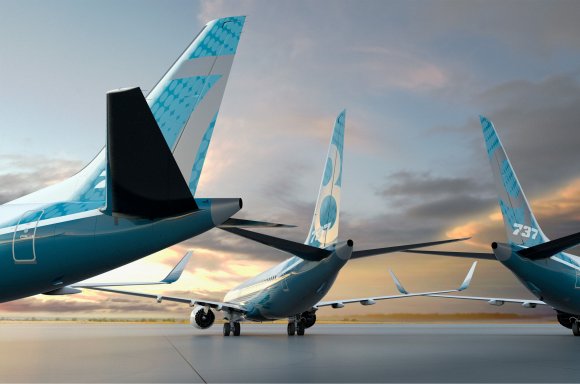 A round-up of the latest news from the aviation industry this week.
Malaysia Airlines weighs up regional jet deal
Malaysia Airlines (MAS) is considering a deal for 30 to 40 regional jets, according to a report in ATW.
The publication, which cites "a source familiar with MAS", said the carrier issued a Request for Proposal (RFP) earlier this month to Embraer and Airbus.
A 30-aircraft deal for the A220-300 could be worth $2.7bn, or $1.8bn for Embraer E-Jets.
"Malaysia Airlines is currently evaluating several options for its future fleet plan. Once the evaluation is complete, we will make the necessary announcements where appropriate," said Malaysia Airlines in response to ATW's query.
Embraer declined to comment on business possibilities.
Lower 737 deliveries hit Boeing bottom line
A fall in deliveries of 737 aircraft has contributed to a drop in first-quarter revenue at Boeing.
The airframe giant's total revenue fell to by 2 percent to $22,917m year-on-year. However, the drop in commercial aircraft revenue was more pronounced, falling by 9 percent from $11,822m from $19,945m.
Total deliveries during the period were 149, compared to 184 last year; 737 aircraft accounted for 89 of these down from 132.
Unsurprisingly, Boeing stated that its under-fire 737 MAX programme was the ongoing key priority.
"Across the company, we are focused on safety, returning the 737 MAX to service, and earning and re-earning the trust and confidence of customers, regulators and the flying public," said Boeing chairman, president and chief executive officer Dennis Muilenburg.
"As we work through this challenging time for our customers, stakeholders and the company, our attention remains on driving excellence in quality and performance and running a healthy sustained growth business built on strong, long-term fundamentals."
Frontier takes off at BOS
Fast-growing LCC Frontier Airlines has marked its first service from Boston Logan International Airport / Massachusetts Port Authority (BOS).
The carrier's first flight is a daily service to Orlando International Airport using A320 family equipment.
"We are excited to be starting service and proud to offer our unique brand of Low Fares Done Right to Boston travellers," said Jonathan Freed, director of corporate communications for Frontier Airlines.
Air Italy aims to optimise Malpensa hub
IG has launched its rejigged winter 19/20 schedule, which primarily aims to optimise its network from Milan Airports - SEA.
The carrier offers 112 weekly domestic flights from the hub, and has tweaked its daily frequencies to Rome, Naples, Palermo, Catania, Lamezia Terme and Cagliari.
It is suspending service to Los Angeles, San Francisco and Toronto in favour of Maldives, Zanzibar, Tenerife and Mombasa.
Rossen Dimitrov, chief operating officer of Air Italy, said: "Starting today, our winter network is now on sale, and we are delighted to be offering the Maldives, Zanzibar, Tenerife and Mombasa which are all fabulous winter destinations and have been perennially popular with our Italian customers during winter.
"At the same time, by repositioning our aircraft to the outstations overnight, we will now be able to offer enhanced connectivity to our international destinations and better timings for those coming to Milan for business or leisure."
Milan is the host of World Routes 2020, which will bring the world's network development to the storied Italian city. Routesonline recently published an exclusive interview with Rossen Dimitrov one year on from the airline's rebranding
JetBlue to grow capacity
JetBlue, which recently announced its intention to begin European service with new routes to London from Boston and New York in 2021, aims to grow overall capacity by 4.5 to 6.5 percent in 2019, despite a fall in first quarter capacity and earnings.
GAAP pre-tax income in the period fell by 48.5 percent to $58m year-on-year, while revenue per available seat mile (RASM) declined 3.1 percent.
However, JetBlue ascribes this dip to the "calendar placement shift of Easter and Passover between the first and second quarters of 2019" and expects to see improvement for the rest of 2019.
Additionally, it expects ongoing network and fleet changes to create a strong position for ongoing growth.
Joanna Geraghty, JetBlue's president and chief operating officer, said: "We believe our work will position us for success into the next decade. Next year we anticipate the first delivery of our margin-accretive A220s, a game-changing aircraft to further help us reduce our unit costs, improve our margins and increase our EPS."