Jazeera Airways plots new routes following A320neo deliveries
Kuwaiti airline Jazeera Airways will this year launch new routes to destinations in Europe, Pakistan and Bangladesh as it readies to take delivery of three new A320neo aircraft.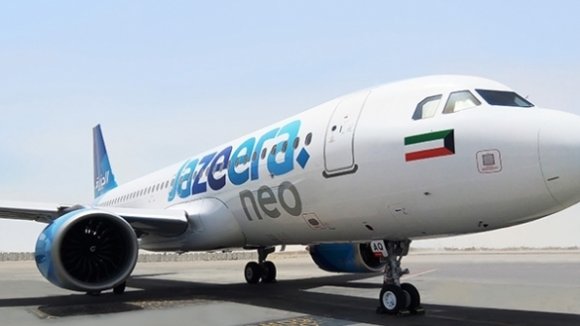 Jazeera Airways this year plans to introduce a string of new international routes, including services to London.
The carrier, which operates a fleet of eight Airbus A320s and one Airbus A320neo, said the routes were being made possible by the addition of three A320neos on order. It will also take two A320ceos on short-term leases.
The airline expects to commence service to London Gatwick Airport in 2019, alongside Bodrum and Istanbul Sabiha Gokcen International Airport in Turkey, Kathmandu in Nepal, Dhaka in Bangladesh and Karachi in Pakistan.
"The introduction of the fuel-saving and new noise-reduction engine aircraft to our growing fleet supports our continued network expansion to cover destinations that increase our flying radius from Kuwait up to 6.5 hours," said chairman Marwan M. Boodai.
"Jazeera Airways had a positive performance in the first quarter of 2019, supported by a growing and solid network that serves an expanding customer-base."
Jazeera Airways carried 529,640 passengers during the first quarter of 2019, an increase of 31.2 percent on the same time last year. Capacity rose by 31.6 percent to 700,777 available seats.
The period marked the third quarter the airline has operated from the Jazeera Terminal (T5) at Kuwait International Airport.
According to data from OAG Schedules Analyser, Jazeera Airways operated flights to 24 destinations during the first three months of 2019, up from 21 in the first quarter of 2018. In the coming weeks it will resume service to Sharm El-Sheikh in Egypt and Taif in Saudi Arabia.
The route expansions planned for later this year come after the carrier opened six new destinations in 2018, four of which were in India. The carrier now serves Ahmedabad, Mumbai, Kochi and Delhi in India, plus Lahore in Pakistan and Tbilisi in Georgia.
"Up until last year, routes between India and Kuwait were underserved and competing regional airlines offering one-stop connectivity between Kuwait and India have historically taken market share from our local customer-base," said Boodai.
"Our strategy to expand with direct flights between both countries has satisfied a latent demand in the market and provided direct flights between both countries."
Chief executive Rohit Ramachandran added: "By year-end, Jazeera Airways was no longer merely a point-to-point airline, but routing passengers through the Kuwait hub to their next destination on our airline.
"The contribution of connecting traffic has increased from 3 percent in 2017 to 18 percent in 2018. Total number of passengers grew by a record 46.4 percent year-on-year to reach close to two million passengers."