SpiceJet signs Emirates codeshare as its international expansion gathers pace
Indian low-cost carrier SpiceJet has signed its first major codeshare agreement as it seeks to further its international expansion and fill the gap created by Jet Airways' suspending operations.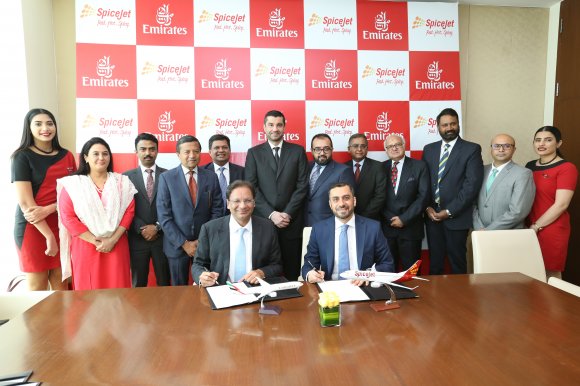 SpiceJet and Emirates have signed a Memorandum of Understanding to enter into a reciprocal codeshare agreement, aimed at opening new routes between India, Africa, America, Europe and the Middle East.
Subject to necessary government approvals, Emirates passengers from DXB will have access to 67 weekly flights to six more Indian cities; Amritsar, Jaipur, Pune, Mangalore, Madurai, and Calicut. Emirates currently has connections to 11 Indian cities from Dubai.
SpiceJet passengers travelling from Delhi, Mumbai International Airport, Ahmedabad, Kochi, Amritsar, Jaipur, Pune, Mangalore, Madurai, Kozhikode and 41 other domestic destinations that the airline operates to will be able to access Emirates' expansive network across the globe.
"This new partnership should immensely benefit passengers travelling on both airlines," said Ajay Singh, chairman and managing director of SpiceJet.
"While SpiceJet passengers from across India will be able to enjoy seamless connectivity leveraging Emirates vast network across Europe, Africa, America and the Middle East those travelling to India on Emirates will be able to travel to 51 destinations across our domestic network."
Adnan Kazim, Emirates' divisional senior vice president, strategic planning, revenue optimisation and aeropolitical affairs, added: "Our journey in India has been defined by progressive investment, partnership and growth.
"We constantly try to improve and provide our customers with greater flexibility and travel choices. This partnership with SpiceJet and the mutual expansion of our network will go a long way in further enhancing the travel experience of our customers in India as well as those heading into India, benefiting travellers and businesses alike."
The new codeshare forms part of SpiceJet's aggressive expansion in recent weeks in the wake of Jet Airways' financial issues and flights suspension. In May, the carrier will open non-stop flights to Hong Kong, Jeddah, Dubai, Colombo, Dhaka, Riyadh, Bangkok and Kathmandu.
In addition, SpiceJet this week announced the launch of 28 new flights connecting Mumbai and Delhi with other cities on its domestic network. Of these, 14 will connect Mumbai; eight will connect Delhi while the rest will connect the two cities with each other.
The new flights from Mumbai are on the Jaipur, Amritsar, Mangalore and Coimbatore sectors while the airline has also enhanced operations with additional frequencies from the city on the routes between Mumbai and Patna, Hyderabad and Kolkata.
SpiceJet will also introduce two new frequencies each from Delhi to Patna and Bengaluru besides three additional frequencies on the Mumbai-Delhi-Mumbai sector. All the new flights introduced will be operational daily effective 26 April 2019.
To accommodate the network growth, the airline is inducting 16 Boeing 737-800 NG aircraft on dry lease and plans to add five 90-seater Q400 aircraft to its fleet over the coming months.