Get to know the Stans: Tajikistan
In the first part of a new series focusing on the five former Soviet republics in Central Asia, often referred to as 'the Stans', Routesonline takes a closer look at the aviation market in Tajikistan.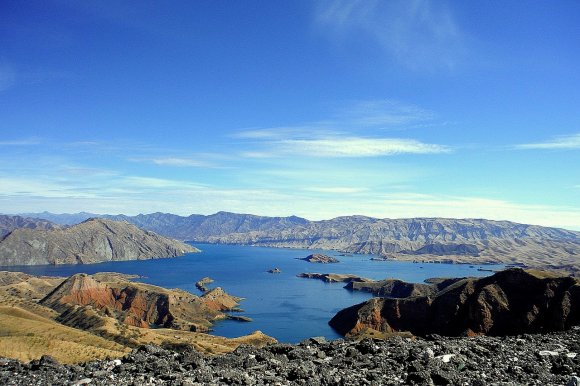 Blessed with some of the most breath-taking mountainous landscape in the world, Tajikistan is perhaps one of the most remote and least known of all the Central Asian countries.
Bordered by Kyrgyzstan to the north, Afghanistan to the south, China to the east and Uzbekistan to the west, the landlocked country is home to a population of about nine million. It was once a key strategic point for the Soviet Union and still maintains strong trading links with Russia, where about one million of the country's citizens find work.
Tajikistan has four international airports, the largest of which serves the country's capital Dushanbe. According to figures from OAG Schedules Analyser, Dushanbe accounted for 64.5 percent of all departure seats in 2018. Khujand in the northernmost province of Sughd had 25.7 percent, while Kulob in the south had 8.8 percent and Qurghonteppa in the south-west had 1 percent.
Almost 1.3 million departure seats were available last year across the four airports, a decline of 3.4 percent compared with the previous 12 months. The domestic market suffered a 66.8 percent year-on-year drop to 13,774 seats, while the international market fell by 1.4 percent to 1.29 million seats.
However, the overall figure for 2018 represents an 84 percent rise on the total number of departure seats on offer in 2009. Its international market has been the main driver, growing by 82 percent during the decade.
Domestic/international departure seats from Tajikistan (2009-18):
The capacity decline last year was primarily due to service reductions by state-owned national carrier Tajik Air, which has been suffering financial difficulties and temporarily suspended scheduled flights earlier this year. Its overall two-way capacity fell from 417,874 available seats in 2017 to 287,182 in 2018 as it cut a number of routes and reduced frequencies on others.
Russian carrier Ural Airlines, which operates scheduled and chartered flights, commanded the largest capacity share of departure seats from Tajikistan in 2018. The airline had a 29.8 percent share of the market, up from 23.6 percent in 2017.
---

Hear from industry experts at Routes Silk Road 2019. Speakers include senior figures from Air Astana, Hahn Air Lines, AirAsia Group and AtlasGlobal.
See the full Conference Programme
---
Somon Air had a 27.5 percent share, while UTair Aviation had 12.7 percent. Tajik Air was the fourth largest with 11.3 percent and Siberia Airlines completed the top five with 6.9 percent.
Tajik Air operated from Dushanbe International Airport but halted all scheduled flights in January 2019, OAG data shows. At the time, the airline had a 32-year-old Boeing 767-300, a 27-year-old 757-200 and two 737s, also 27 years old. Aviation Week's Fleet Discovery platform also shows its fleet consisted of a Bombardier Challenger 850LR.
The carrier's financial issues have been heightened in recent years by the growth of privately owned Somon Air which launched in 2008. The suspension of Tajik Air means it is now the only Tajiki airline currently operating scheduled services. However, Tajik Air indicated in March that it intends to resume service on the Dushanbe-Moscow route.
Russia dominates the wider Tajikistan outbound market, accounting for 79.7 percent of international capacity in 2018. This equates to more than one million available departure seats. Kazakhstan is second, accounting for 4.6 percent of departure seats followed by China on 3.8 percent.
Top five routes from Tajikistan in 2018 by two-way capacity:
Speaking to Routes News in 2018, Somon Air's chief executive Thomas Hallam said that migrant traffic has provided a foundation for the carrier to expand its operation, but he expects this segment to "reduce itself over time" in favour of VFR passengers and tourists. The airline currently operates 22 routes (w/c 29 April 2019), 16 of which are to points in Russia.
However, he added that the carrier plans to reduce its reliance on the Russian market given the strength of Ural Airlines, UTair Aviation and S7 Airlines.
"In Uzbekistan, there are 15 million Tajik people split between [the cities of] Tashkent, Samarkand and Bukhara," he said. "Those are clear destinations that we are looking at and have negotiated rights for. We've got Afghanistan, which has more than ten million Tajiks… there's Pakistan as well – Islamabad or Karachi – and we know that the Indian market could be a good one for us."
At present, air connectivity between the Central Asian republics is fairly limited. But in March 2019, Tajikistan and Kazakhstan announced an increase of frequency between the countries from 18 to 32 times weekly.
Under the terms of the agreement, Almaty International Airport-Dushanbe will operate up to 12 times weekly and Astana-Dushanbe up to six times weekly. In addition, services from Nur-Sultan (Astana), Almaty, Shymkent and Taraz to Dushanbe, Khudzhand, Qurghonteppa and Kulyab will be able to operate up to 14 times weekly.
Tajikistan has also this year signed a Memorandum of Understanding with Georgia's Civil Aviation Agency to increase air services and in April signed a protocol to enhance cooperation with Qatar that allows Qatar Airways to operate fifth freedom services to Tajikistan.
International connections from Tajikistan (w/c 29 April 2019):