Bulletin board: aviation industry news round-up
This week: Eurowings heads into Eastern Europe; Air Transat receives first A321LR; Adelaide Airport reports international growth; Volotea to grow its fleet and more.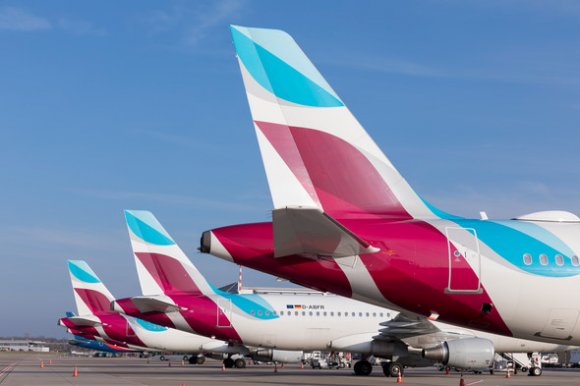 A round-up of the latest news from the aviation industry this week.
Eurowings to open Kosovo base
Eurowings is expanding its network in Eastern Europe with the opening of a new base in Pristina, Kosovo. The low-cost airline will be stationing an Airbus A319 in Pristina from 19 June 2019, becoming its 13th base.
For the first time, Eurowings will offer direct connections from Pristina to Switzerland, while existing connections to Düsseldorf, Munich and Stuttgart will be increased.
"With more than 40 million passengers carried last year, Eurowings has clearly become the strong number three among point-to-point airlines in Europe," said Eurowings chief executive Thorsten Dirks.
"We are consolidating this status by expanding our network in the direction of Eastern Europe. Pristina will play an important role in this context."
In total the airline offers over 60 weekly frequencies to and from Pristina.
Air Transat receives first A321LR
Canadian leisure airline Air Transat has taken delivery of its first Airbus A321LR aircraft, one of 15 the Montreal-based carrier is scheduled to receive.
The A321LR, which is being leased from AerCap, will be used for long-haul flights, primarily on thinner routes to Europe, the Caribbean, and Central and South America. Airlineroute this week reported Air Transat's plans to fly to a number of sun destinations.
The Air Transat A321LR is configured for 199 seats in two classes.
Earlier this year, Routesonline spoke to Transat co-founder Jean-Marc Eustache about how the airline is strengthening its position on transatlantic routes and the future growth of its fleet.
Adelaide Airport reports international growth
Adelaide Airport Limited has recorded 3.4 percent growth in international traffic during the third quarter of its financial year. In the three months to the end of March, the airport said the passenger growth outperformed capacity growth of 2.3 percent due to increased demand from countries in Asia.
Growth was driven by increases in capacity from Malaysia Airlines and Cathay Pacific adding an additional service per week and China Southern increasing from three to five services per week (with seasonal daily flights in January and February).
Singapore Airlines' up-gauge of aircraft in December also contributed to the overall increase in capacity and stimulated international traffic growth.
Adelaide is the host destination for World Routes 2019, which will attract delegates from across the globe to take part in more than 13,000 face-to-face meetings.
Lufthansa moves for Condor
Lufthansa has made a non-binding offer for Thomas Cook's Condor airline, according to the German carrier's chief executive.
Speaking to reporters at Lufthansa's AGM, Carsten Spohr said: "We decided yesterday (6 May 2019) in the meeting of the management board to bid for all of Condor with the option to be able to extend this [bid] to all Thomas Cook airlines."
Thomas Cook had set a deadline of 7 May for all potential bidders to declare their interest in the group's airlines.
Enter Air buys Germania Flug stake
Polish carrier Enter Air has agreed to buy a 49 percent stake in charter airline Germania Flug for $2m.
Germania Flug, based in Switzerland, has been operating for the past five years using three Airbus A319 aircraft. The defunct Berlin-based leisure airline Germania previously owned 40 percent of the carrier.
However, following Germania's insolvency, Air Prishtina chief executive Leyla Ibrahimi Salahi confirmed she had taken full ownership of Germania Flug through Albex Aviation.
Enter Air has a call option, allowing it to increase its Germania Flug stake to 80 percent.
Six A319s to join Volotea fleet
Spanish airline Volotea is to grow its fleet to 36 aircraft this summer with the addition of six new Airbus A319s.
The point-to-point carrier said it has entered into new operational lease agreements with different providers to guarantee the addition of the 156-seater aircraft.
The additional capacity will allow Volotea to add 41 new routes and increase frequencies. It is also opening a new base at Cagliari on 30 May 2019.
"Investing in six new Airbus A319 is all about our philosophy towards customers," said Carlos Muñoz, founder and chief executive of Volotea.
Emirates signs LATAM codeshare agreement
Emirates has signed a codeshare partnership agreement with LATAM Airlines Brazil covering domestic services in Brazil.
The Gulf carrier's passengers travelling to and from Brazil will now be able to connect with 17 cities in LATAM's domestic network covered by the codeshare agreement including Belo Horizonte, Brasília and Foz do Iguaçu.
Emirates currently serves two Brazil gateways with daily services to Dubai from Sao Paulo, operated by the A380, and Rio de Janeiro, operated by the newly-refurbished Boeing 777-200LR as of 1 June 2019.
In addition to the new codeshare, Emirates Group has released its annual financial results. The group posted a profit of $631m for the year to 31 March 2019, down 44 percent on the previous year. Revenues rose 7 percent to $29.8bn.
The airline received 13 new aircraft during the financial year, comprising of seven A380s and six Boeing 777-300ERs, including the last 777-300ER on its order book. The next 777 delivery is planned for 2020, when Emirates receives its first 777X aircraft.
Blue Air names new CEO
Low-cost carrier Blue Air has appointed turnaround specialist Oana Petrescu as its new chief executive, succeeding Marius Puiu who has been interim CEO since September 2018.
Petrescu said: "Blue Air has many opportunities ahead. In order to increase our commercial and operational performances we are, we will adopt a business model adapted to the current market – namely low-cost, low complexity.
"I have faith in Blue Air's professional team and I am confident that together we will significantly enhance both the communication with our passengers and their experience at the airport and in-flight."
Petrescu joined Blue Air in January 2018 as interim CFO and turnaround manager. Puiu will remain with the airline as a pilot.