Top ten most-requested airlines at World Routes events confirm Adelaide attendance
Norwegian, Delta Air Lines and Hainan Airlines are among the carriers to have registered for World Routes 2019.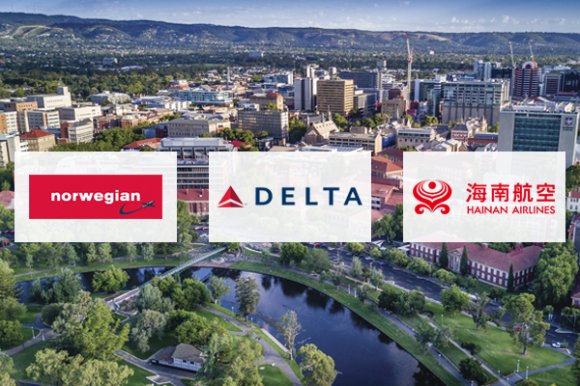 Recent registrations for World Routes 2019 have now consolidated a line-up of leading airlines confirmed to attend the event, including the top ten carriers which have received the most demand for meetings by airports and tourism authorities at previous World Routes events.
Taking place in September this year, the 25th World Route Development Forum will provide attendees with the optimum environment for growing business relationships with industry heavyweights from Norwegian, Delta Air Lines, Emirates, British Airways, Qatar Airways, Lufthansa, American Airlines, Air China, Hainan Airlines, Turkish Airlines and many more. View the attendee list.
Spanning multiple continents and serving extensive markets, these airlines have received in excess of 6,000 meeting requests at World Routes events over the past five years. The top 10's presence at World Routes 2019 unequivocally elevates the event's status as a forum that offers delegates endless opportunities to connect with market-leading organisations from across the globe.
With several new route launches announced for many carriers throughout 2019 and 2020, this year's event presents a significant time for World Routes attendees to capitalise on airlines' future growth plans. Delta Air Lines, the world's second-largest carrier regarding fleet size and RPKs, will be operating three additional routes to Miami and the Caribbean from Boston this winter. In addition, European airline Norwegian has expanded its summer services with increased routes from Oslo to destinations including Malaga, Nice, Paris and Rome.
Over 100 airlines have already confirmed their attendance at World Routes 2019. Register your place today and maximise the event's unparalleled benefits, or visit the official web pages to find out more.