Get to know the Stans: Turkmenistan
The fourth part of our focus on the five former Soviet republics in Central Asia features the aviation market in Turkmenistan, the sparsely populated gas-rich country home to a population of five million.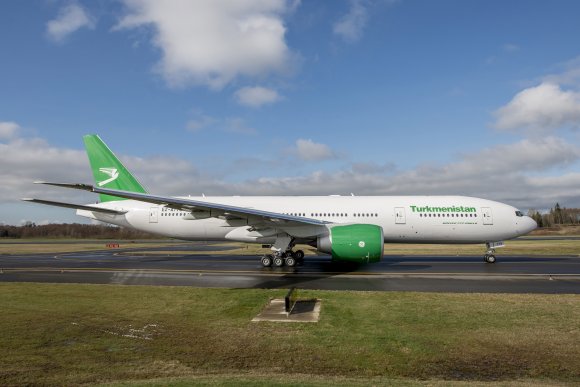 Get to know the Stans: Kyrgyzstan
Get to know the Stans: Tajikistan
Get to know the Stans: Uzbekistan
---
Although the second largest state in Central Asia with a territory comparable in size to France, Turkmenistan is among the least densely populated countries in the world.
The country, which is known for its large natural gas reserves, is home to about five million people. More than 70 percent of its landmass is occupied by the Karakum Desert.
According to OAG Schedules Analyser, there were 2.3 million available departure seats from Turkmenistan in 2018, a year-on-year rise of about 10 percent. Its domestic and international markets grew by about 13.4 percent and 4.8 percent respectively.
The country has three main international airports, the largest of which serves its capital city Ashgabat. Located 10km northwest of the city centre, Ashgabat International Airport is a hub for Turkmenistan Airlines, which is also the airport's operator.
The original airport building opened in 1994 and underwent significant investment between 2012 and 2016. Its new terminal opened in September 2016, costing a reported $2.3bn. The airport is now capable of handling 1,600 passengers per hour.
OAG data shows that Turkmenistan Airlines accounted for 87.2 percent of all available departure seats from Ashgabat in 2018. The airport was also served by seven foreign carriers, with Turkish Airlines, Lufthansa and Flydubai the top three by capacity share. The other four to offer flights to/from Ashgabat were Azerbaijan Airlines, Belavia, China Southern Airlines and S7 Airlines.
The overall market penetration of low-cost carriers in Turkmenistan is tiny, with Flydubai the only budget carrier offering service to/from the country. As a result, 98.4 percent of all departure seats from the country in 2018 were with full service airlines.
---

Hear from industry experts at Routes Silk Road 2019. Speakers include senior figures from Air Astana, Hahn Air Lines, AirAsia Group and AtlasGlobal.
See the full Conference Programme
---
State-owned national carrier Turkmenistan Airlines is the only airline of Turkmenistan, offering domestic and international passenger and cargo services.
The airline currently has a fleet of 25 aircraft in service, comprising eight Boeing 737-800s, four 737-700s, four 757-200s, three 777-200LRs and five Ilyushin IL-76TD cargo aircraft. In September, president Gurbanguly Berdimuhamedow signed a resolution authorising the carrier to purchase three Boeing 737 Max 7 aircraft.
In 2018, Turkmenistan Airlines' largest international markets were Turkey, Russia, India, the UK and Thailand. Its biggest international route by seat capacity was Ashgabat- Istanbul Atatürk, which accounted for 10.1 percent of available international seats.
However, earlier this year the European Aviation Safety Agency suspended permission for the airline to operate services to the European Union pending confirmation that it meets international air safety standards. The decision meant flights to Frankfurt Airport, Paris-Charles de Gaulle Airport, Birmingham Airport - UK and Heathrow Airport were immediately suspended.
Since then, the carrier has commissioned Lufthansa Consulting to help it raise performance in terms of the Third Country Operators EU Safety Authorisations for foreign air operators.
Looking at the overall largest international markets from Turkmenistan in 2018, Turkey accounted for almost 32 percent of available departure seats. Russia was second with 16.1 percent, followed by India in third with 10.7 percent.
Interestingly, of the five 'Stan' countries in Central Asia, Turkmenistan only has non-stop service to one of them - Kazakhstan.