Kazakhstan: the road to success
Nur-Sultan, the capital of Kazakhstan, is benefitting from a wave of inward investment and infrastructure development as it seeks to enhance its international standing and exploit its tourism potential. Improving its air connectivity is central to its ambitious growth plan.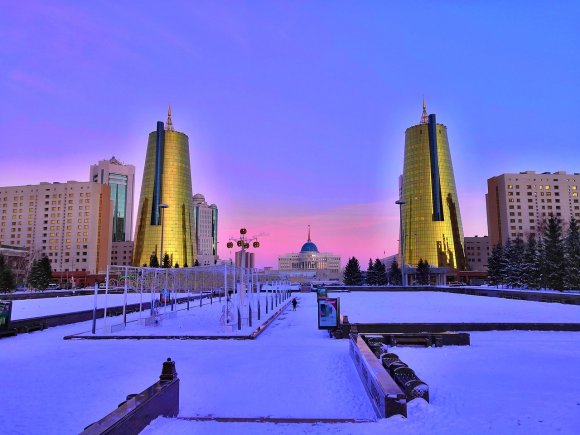 For millennia, the Silk Road has dominated global trade. Connecting China to Europe and every region in between, it shared out wealth across the world until the discovery of the Americas saw Europe turn much of its attention across the Atlantic.
Now, following the launch of China's Belt and Road development initiative in 2013, attention is again returning to the Silk Road and the countries it crosses. One such country is Kazakhstan, the capital of which, Nur-Sultan, which was formerly known as Astana, will be the venue for Routes Silk Road 2019 from 15-17 July when it is jointly hosted by the Mayor's Office and the Astana Convention Bureau.
And, as history repeats itself, Yerlan Bekmurzayev, head of department of investments and entrepreneurship development at the Mayor's Office, believes now is the perfect time to turn the attention on the city.
He adds: "Having been part of the Silk Road many years ago, Nur-Sultan's favourable location in the centre of Eurasian continent makes it an economically advantageous transport, communication and logistics centre and a natural bridge between Europe and Asia.
"Some of the $9bn Nurly Zhol state domestic development programme budget is earmarked to help turn Nur-Sultan into the main airline hub in Central Asia.
"At the same time, Nur-Sultan is one of the youngest and fastest-growing cities in the world attracting a great volume of investments and infrastructure development. The new international airport terminal opened in 2017, and the city also offers a high standard of convention and meeting facilities and unique venue
"We believe the event will underline the importance of Kazakhstan as the leader of the airport transport industry in the region."
Astana Convention Bureau deputy director Helena Mahuas agrees that by hosting Routes Silk Road, the whole country will be given a chance to shine in the eyes of the world. She adds: "For various reasons Kazakhstan is not as much on the international map as it could and should be, and we want to change that as there is definitely huge potential here. It is increasingly becoming a better destination for tourism and we need to start promoting that more.
"Nur-Sultan is also becoming more and more important as a business and convention destination and we need to grow this too. We are also looking to improve the country's connectivity and connections both in the immediate region and in Asia and Europe, which it sits between."
Mahuas says the government is waking up to the benefits of having a lively tourism industry and although it is early days, investment is beginning to bring the country's tourism offering up to international standards.
She adds: "The country has a lot to offer with plenty of outdoor activities and experiences so there is a huge potential. It is one of the priorities of the country and there is investment to promote it to people in the region. This is the first phase."
And she too believes that China's Belt and Road strategy has also given the wider region an opportunity to shine. Mahuas says: "It is not only about Kazakhstan but other countries like Uzbekistan and Kyrgyzstan which are becoming more important both within the region and also because of their locations connecting Europe with Asia."4
---

Hear from industry experts at Routes Silk Road 2019. Speakers include senior figures from Air Astana, Hahn Air Lines, AirAsia Group and AtlasGlobal.
See the full Conference Programme
---
While Bekmurzayev argues Nur-Sultan is perfectly placed to start growing its international standing, he adds Routes Silk Road is the perfect event to drive wider global engagement.
He says: "Hosting this event is a unique opportunity to attract influential decision makers to the region and show off Kazakhstan's tourism and business potential. It also allows us to highlight the dynamic performance of Nursultan Nazarbayev International Airport as one of the fastest-growing airports in Central Asia.
"We realise that this conference has the potential to accelerate route development by boosting both the attractiveness of the city and of the region as a whole."
While Bekmurzayev reiterates the key opportunity for Nur-Sultan is its geographical location, making it an attractive gateway for both mid- and long-haul routes between Europe and Asia, he argues international business has been quick to realise this too.
He adds: "The city has hosted many international events, such as EXPO 2017, and is the number-one choice for many international corporations and organisations as their regional seat."
Mahuas agrees the city's location is a major bonus, and the ambition is to make Nur-Sultan's airport a regional hub ahead of five nearby airports of similar size, including those at Tashkent and Almaty. But if the opportunities are to be fully seized, Bekmurzayev acknowledges there are some issues to resolve in order to do so.
Chief among these, he says, is communicating to the world the Kazakhstani capital's name change while also focusing on sustainable development. He adds cutting back some of the country's red tape is also on the agenda.
Bekmurzayev says: "Kazakhstan's aviation market currently faces many obstacles in terms of regulations.
"Being a post-Soviet country and a member of certain alliances such as a customs union means there are certain rules we have to follow. However, we are working on changing this and being more open to other countries in terms of new routes and visa processes."
Read more:
Get to know the Stans: Kyrgyzstan
Get to know the Stans: Tajikistan
Get to know the Stans: Uzbekistan
Get to know the Stans: Turkmenistan