Get to know the Stans: Kazakhstan
The fifth and final part of our focus on 'the Stans', the five former Soviet republics in Central Asia, looks at the aviation market in Kazakhstan as the country's capital city gears up to host Routes Silk Road 2019.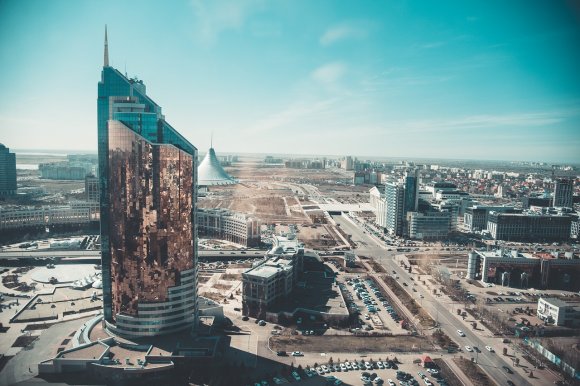 Get to know the Stans: Kyrgyzstan
Get to know the Stans: Tajikistan
Get to know the Stans: Uzbekistan
Get to know the Stans: Turkmenistan
---
Kazakhstan, the world's ninth-largest country, extends from the Caspian Sea in the west to Altai Mountains in the east on its border with China and Russia.
Lying at the crossroads of Europe and Asia, the nation is a vast 2.7 million sq km in size and dominates the Central Asia region in terms of its economic strength thanks to its vast oil and gas reserves.
But the country is undergoing a period of rapid transformation as it seeks to diversify its economy and forge a path of sustainable growth, less reliant on oil price fluctuations.
The Kazakhstan 2050 strategy, launched little over six years ago by former President Nursultan Nazarbayev, is helping to bring about economic, social and political reforms with the aim of positioning the country among the top 30 global economies by 2050.
Part of that strategy includes further liberalisation and modernisation of its aviation industry, building ties with international partners, and encouraging foreign airlines to expand and launch new services.
The overall air transport market in Kazakhstan has wavered in recent years but is now back on an upward trajectory, helped by rising visitor numbers and sixth freedom traffic.
After a strong period of expansion until 2014, tougher economic conditions curbed the growth, resulting in passenger traffic stagnating in 2015 and 2016. However, momentum retuned in 2017 with year-on-year passenger numbers jumping by 9.5 percent to 8.56 million, a year when Kazakhstan's capital Nur-Sultan (formerly Astana) hosted Expo 2017.
According to figures from Sabre Market Intelligence, there was further year-on-year growth of 3.4 percent in 2018. Data from Kazakhstan's Civil Aviation Committee added that transit passengers increased 40 percent to 900,000 in 2018, with the number expected to hit 1.6 million this year.
Kazakhstan's second-largest airport is the state-owned Nur-Sultan Nazarbayev International Airport (formerly Astana International Airport), which serves the country's 21-year-old capital city Nur-Sultan, the host destination for Routes Silk Road 2019.
Thanks to significant government investment, including the construction of a new 47,000 sq m terminal building that opened ahead of the three-month Expo 2017 festival, its growth has been rapid.
The total number of available seats from the airport was 3.05 million in 2018, a rise of 1 million compared with 2014. Domestic capacity has risen from 1.3 million departure seats in 2014 to 1.84 million in 2018, while international capacity has jumped from 699,000 to 1.21 million over the same time period.
Nur-Sultan Nazarbayev Internationalis served by 18 airlines and connected to 28 destinations internationally.
Of the remaining airports in Kazakhstan, Aktau is the third-largest with a 6.5 percent capacity share of departure seats in 2018, followed by Atyrau with 5.3 percent and Shymkent with 5.1 percent.
National airline Air Astana remains the market leader in the Central Asia country. It offered 6.45 million departure seats in 2018, a sharp rise from the 3.48 million available a decade earlier.
Almaty remains its largest base (1.98 million departure seats in 2018) followed by Nur-Sultan (1.68 million). In total, the carrier commanded a 49.7 percent capacity share of departure seats from Kazakhstan in 2018.
The airline currently has a fleet of 32 aircraft, including three Airbus A321-200neos and one A320-200neo. It has a further 15 aircraft on order: five A320-200neos, one A321-200neo, four A321-200neoLRs, three Boeing 787-8s and two Embraer ERJ190-E2.
SCAT, the second-largest carrier in Kazakhstan, is based at Shymkent Airport and had a 17.7 percent share of seats from the country in 2018. A total of 77 percent of the seats on offer were domestic.
While low-cost carriers like Flydubai, AtlasGlobal and Wizz Air are present in Kazakhstan, market penetration by budget airlines is still tiny. They accounted for about 2 percent of capacity in 2018.
However, in May 2019, Air Astana launched new low-cost subsidiary FlyArystan which should enable the company to further grow in the country's price sensitive domestic market.
FlyArystan took to the skies on 1 May for its first revenue flight from Almaty to Nur-Sultan. Initially operating five domestic routes, the carrier plans to expand internationally at a later stage.
It launched with two 180-seat single class A320s and its fleet is expected to grow to four A320s by the end of 2019 and to 15 aircraft by 2023.
Russia is the largest international market from Kazakhstan, accounting for 31.6 percent of departure seats in 2018. OAG data shows Turkey is second (12 percent), followed by United Arab Emirates in third (7.5 percent), China in fourth (6.6 percent) and Germany fifth (5.3 percent).