How Air Malta is securing its future
As the previously troubled Air Malta goes from strength to strength, chief executive Clifford Chetcuti is assuring the sector it is an airline that is poised to deliver
Air Malta was profitable last year after nearly two decades in the red, soothing worries about its financial health and validating the new strategy launched by the country's Labour government.
With a dozen European carriers closing their doors since the beginning of 2018 – including well-known names such as WOW air, Germania and Flybmi – pressure had been mounting on the Mediterranean island flag carrier to end its loss-making streak.
An earlier restructuring plan focused on contraction was not successful, and in 2016 Brussels ruled that Air Malta could not receive further state aid. Although last year's €1.2m profit was modest by global standards, Konrad Mizzi, Malta's tourism minister and a key architect of the new strategy, calls it a "proud moment" that safeguards "the lifeline of our country".
The positive result came alongside a 20 percent increase in scheduled capacity, with Air Malta resuming suspended routes such as Manchester and Berlin while adding new ones like Malaga and Lourdes. A total of 21 destinations have joined the network since the turnaround began two years ago, aided by the delivery of Air Malta's first Airbus A320neo.
"We're committed to getting a slicker operation, a more efficient sustainable operation," says Clifford Chetcuti, CEO of the state-owned airline.
"The strategy of shrinkage was changed to a strategy of growth, but not just growth. The company now has better utilisation of the aircraft – up to about 13 hours per day. There was an implementation of a new sales strategy. There was a big campaign to invest in technology, and there has also been a sustained effort to look at all the contracts we have, to review everything.
"Another key factor was the signing of collective agreements with the unions, which allowed for better flexibility and more efficiency, and ensures industrial stability for the next five years."
Double-digit growth cannot be sustained indefinitely so management see 2019 as a year of "consolidation", allowing them to build load factors while upgrading the passenger experience. But a five-year plan that will transform both the fleet and the network is already taking shape.
Air Malta's new A320neo – branded with a cartoon-themed special livery – will be joined by two identical types in June, bringing the fleet to 11 planes. Its A319 will then be retired in October, before the remaining seven A320ceos are gradually phased out in favour of neos.
"We are studying if we can go up to 14 aircraft over the next five years," Chetcuti says. "All the existing ones will be replaced with brand new neos. So, over five years, we will have a brand new fleet."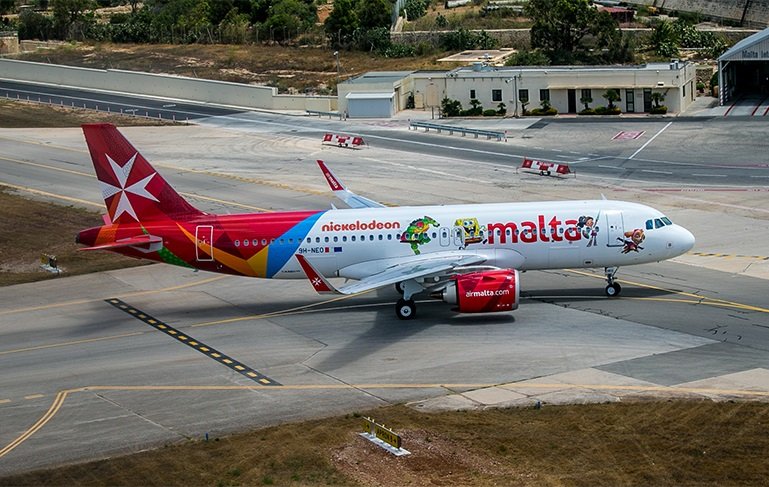 Homing in on long range
While no firm decision has been taken, Mizzi and Chetcuti have both talked up the prospects of including longer-range neos in the fleet renewal programme.
"We are doing some route studies on the A321XLR and LR," Chetcuti says. "We are actively pursuing it as part of our strategy over the next year, three years, or maybe even earlier… We are studying the potential to go to the Indian subcontinent. To get there, though, we need the LR because the current neo does not reach the Indian subcontinent. To go to the East Coast of America, we need the XLR."
The airline boss would not be drawn on specific routes, though the transport ministry has previously singled out New York, Toronto and Mumbai. Airbus is expected to formally announce its A321XLR programme this year, following widespread reports of sales pitches to customers.
The model is a competitive response to Boeing's upcoming 797 New Midsize Aircraft (NMA) and will reportedly extend the range of the A321LR – itself a new aircraft type – from 4,000 to 4,700 nautical miles.
Air Malta's existing network focuses heavily on Western Europe, with more than 30 airports served in the summer season. That includes three separate gateways in London – Heathrow, Gatwick and Southend – and both main airports in Paris. Recent expansion in Eastern Europe has seen flights launched to St Petersburg, Kiev and Bucharest, along with increased frequencies to Moscow.
Tel Aviv, Tunis, Casablanca and Cairo are among the other additions to the route network, while fifth-freedom flights to London are also now operated via Sicily and Sardinia. Although the A321LR and XLR will be required to enter the Indian and American markets, reaching deeper into Africa should be achievable with A320neos.
"That's the next step," Chetcuti says. "Sub-Saharan places like [Accra in] Ghana and Addis [Ababa in Ethiopia]. Those two stand out, but we are looking at others as well. Our new A320neos will be ETOPS certified, which is why we have to wait for the new neos to start looking at those destinations."
Libya, situated 350 kilometres south of Malta, is also being "actively looked at" by management. Air Malta pulled out of Tripoli and Benghazi in 2014 when warring militias began targeting Libya's air transport infrastructure. Sustained violence since then has deterred all foreign airlines from returning to the country, leaving its skies to a handful of struggling local operators – all of them barred from EU airspace over safety concerns.
Despite strong demand in the country pair, Chetcuti is wary of rushing back to the market. He adds: "We will not launch a Libyan operation unless we can provide assurance to our customers that their security and safety is at the same level as if they are flying to any other destination."
That makes it difficult to put a timeline on any return to Libya. But the sub-Saharan routes are expected to begin in 2020, along with Air Malta's first Scandinavian flights. Whatever form the network takes over the coming years, sixth-freedom traffic is likely to feature more prominently alongside the historic point-to-point routes.
Prime location
Nearly one in three passengers on the Casablanca and Tel Aviv sectors already use Malta as a bridging point between the two cities. Further expansion to the south, east and west will only increase the opportunities for such connections.
"We will not ignore our core requirement to support Malta and Malta Inc," Chetcuti asserts. "But, organically, you might see the percentages go from 100 percent Malta Inc to 10 percent transit or hubbing. And then, potentially, to 25 percent hubbing… we will connect Europe to North Africa and the sub-Sahara. And the next point will be connecting Europe and the sub-Sahara to the east, the Indian subcontinent. And then, further on, connecting the Mediterranean basin to America and India."
Turning Malta into an intercontinental hub will not be easy: both the airport and its home carrier are small compared to existing transfer gateways in Istanbul, Lisbon and Casablanca. However, Malta's geography in the middle of the Mediterranean is ideally suited to Africa-Europe flows. And transfer traffic is one area that Ryanair, the flag-carrier's biggest local rival, has neither the traffic rights nor the commercial appetite to pursue.
Air Malta's turnaround was an impressive feat given the perilous state of the European aviation market. Its move towards transfer traffic and its defence of premium sectors should build on the progress made since 2017, supporting the business for decades to come. However, being small rarely works to the advantage of airlines. And political interference is an ever-present concern for state-owned companies.
It is noteworthy that Chetcuti's remarks about Indian, Libyan and Ghanaian expansion all coincided with meetings between those countries' heads of state and Malta's prime minister or president. If political priorities ultimately trump commercial rationality, Air Malta's recovery may not last long.
"We won't be putting any risk to the business financially if we feel we shouldn't," the CEO insists, voicing confidence in his commercial mandate. "It will be all datadriven and number-driven. If the numbers show we should go for it, then we will."