Virgin Australia and Virgin Atlantic have applied for authorisation to enter into a long-term cooperation agreement that would create "more competitive connecting international services" between Australia and the UK and Ireland.
The filing to the Australian Competition and Consumer Commission (ACCC) outlines plans to cooperate on services via mutual mid-points in Hong Kong and Los Angeles, as well as any future mutual connection points.
The carriers said the proposal would better utilise the home market strength of each, implement improved pricing and inventory management strategies and optimise airport operations in Hong Kong and Los Angeles.
"The applicants project that these service enhancements, together with loyalty and other product initiatives, will attract further passengers and better support existing and future services from Australia and the UK for Virgin Australia and Virgin Atlantic respectively," the airlines said.
"This is crucial to the sustainable operation of Virgin Australia's services between Australia and Hong Kong."
Virgin Australia and Virgin Atlantic want to cooperate on inventory management, sales and marketing, scheduling, network and capacity decisions, pricing and procurement.
The two said the proposed cooperation is "fundamentally pro-competitive" as it would drive passenger feed and assist Virgin Australia to more sustainably operate its Australia-Hong Kong services in competition with Qantas and Cathay Pacific.
"More broadly, authorised cooperation and alliances of this kind are crucial to Virgin Australia's ability to offer an international network and establish itself as a second full service airline for Australian passengers, promoting choice and competition," the application to the ACCC added.
Virgin Australia and Virgin Atlantic's existing routes from Hong Kong and Los Angeles: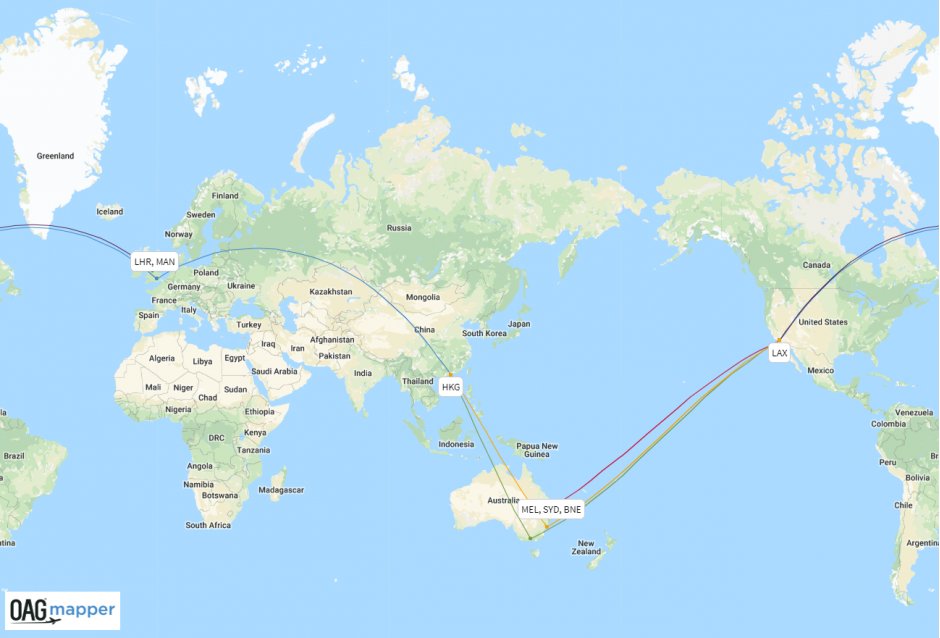 Virgin Australia launched services to Hong Kong from Melbourne in June 2017 and added a route from Sydney in July 2018.
According to figures from OAG Schedules Analyser for the w/c 10 June 2019, the carrier has an 11.2 percent capacity share of seats between Australia and Hong Kong. Cathay Pacific has 64.5 percent of the market and Qantas has 24.2 percent.
"Virgin Australia is the only competitor to dominant carriers Qantas and Cathay Pacific on these routes and lacks their network connections, home carrier strength and incumbency," the ACCC application said.
"While Qantas and Cathay Pacific enjoy load factors of over 80 percent and a combined market share of over 90 percent, Virgin Australia's load factors hover around 66 percent."
If the cooperation agreement is approved, Virgin Australia and Virgin Atlantic said the plans could result in the launch of new international routes, as well as supporting the addition of new frequencies or increased capacity through aircraft up-gauge.
International tourism contributes $55.3bn to Australia's GDP, with international visitor arrivals expected to rise from 8.5 million in 2017 to 9.7 million visitors in 2018/19.
In 2018, the UK was Australia's fourth largest inbound market for visitor arrivals, according to Tourism Research Australia, with Australia welcoming 699,280 visitors.
Over the next eight years, the UK is anticipated to remain one of Australia's top ten inbound markets and by 2020 it is expected that UK visitors to Australia will spend between $5.5bn and $6.7bn, up from about $3.1bn in 2018.
A public consultation process on Virgin Australia and Virgin Atlantic's proposal is now underway. Final determination is expected in November.
Read more:
American and Qantas joint venture to open new trans-Pacific routes
Spotlight on Australia's international connectivity
Interview: Virgin Australia's Russell Shaw on the carrier's network