Brazil's domestic market grows as it prepares for foreign entrants
Three more foreign airlines have applied to operate domestic flights in Brazil as Latin America's largest air travel market continues to open up to new entrants. Routesonline looks at the growth of the Brazilian domestic market despite the suspension of Avianca Brasil's operations.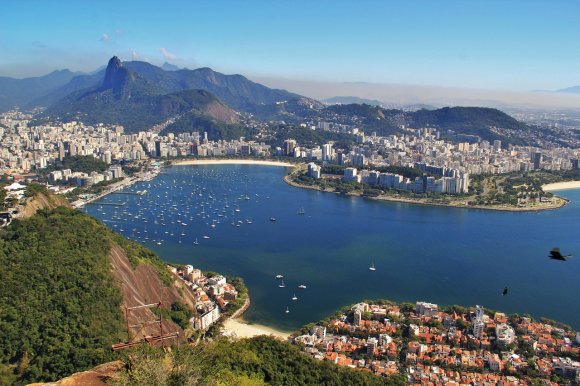 Brazil's infrastructure minister Tarcísio Gomes de Freitas has confirmed that three more foreign airlines are in talks with the government to begin domestic flights in the country.
However, the minister declined to name the airlines involved. He told news agency Reuters: "These companies are publicly traded, there are competition issues, we cannot announce them yet."
The news comes less than a month after Brazil's Senate passed a draft law that enables foreign companies to hold up to 100 percent of the shares of Brazilian airlines. Ownership had previously been capped at 20 percent.
But the measure prevents foreign-owned airlines from charging passengers for their first piece of checked baggage providing it weighs less than 23kg. This applies on all aircraft with more than 31 seats.
Although the draft law still requires the approval of President Jair Bolsonaro, Brazil's National Agency of Civil Aviation (ANAC) has already granted a concession to Globalia Linhas Aéreas, a Spanish group that owns Air Europa, to operate a regular passenger service.
Once the President gives the green light, Globalia will be able to apply for an air operator's certificate for its new Brazilian subsidiary ahead of launching its first domestic routes. It is understood the new airline will not operate under the Air Europa brand.
The domestic market in Brazil has bounced back in recent years despite the country's sluggish economic recovery and profitability issues with some of its airlines. ANAC data shows it grew 3.3 percent in 2018, with airlines transporting 93.6 million passengers. This was up from 90.6 million in 2017.
Airlines also transported 24.1 million domestic passengers during the first three months of 2019, a rise of 4.4 percent compared with the same period a year earlier.
Capacity grew by 3.4 percent in 2018 to 119.6 million scheduled departure seats - the first time the number of domestic seats has increased since 2012. OAG figures show the market contracted by 1.8 percent in 2013; 0.7 percent in 2014; 0.5 percent in 2015; 11.2 percent in 2016 and 0.3 percent in 2017.
Brazil's domestic market capacity (2010-18):
Domestic flying in Brazil is dominated by three airlines - GOL Linhas Aereas, LATAM Airlines Group and Azul Airlines - which collectively control more than 90 percent of the market.
According to data from OAG Schedules Analyser (for w/c 17 June 2019), GOL accounts for 34.3 percent of all seats on offer, LATAM for 30.4 percent and Azul Airlines for 26.8 percent.
However, based on current schedules data, capacity during the first half of 2019 will be flat at about 58.4 million seats when compared with the first six months of 2018. This is largely because of the ongoing financial troubles of Avianca Brasil, previously the fourth-largest airline in Brazil.
The carrier, owned by Synergy Group Corp, started bankruptcy proceedings in December 2018 after failing to pay leases on its aircraft. Although it started this year with 53 leased aircraft, by May it was operating a fleet of just six: four Airbus A318s and two Airbus A319s.
Then, on 24 May, ANAC suspended all of Avianca Brasil's operations at the airline's request. In a statement the regulator said the decision had been made as a precautionary measure to ensure passenger safety. GOL, LATAM and Azul have each expressed interest in taking over the carrier's slots.
Domestic capacity by airline (H1 2018 vs H1 2019):
During the first-half of the year, OAG data shows that GOL increased domestic capacity by 3.3 percent and Azul's capacity rose by 12.7 percent compared with the first-half of 2018. Of the big three, LATAM's was the only one to contract, reducing by 1.4 percent.
However, based on the current schedules data available, all three are forecast to grow during the second half of 2019 as they seek to fill a void left by Avianca Brasil.
GOL looks set to increase its domestic capacity by 12 percent, compared with the second half of 2018, while Azul will increase the number of seats on offer by 23.1 percent. LATAM's growth will be about 3.8 percent.
GOL this week confirmed it will add Cabo Frio to its network, becoming the ninth regional destination announced by the carrier this year. It will fly to the city from São Paulo-Guarulhos from December 2019 using Boeing 737-700NG aircraft.
The addition increase GOL's destinations served to 77, with 62 in Brazil. Other new destinations announced so far this year are to Cascavel, Passo Fundo, Vitóriada Conquista, Sinop, Franca, Barretos, Araçatuba and Dourados.
Read more:
Avianca Brasil cuts network to four airports
US-Brazil open skies agreement finalised
Virgin Atlantic to make South American debut