Bulletin board: aviation industry news round-up
This week: Milan Bergamo welcomes TUIfly Belgium's latest route; AA expands Dominican Republic service; Connect Airways names CEO; Avianca Argentina halts flights and more.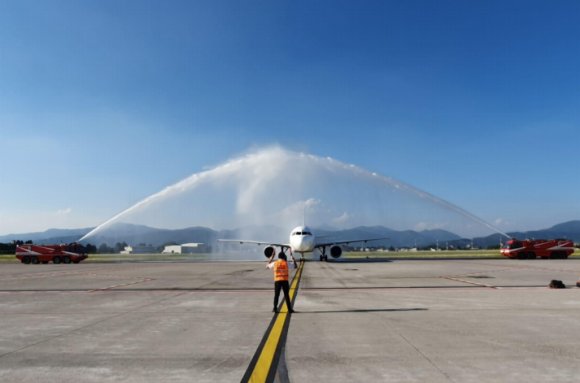 A round-up of news from the aviation industry this week.
Milan Bergamo welcomes TUIfly Belgium's latest route
Milan Bergamo Airport has welcomed the arrival of its latest airline partner with the launch of TUIfly Belgium's new link to Casablanca. The carrier has started a twice-weekly operation to the African city, utilising the airline's fleet of Airbus A320s and Boeing 737-family on the 2,007-kilometre sector.
"Casablanca is one of Africa's most important cities, economically and demographically, so it's good to see TUIfly Belgium recognise the possibilities and demand for such an additional link from Milan Bergamo and strengthening our African route network," said Giacomo Cattaneo, director of commercial aviation, SACBO.
AA expands Dominican Republic service
American Airlines has expanded its network footprint in the Dominican Republic, launching two new weekly connections to Santo Domingo from its hubs at Dallas/Fort Worth and Charlotte Douglas in the US.
As a result, the oneworld carrier will double its direct flights to Santo Domingo Las Américas International Airport from two destinations to four.
The new routes started on 8 June and both will be flown on a weekly basis.
Alvaro Leite, CCO of Aerodom, said: "As a result of this growth, American will consolidate its position as our third largest provider of seats this summer.
"I look forward to working with the airline on opening access to its other major gateways, as well as building weekly frequency to Charlotte Douglas and expanding the dates offered on the new seasonal service to Dallas/Fort Worth."
Qatar starts triple daily flights from Manchester
Qatar Airways is increasing its flight frequency from Manchester Airport to three flights per day from 14 June 2019.
The route launched in April 2003 and went double-daily in February 2011. The move to the triple daily flights will see an increase in capacity of approximately 35 percent on the route.
Gary Kershaw, Qatar Airways country manager for UK and Ireland, said: "Since launching in 2011, Manchester has performed exceptionally well, proving to be one of our most successful UK routes.
"The demand from our customers meant it was only a matter of time before we increased our flight frequency, and we are delighted to offer passengers increased choice and flexibility with the launch of our triple daily flights from the airport."
Connect Airways names CEO
Virgin Atlantic's Mark Anderson has been appointed chief executive of Connect Airways, the consortium that has taken over Flybe.
Connect, which comprises Virgin Atlantic, Flybe franchise partner Stobart Group and private equity investor Cyrus Capital, bought the UK carrier in February.
Anderson joins Connect as chief executive from his current role as executive vice-president – customer at Virgin. Before that he ran Virgin Holidays.
Virgin Atlantic chief executive Shai Weiss said: "As the team prepares to launch under a Virgin brand, Mark's experience and insights from his time at Virgin Atlantic and Virgin Holidays will be invaluable."
Avianca Argentina halts flights
Avianca Argentina has suspended its operations after requesting to halt scheduled service for 90 days from 9 June 2019.
A statement from the ANAC said: "The request is based on the start of a process of restructuring the company with the re-engineering of the regular route plan and the company's business model."
The financially troubled carrier is owned by Synergy Group Corp, the same business which owns Avianca Brasil. On 24 May 2019, Brazil's National Agency of Civil Aviation suspended all of Avianca Brasil's operations at the airline's request.
SAA appoints interim CEO
Zuks Ramasia has been named the acting chief executive of South African Airways (SAA) following the departure of Vuyani Jarana. She was previously the carrier's general manager for operations.
"The board acknowledges the critical financial circumstances confronting the company and is in ongoing discussions with the Department of Public Enterprises, National Treasury, and financial institutions with respect to putting in place a financial structure appropriate to supporting the long-term sustainability of the company," SAA said in a statement.