Paris 2019: Qantas eyes longer narrow-body routes after Airbus deal
Australian flag carrier Qantas said its order for up to 36 Airbus A321XLR aircraft "changes the economics of lots of potential routes into Asia".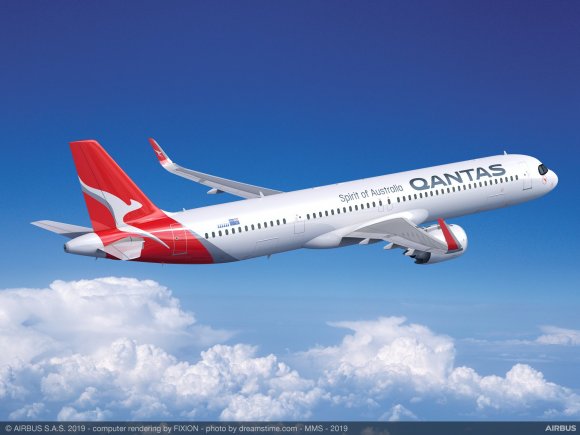 Qantas has become the latest airline to order the newly launched Airbus A321XLR, which will enable the airline to fly much longer routes than its current fleet of narrow-bodies.
The Australian flag carrier is converting 26 of its existing A321neo orders to the longer-range variant and placing ten new orders. This means the airline now has 109 A320 Family aircraft on order.
Qantas Group chief executive Alan Joyce said: "We already know the A320 is a great aircraft and this new variant can fly further and more efficiently than any other single aisle jet on the market.
"It can fly routes like Cairns-Tokyo or Melbourne-Singapore, which existing narrow-bodies can't, and that changes the economics of lots of potential routes into Asia to make them not just physically possible but financially attractive."
The A321 XLR has a range of around 8,700 km, which is 15 per cent longer than the A321LR. Depending on cabin configuration it can carry up to 244 passengers.
Its ability to fly longer distances means it can be used to open up new destinations or replace wide-body aircraft on existing routes, improving overall economics.
Qantas said delivery of the A321XLR will be from the 2024 financial year onwards and a decision will be taken closer to the time about whether they will be deployed by Qantas or Jetstar.
"We'll also take a view on whether they are used to replace older aircraft or whether they are used for growth, which will depend on what's happening in the market," added Joyce.
As announced in early 2018, the first deliveries from the Group's A320 Family order will begin with 18 A321LR aircraft for Jetstar, arriving between mid-2020 and mid-2022. These will operate a mix of domestic and international routes.