Eurowings to end long-haul routes
Eurowings is to refocus its network away from long-haul markets to concentrate on short-haul European routes from its core bases in Germany.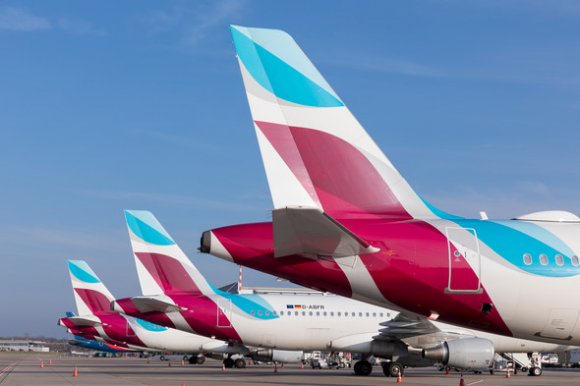 Lufthansa's low-cost unit Eurowings will exit the long-haul market and focus on European short-haul point-to-point operations as part of a strategy to return to profit "as swiftly as possible".
The turnaround plan was unveiled by Thorsten Dirks, chief executive of Eurowings, at Lufthansa's capital markets day. It follows a profit warning issued on 16 June 2019, when the group downgraded its expected margins for 2019 amid intense competition from low-cost carriers in Europe.
In a presentation to investors, Dirks outlined that Eurowings would end all long-haul routes by the end of 2020 at the latest, with services to be transferred to other network carriers in the group.
In addition, the airline will seek to grow in its core markets of Dusseldorf, Cologne/Bonn, Hamburg and Stuttgart, while at the same time closing unprofitable smaller bases and cutting unprofitable routes.
Eurowings' structure will be simplified to one air operator's certificate in Germany, compared with four currently, while its fleet will consist only A320 family aircraft. The planned integration process with sister airline Brussels Airlines will also not go ahead.
Lufthansa added that growth in the coming years would be modest. Capacity has been frozen this year and Eurowings' compound annual growth rate (CAGR) will not exceed 1 percent over the next three years at least. This follows CAGR of 19 percent from 2015 to 2018.
According to OAG Schedules Analyser, Eurowings' capacity in summer 2019 season will be 23.1 million available seats, down by 4 percent compared with summer 2018. Overall capacity for the year will be flat at about 36.7 million seats.
Carsten Spohr, chairman and chief executive of Lufthansa, described the moves as "concrete actions" to "enhance our efficiency and generate value for our shareholders". He hopes Eurowings will achieve a 15 percent reduction in unit costs by 2022.
Eurowings launched its first long-haul routes from Cologne/Bonn in November 2015, then operated by SunExpress Germany.
In April 2018 it opened its first long-haul route from Munich and in winter 2018-19 switched its long-haul operations from Cologne/Bonn to Düsseldorf to fill a gap left by Air Berlin. In March 2019, the carrier announced plans to move a large part of its long-haul network to Frankfurt from Düsseldorf for the winter 2019-20 schedule.
For the w/c 24 June 2019, Eurowings' long-haul network makes up for about 2.7 percent of its total available capacity.