Bulletin board: aviation industry news round-up
This week: Finnair adds Beijing Daxing; Turkish Airlines to open new Nigeria link; EVA Air takes delivery of first 787-10 and more.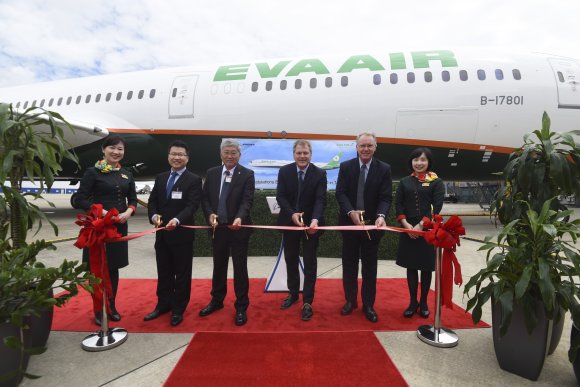 A round-up of news from the aviation industry this week.
Finnair adds Beijing Daxing
Finnair is adding capacity to Beijing with three weekly flights to the new Beijing Daxing International Airport, which opens for operation by 30 September 2019.
The airline will operate to Beijing International Daxing Airport on Mondays, Wednesdays and Sundays as of 3 November with Airbus A330 aircraft. The new frequencies are in addition to Finnair's daily flights to Beijing Capital Airport.
"With the new flights, we are proud to offer even better connections between Beijing and our 100 destinations in Europe," said Ole Orvér, chief commercial officer, Finnair. "Our aim is to continue to grow our presence in China. The new Beijing Daxing International Airport will become a key hub for international travel to and from China and will serve our customers well."
American to new Jamaica and Costa Rica routes
American Airlines is continuing its growth in the Caribbean and Latin American by opening three new routes from New York's John F Kennedy International Airport beginning in November.
On 21 November, the airline will launch daily service from JFK to Montego Bay, Jamaica, and San Jose, Costa Rica. Saturday-only service to Liberia, Costa Rica, follows starting 21 December. All flights will be operated on a Boeing 737-800.
Turkish Airlines to open new Nigeria link
Port Harcourt in Nigeria is the latest destination to be added to Turkish Airlines' network. The airline will operate four-weekly flights between Istanbul and Port Harcourt.
"With Port Harcourt as our fourth destination in Nigeria, Turkish Airlines continues to be the bridge between cultures," said Kerem Sarp, Turkish Airlines' senior vice president of sales.
Port Harcourt will become the carrier's 56th destination in Africa. It already flies to Lagos, Kano and Abuja in Nigeria.
EVA Air takes delivery of first 787-10
Taiwan's EVA Air has taken delivery of its first Boeing 787-10 Dreamliner. The carrier is adding 24 Dreamliners to its fleet, including the four 787-9s it has taken delivery of in the past few months and is currently operating.
Following this first 787-10, the carrier will take delivery of three more and by the end of 2019. EVA Air will complete its Dreamliner deliveries by 2022.
The airline will introduce the new aircraft on its busy Taipei – Hong Kong route starting from 28 June and a short time later, extend the aircraft's operations to Japan and more destinations in mainland China.
EVA Air will begin flying 787-10s to Brisbane, Australia in the fourth quarter of 2019.The airline is using its 787-9s on its Tokyo, Osaka, Nagoya, Hong Kong and Vienna routes.
EVA Air plans to begin Dreamliner service to Vancouver in the first quarter of 2020.
US-UAE affirm open skies deal
The US and United Arab Emirates (UAE) have reaffirmed their support for the existing US-UAE air transport agreement.
A joint statement said the two countries "shared and ongoing commitment of the United States and the United Arab Emirates to fully maintain all aspects of their open skies relationship".
The statement, issued on 24 June, came out of the sixth US-UAE Economic Policy Dialogue held in Washington DC.
Great Dane Airlines lands at Edinburgh
Edinburgh Airport has today (27 June 2019) welcomed its ninth new destination during the summer 2019 season, as well as a new carrier.
Great Dane Airlines has started a twice-weekly service from Aalborg in Denmark, operating on Mondays and Thursdays. Aalborg becomes the third Danish route offered from Edinburgh.
Great Dane Airlines founder and chief executive Thomas Hugo Møller said: "The Danes have always loved travelling to the UK, for its history, sport and culture which made the Scottish capital an obvious choice, along with Dublin and Nice, for our first scheduled services.
"Edinburgh also fits into our strategy of flying to popular destinations from Aalborg which have in the past been too thin to support profitable narrow body operations."