Revived Uganda Airlines set to launch first routes
Uganda's new flag carrier has been awarded an air operator's certificate, paving the way for commercial service to begin in August.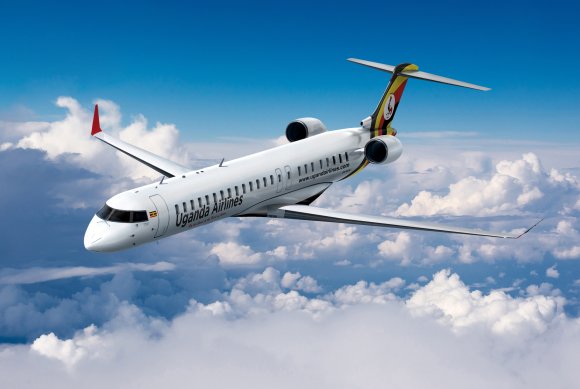 Start-up Uganda Airlines will open its first routes before the end of August after being cleared to fly by the Uganda Civil Aviation Authority (CAA).
The state-owned carrier has been awarded an air operator's certificate (AOC), which was officially handed over at the company's annual meeting on 29 July 2019.
The first routes from Entebbe International Airport are earmarked to begin on 28 August. Commercial director Jennifer Bamuturaki said the first phase would link Entebbe with Nairobi, Dar-es Salaam, Mogadishu, Kilimanjaro, Mombasa, Bujumbura and Juba.
"Then we have many more routes that we're going to do in the second phase," she added. They include service to Kigali, Goma, Lusaka, Harare and Johannesburg.
Uganda Airlines currently has two Bombardier CRJ-900 aircraft in its fleet, with two more due to arrive in September. They will operate in a two-class, 76-seat configuration, with 12 business class and 64 economy seats.
It also has two Airbus A330-800neos on order, which it intends to use to build its international long-haul network. The aircraft will feature a three-class cabin layout comprising 20 business, 28 premium economy and 213 economy seats.
Uganda has been without a national airline since a previous incarnation of Uganda Airlines collapsed in 2001. Meanwhile, privately owned Air Uganda ceased operations five years ago.
The revival of the country's flag carrier forms part of president Yoweri Museveni's plans to grow the economic benefits from aviation and increase competition.
A 20-year investment masterplan was launched in 2014 that includes redeveloping Entebbe International Airport so it is capable of handling 7.5 million passengers in 2033. The airport handled 1.8 million in 2018, up 10.2 percent year-on-year.
To encourage route development, the CAA is offering carriers a suite of benefits, from advertising support to a 50 percent discount on landing costs on the seventh weekly flight in and out of Entebbe and helping them gain fifth freedom rights where applicable.
According to figures provided by OAG Schedules Analyser (for w/c 29 July 2019), Ethiopian Airlines is the largest carrier in Uganda's market with a 16.1 percent share of all departure seats. Kenya Airways is second with a 14.9 percent share and Emirates is third with 11.6 percent.
Uganda Airlines is just one of the airlines which has already confirmed its attendance at Routes Africa 2019, taking place from 8 - 10 December in Mombasa, Kenya.