Bulletin board: aviation industry news round-up
This week: BA takes delivery of first A350; Ryanair traffic grows 11 percent; Air Canada removes Max flights until 2020; short-haul challenges hit Lufthansa and more.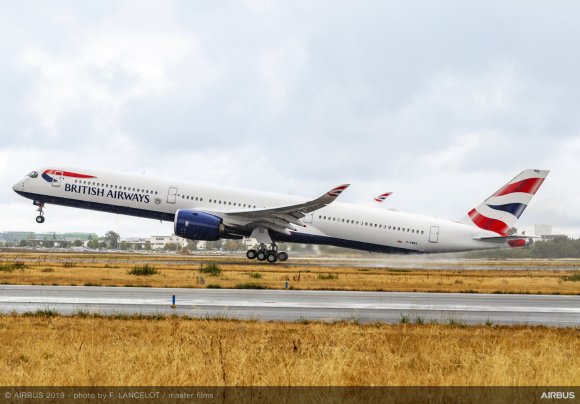 A round-up of news from the aviation industry this week.
BA takes delivery of first A350
IAG-owned British Airways has taken delivery of its first Airbus A350 aircraft, featuring the airline's newest generation business class seat known as Club Suite. The carrier will take delivery of 18 A350s, with four of the new aircraft joining the fleet before the end of the year.
The newly-branded Club Suite offers direct-aisle access, a suite door and flat-bed seats in a 1-2-1 configuration.
The first A350 aircraft will start with some short-haul flying between London and Madrid this month followed by Dubai in September. Toronto, Tel Aviv and Bangalore will follow before the end of the year.
During this period another three A350 aircraft will join the British Airways fleet and two Boeing 777 aircraft will also be retrofitted with the new cabin.
Meanwhile Aer Lingus, which is also owned by IAG, has this week taken delivery of its first A321LR. The Dublin-based carrier will deploy the aircraft, on lease from Air Lease Corporation, on transatlantic routes.
Ryanair traffic up 11 percent
Ryanair's traffic grew by 11 percent to 42 million passengers during the first quarter of its financial year to 30 June 2019. The European low-cost carrier said its weakest markets were Germany and the UK, blaming excess supply in the German market and Brexit concerns.
Overall revenues rose 11 percent to €2.08bn during the quarter, but profits fell by 21 percent to €243m due to "lower fares, higher fuel and staff costs".
Looking ahead, passenger numbers are expected to grow by 7 percent to more than 152 million for the year to 31 March 2020, slightly less than the 153 million previously forecast.
Short-haul challenges hit Lufthansa
Lufthansa has said it enjoyed "a continuing strong performance" in its long-haul business in the first half of 2019, particularly on its key North American and Asian routes.
However, on short-haul routes in Europe, the price war in Germany and Austria in particular had a negative impact on earnings.
"Our earnings are feeling the effects of tough competition in Europe and sizeable overcapacities, especially on our short-haul routes out of Germany and Austria," said Ulrik Svensson, chief financial officer of Deutsche Lufthansa.
"We are responding to this by further reducing our costs and increasing our flexibility. And with the turnaround plan which we recently presented, we also intend to make Eurowings a sustainably profitable airline."
In the second quarter of its financial year, group revenues rose by 4 percent to €9.6bn but net profit dropped 70 percent to €226m as a result of higher fuel costs and a tax provision.
Scoot to add 16 A321neos
Scoot, the low-cost arm of Singapore Airlines, is to add 16 Airbus A321neos to its fleet, which includes the conversion of six A320neos on order. The remaining ten will be leased.
The A321neos will be deployed on medium-haul routes within six hours. Lee Lik Hsin, chief executive of Scoot, said: "The A321neos will inject growth possibilities to our network plans for 2020 and beyond, and it is indeed apt that we have named the first aircraft 'Wings of Change'.
"Customers will be greeted by our brand-new cabin interiors, with seat products they are already familiar with."
Air Canada removes Max flights until 2020
Air Canada will remove Boeing 737 Max flights from its schedule until "at least" early January 2020, the carrier has confirmed.
The carrier was operating 24 737 Max aircraft when they were grounded in March. Another 12 aircraft were to be delivered before 1 July followed by 14 more in the first half of 2020.
However, speaking on a call to analysts, deputy chief executive Michael Rousseau said its plans were now "in a complete state of flux".
"Given all with the uncertainty around timing of the return to service we have not hired pilots and cabin crews for the 12 aircraft not delivered in Q2 2019, nor are we planning to hire for the additional 14 scheduled to be delivered in the first half of 2020 until we have clarity," he said.
"As a result of this and other operational factors it will take up to a year from a time when the decision is made to reintegrate them into our fleet after the un-grounding for all 50 planes to fly."