Norwegian scales back transatlantic routes
Scandinavian carrier Norwegian is ending flights between Ireland and North America from September, blaming the grounding of the Boeing 737 Max for making the routes "no longer commercially viable".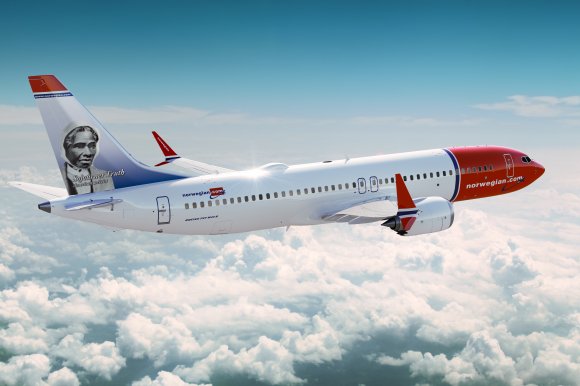 Budget airline Norwegian is discontinuing all of its transatlantic services from Ireland from mid-September as part of plans to curb its capacity growth and cut costs.
The low-cost carrier will cease all flying from Dublin, Cork and Shannon to the US and Canada from 15 September 2019. It blamed the global grounding of the Boeing 737 Max for the decision. Boeing's 737 Max fleet was grounded after two fatal crashes; the first a Lion Air flight in October 2018 and the second an Ethiopian Airlines flight in March this year.
"Since March, we have tirelessly sought to minimise the impact on our customers by hiring, so called wet-leasing, replacement aircraft to operate services between North America and Ireland," said Matthew Wood, senior vice president commercial long-haul and new markets at Norwegian.
"As the airline moves from growth to profitability, we have conducted a comprehensive review of our transatlantic operations between North America and Ireland and concluded that these routes are no longer commercially viable considering the circumstances."
Norwegian operated its first transatlantic flight from Ireland in June 2016, flying between Cork and Boston. In expanded rapidly in 2017 and 2018, reaching a peak in May 2018 of almost 11,000 weekly two-way seats on its US services from Ireland.
Although the carrier last year ended transatlantic flights from Edinburgh and Belfast as part of a focus to cut costs, services from Dublin, Cork and Shannon continued.
However, following the 737 Max grounding in March, it stopped direct services to Cork and Shannon and rerouted passengers to Dublin out of both Providence and Stewart. Despite this, a new route was launched to Toronto Hamilton from Dublin during the same month.
Norwegian said the last flight from Providence and Stewart will now be on 14 September 2019, arriving in Dublin the next day, while the last flight from Hamilton will depart on 13 September.
The decision to axe all Ireland - North America flights will not affect its other long-haul services, operated by its Boeing 787 Dreamliner fleet. Norwegian currently operates 46 routes from the US to Europe this summer season.
The airline has been a disruptive force in the European aviation industry in recent years, adding large amounts of low-cost capacity and rapidly increasing the number of it routes operates, particularly to secondary US destinations.
However, earlier this year it announced plans to concentrate on reducing costs, optimising its route structure and divesting aircraft in an effort to become profitable.
In July, founder Bjørn Kjos stepped down as chief executive, taking a new role as adviser to chairman Niels Smedegaard. Chief financial officer Geir Karlsen has assumed the CEO duties until a permanent successor is found.
The decision to end transatlantic service from Dublin comes after the airport enjoyed the busiest month in its 79-year history in July 2019. Almost 3.5 million passengers travelled through the airport, a rise of 4 percent on the same month in 2018.
The number of passengers travelling to and from continental Europe increased by 5 percent, while UK traffic rose 2 percent. Transatlantic traffic increased by 5 percent, with more than 484,000 passengers travelling between Dublin and North America last month.