Bulletin board: aviation industry news round-up
This week: Just-Us seeks US flights; AirAsia X takes first A330neo; Brexit ends TAP Portugal London City services; Flydubai expands Asia network and more.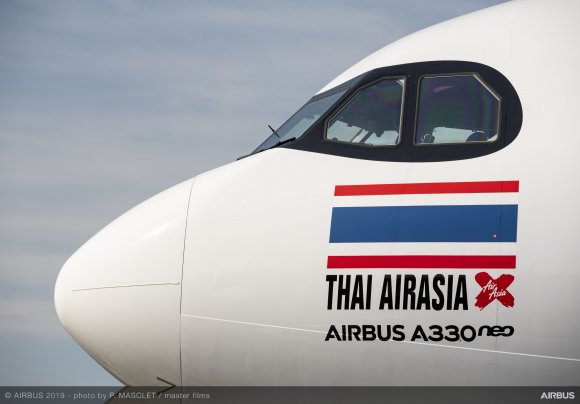 A round-up of news from the aviation industry this week.
Cathay Pacific CEO steps down
Rupert Hogg, the CEO of Cathay Pacific, has stepped down after the airline became embroiled in the Hong Kong protests taking place in recent weeks.
Just-Us seeks US flights
Romanian carrier Just-Us Air has submitted application to the US Department of Transportation to begin service to the US.
A document submitted to the department said the airline is seeking "a foreign air carrier permit to conduct foreign charter and scheduled air transportation of persons, property, and mail, between a point or points in member states of the European Union, and a point or points in the United States".
The airline has not specified what routes it hopes to fly.
Just-Us was founded in 2017 and is based in Romania's capital Bucharest. It currently has a fleet of three aircraft, comprising one A319, one A320 and one A321.
TAP Portugal ends London City services
TAP Portugal will suspend its Lisbon and Porto routes at London City airport at the end of October, blaming uncertainty caused by Britain's exit from the European Union.
Its Lisbon route, launched in October 2017, and Porto route, launched in March 2018, will cease operating from 27 October 2019.
"Due to uncertainties in customer demand associated with Brexit and the lower than expected results in that market, TAP decided to suspend the operation in London City airport," said the airline in a statement.
TAP flies twice a day between London City and Lisbon on weekdays, and once a day at weekends. Its Porto service operates daily, excluding Saturdays.
Flydubai expands Asia network
Dubai-based flydubai has announced the launch of flights to Krabi in Thailand and Yangon in Myanmar, expanding its network to Southeast Asia.
The new daily flights are codeshared with Emirates and will operate from Terminal 3 at Dubai International (DXB) starting from 10 December 2019.
Krabi International Airport (KBV) serves as a gateway to Krabi province in southern Thailand and neighbouring regions like Malaysia and Singapore.
With the launch of the daily service, which is operated via a stop in Yangon in Myanmar, flydubai becomes the first UAE national carrier to offer flights to Krabi.
Chief executive Ghaith Al Ghaith said: "Over the past ten years we have remained committed to opening up underserved markets, enabling millions of passengers to travel with more ease from as far as Helsinki in the west to Krabi in the east via Dubai's aviation hub."
AirAsia X takes first A330neo
AirAsia has taken delivery of its first A330neo aircraft, to be operated by its long-haul affiliate AirAsia X Thailand. The aircraft was delivered via lessor Avolon and is the first of two A330neos set to join the airline's fleet by the end of the year
The AirAsia X Thailand A330-900 features 377 seats in a two-class configuration, comprising 12 premium flatbeds and 365 economy class seats.
The new-generation A330neo will be based at Bangkok's Don Mueang International Airport, supporting the airline's growth and network expansion plans to key markets such as Australia, Japan and South Korea.
AirAsia's long-haul affiliate, AirAsia X, currently operates 36 A330-300 aircraft and is the largest customer for the A330neo with 66 on firm order.
Ethiopian adds new African point
Ethiopian Airlines is expanding its Africa network with a three-weekly service to the city of Beira in central Mozambique via Malawi.
The route from Addis Ababa will launch on 3 September 2019 on Tuesdays, Thursdays and Saturdays.
Beira is the fourth largest and one of the main commercial cities in Mozambique and will serve as a gateway to most of the countries in Central Africa.
Ethiopian chief executive Tewolde GebreMariam said: "Covering the largest network in Africa and connecting major world trading cities across our global network, we have been filling the connectivity vacuum in the continent not only with primary cities in countries but also with secondary and tertiary cities and towns."
He added: "Supporting our main hub in Maputo, Beira will serve as our hub in central Mozambique directly connecting passengers to our global hub in Addis Ababa for further connections to various parts of the world."