Philadelphia offers a "huge area of opportunity" for American Airlines to expand its transatlantic network, according to Vasu Raja, the airline's vice president of network and schedule planning.
The US carrier this month confirmed plans to increase transatlantic service to Dubrovnik and Berlin Tegel during the summer 2020 season, as well as shifting its Dallas/Ft. Worth – Reykjavik flights to Philadelphia.
Dubrovnik will increase from three-weekly to daily, while Berlin Tegel will rise to daily from four-weekly, both operated by Boeing 767-300ER. The Reykjavik flight, operated by Boeing 757, will also be daily.
In addition, the Oneworld member will launch a three-weekly service between Philadelphia and Casablanca from 4 June 2020 on board Boeing 757 aircraft. However, its route to Bologna in Italy will not return.
When American Airlines and US Airways completed their merger less than six years ago, there was much scepticism cast on Philadelphia's stature as an international hub given its relatively close proximity to New York JFK.
However, Raja said Philadelphia offers American the opportunity to "take a more rapid approach to route development" by trying new untested international markets.
"We can connect 95 percent of the United States over Philadelphia and none of our competitors' operations in New York or elsewhere in the north-east can do anything really remotely close to that," he said.
"But best of all, we do it at a cost that's maybe 80 percent of what our competitors are in New York. So what that means is that we can go and try things from Philadelphia on a really low cost base."
Raja pointed to the success of its flights between Philadelphia and Prague, which started in May 2018 using Boeing 767-300 aircraft before being upgauged earlier this year to an Airbus A330-200. He added that American has been able to use Philadelphia as a testbed to assess demand, with the more successful routes then opened from Chicago.
"Barcelona, Venice, Athens, Prague, Dubrovnik, Prague, and Budapest - all of those started in Philadelphia," he said. "We realised they could also work in Chicago given where the traffic was coming from."
American's Philadelphia - Europe network (summer 2019):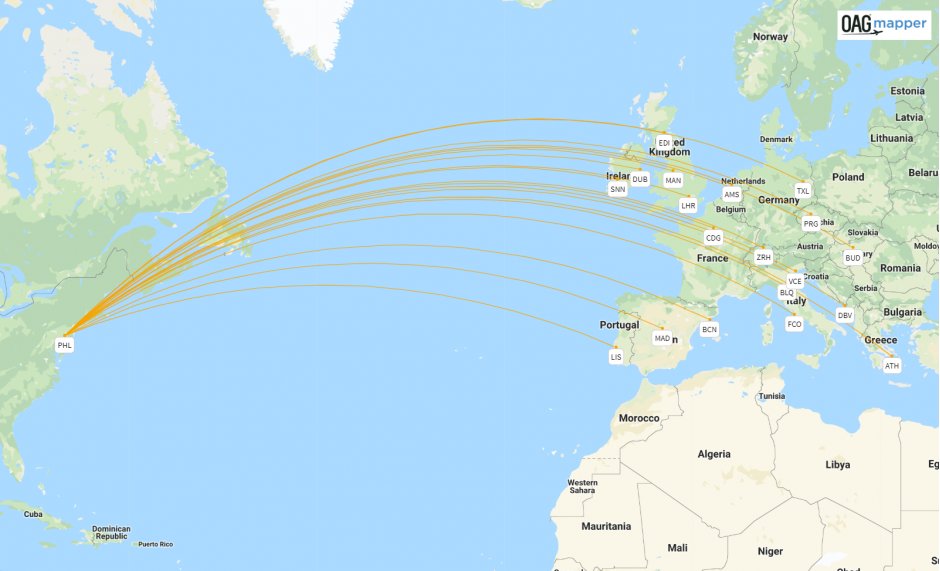 Speaking to American Airlines' in-house podcast Tell Me Why, Raja explained that the carrier's transatlantic joint business with British Airways, Iberia and Finnair has been essential to this international growth.
"Every year since the transatlantic joint venture started, we've grown and will continue to grow. We are buying wide bodies on the strength of it," he said.
"We started serving Dubrovnik and Prague and Budapest before we were there, because we were able to build schedules with British Airways and Iberia and Finnair that enabled us to go and serve it, price it and sell it. And so it made it very logical for us to go and fly non-stop."
Raja added: "This is why we are so enamoured of being able to broaden our joint ventures to the South Pacific and Latin America. By doing these things, we create customer choices that would not have existed without it, flying to markets that our predecessor companies could not have even dreamed of doing."