Q&A: Why Singapore Airlines is upgauging its Copenhagen route
Two years after celebrating the 40th anniversary of its service to Copenhagen, Singapore Airlines is set to add more frequencies and introduce a new aircraft on the route. Routesonline spoke to Erwin Widjaja, general manager for Singapore Airlines in the Nordics region, to find out more about the changes.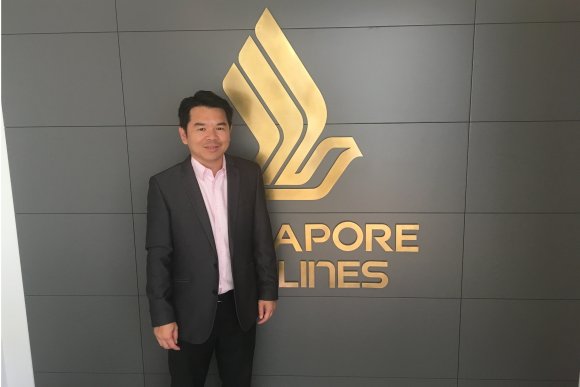 From 28 October 2019 Singapore Airlines will replace the Boeing 777-300ER that is currently operating its Singapore - Copenhagen route with Airbus A350-900XWB aircraft, and from 5 January 2020 the number of weekly flights will rise from five to seven.
According to figures provided by Sabre Market Intelligence, about 120,000 passengers used the Copenhagen - Singapore route in 2018, an increase of 2.3 percent compared with the previous 12 months. With flights going daily, Singapore Airlines expects to reach approximately 164,000 passengers a year.
Erwin Widjaja, general manager for Singapore Airlines in the Nordics region, explains more.
Your link to Copenhagen has been operational for more than 40 years. Why has the route been such a mainstay of your network?
"Copenhagen – Singapore is a very important route for us because it connects our passengers in the Nordics to our vast network in Asia and Australasia. Likewise our passengers from there could also access the Nordics by flying on this route.
"Passenger numbers have gone from strength to strength over the years enabling us to increase flights and even allowing us to open another gateway from Stockholm.
"This route is also very important for businesses as the number of Nordic companies in Asia/Australasia have increased tremendously and likewise the reverse."
You recently confirmed that SIN – CPH will be operated by A350-900XWB and increase from five-weekly to daily. Why did you make these decisions?
"We welcome the change of aircraft to A350 as it is one of the most technologically advanced aircraft in the world right now. It is also friendlier for the environment as it saves up to 25 percent more fuel and offer customers an improved travelling experience with features such as higher ceilings, larger windows, an extra wide body and lighting designed to reduce jetlag.
"The A350 will be configured with 42 business class, 24 premium economy class seats and 187 economy class seats, which is very generous and comfortable layout in terms of space. And personally, what I like about the A350 is that the engines are so quiet that makes the journey more comfortable."
"The increase from five-weekly to daily will be very good for business people as they have a wider choice of days they can choose from. In addition, for leisure travellers and tour operators, this will allow them the freedom to tailor their holidays to any number of days they want."
How important is your codeshare with SAS?
"Since its inception in 2013, our joint venture (JV) partnership with SAS has become closer and stronger, which led to the addition of the Stockholm – Singapore route into the JV in May 2017.
"SAS, with its vast network in the Nordics and North Europe and us, with our extensive network in Asia and Australasia, make a perfect fit as both of our airlines' passengers can access our combined network.
"In addition, as both of our airlines are Star Alliance members, which allow accruing and redeeming of miles, Eurobonus members in the Nordics can get their miles when flying on Singapore Airlines and also in redeeming Singapore Airlines' flights."
What makes a good airport partner for Singapore Airlines?
"The airport experience is a very important part of the passenger's overall journey. A good airport partner is one that listens and work closely with airlines to resolve issues and improve customers' experience.
"We are very pleased that we have a very good working relationship with CPH Airport. We have regular dialogues with them and they are always proactive in trying to resolve issues.
"We also welcome their expansion plans so that it can increase its capacity further. This will be a boost to Denmark, South Sweden and in fact to the Nordics region as CPH is a very important hub."
READ MORE:
How Copenhagen's joined-up tourism approach is paying dividends
Copenhagen CEO outlines connecting hub ambitions
Infographic: Copenhagen Airport in numbers
Copenhagen's top unserved routes in profile