Will Qantas make the century-old London-Sydney dream a reality?
100 years after the first Australia to UK flight, what impact would a direct London-Sydney flight have on Qantas' network?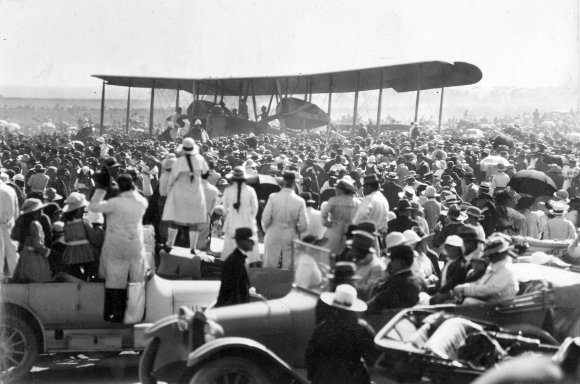 In August it emerged that Qantas is set to undertake research flights into the viability of non-stop routes from London to Sydney, a moved described by CEO Alan Joyce as "truly the final frontier in aviation".
The 19-hour flights made in a Boeing 787-9 will help to inform the carrier whether Project Sunrise is economically viable, with Qantas set to make a conclusion before the end of the year.
Whatever the outcome, it's an odd twist of history that this decision will be made 100 years after the first intrepid explorers flew from the UK to Australia.
In 1919 when the Australian government offered A£10,000 for the first Australians in a British aircraft to complete the journey, six hardy teams signed up in a bid to make history.
Two crews died in the attempt and another two crashed out, but Ross and Keith Smith, sons of World Routes 2019 host Adelaide, won out in a converted Vickers Vimy bomber. The aircraft used is actually still available to for the public to view at Adelaide Airport.
The total flight distance was estimated as 17,911 km and total flying time was 135 hours 55 minutes.
It was almost four decades after the brave souls made the maiden voyage until Qantas launched the 'Kangaroo Route', a seven-stop expedition from London to the other side of the globe.
The Kangaroo Route
| | | |
| --- | --- | --- |
| | 1947 | 2018 |
| Stops | 7 | 0 |
| Aircraft | Lockheed Constellation | Boeing 787-9 Dreamliner |
| Ticket price | £525 (or AU$35,000 adjusted for inflation) | AU$1,300 |
| Passengers | 29 | 236 |
| Crew | 3 pilots, 1 navigator, 1 radio operator, 2 flight engineers, 3 cabin crew | 4 pilots, 12 cabin crew |
| Menu | Grapefruit and pineapple cocktail and seafood salad | Seared Cone Bay Barramundi with herb garlic potatoes, broccolini, lemon, olive and almond salsa |
However whether Qantas – which itself celebrates a centenary next year – chooses to make the dream of 100 years ago a reality will be made on hard numbers, not sentiment.
As Joyce asserts "ultimately a business decision and the economics have to stack up".
How will the market respond?
Firstly, Sabre data shows that while Qantas has a strong market share between London and Sydney, it is by no means the lion's share.
London to Sydney
Market share for Qantas was 13.78 percent on the route in 2018, which is down significantly from the 24.19 percent it enjoyed in 2010.
British Airways has remained broadly consistent in this time as could be expected, but it's the Gulf carriers which have grown most. Qatar is particularly noteworthy, taking more than 7 percent of the market share from a standing start.
Moving in the other direction, Virgin Atlantic's 7.1 percent market in 2010, which actually peaked at 12.85 percent in 2012, has been reduced significantly.
Considering the total London-Sydney market is now more than 270,000 passengers a year, up from just north of 215,000 at the start of the decade, the opportunity is significant for anyone who could put a non-stop on the route.
To look at how much market share a non-stop route might expect to attract, let's look at a similar market in London-Perth and see how that's changed since direct services were launched.
As the below shows, Qantas' market share grew considerably when it launched the non-stop service in 2018 to capture 21.67 percent of the market.
London to Perth
Celebrating one year of the route's launch, Joyce said that "almost every flight is full and it turned a profit almost immediately, which is rare for new services because they have start-up costs and it normally takes time to build demand".
"There were a lot of expectations around this flight, both within Qantas and the broader community, and frankly it's exceeded them.
"A year of operating this route shows that a hub in WA connecting Australia to the world works really well. We have people coming from the east coast to join the flight and it's made it a lot easier for people in Europe to visit Australia."
Using this as a benchmark, the opportunities for a direct London to Sydney route could be considerable. Assuming, of course, that passengers are willing to fly the 19 hours non-stop, which is far from certain.
How would it affect London to Perth?
When it comes to economic viability, Qantas will also be reluctant to jeopardise the success of the new London-Perth connection, which becomes a possibility, along with its other networks in Europe.
London is Qantas' only European route, and landing in Perth offers direct access to 18 cities, 16 of which are within Australia.
OAG data shows that four of the top five cities the airline serves from Perth are on the eastern coast of Australia.
And taken from Sabre, we can see that a significant number of those passengers taking the non-stop service travel on to destinations closer to Sydney.
London-Perth beyond traffic
Qantas will have to carefully consider whether Project Sunrise could simply be creating one route with risks at the expense of a proven successful one.
There are very few routes in the world which could be economically viable for this sort of ultra-long haul flight, and launching it will be again pushing the boundaries for passenger experience.
Ultimately Qantas faces a tough decision. The airline has proudly been at the forefront of bringing together the UK and Australia, and 100 years on from the first intrepid explorers to make the journey, the eyes of history are waiting for their decision.