Bulletin board: aviation industry news round-up
This week: Relaunched Uganda Airlines takes to the skies; Air Canada to begin year-round Montreal-Toulouse; Holiday Europe launches and more.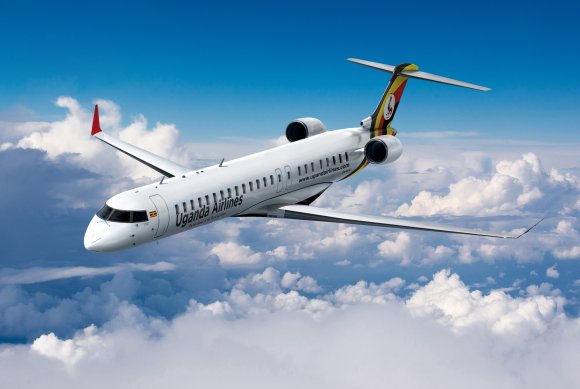 A round-up of news from the aviation industry this week.
Relaunched Uganda Airlines takes to the skies
Uganda Airlines has completed its maiden flight from Entebbe in Uganda to Nairobi in Kenya.
Uganda has been without a national airline since a previous incarnation of its flag carrier collapsed in 2001. Meanwhile, privately owned Air Uganda ceased operations five years ago.
Ephraim Bagenda, chief executive of Uganda Airlines, said: "Uganda Airlines is a world class airline that will exceed customer expectations through high quality service, global connectivity and commitment to excellence. Our staff is very highly qualified with nearly all of them being Ugandan nationals."
Uganda Airlines currently has two Bombardier CRJ-900 aircraft in its fleet, with two more due to arrive in October. They will operate in a two-class, 76-seat configuration, with 12 business class and 64 economy seats.
It also has two Airbus A330-800neos on order, which it intends to use to build its international long-haul network.
Air Canada to begin year-round Montreal-Toulouse
Air Canada is to introduce a year-round service between Montreal and Toulouse next summer, the cities home to Bombardier and Airbus respectively. The five-weekly flights will start on 4 June 2020 and be operated with Airbus A330-300.
"This service will create opportunities to accelerate synergies between two of the world's leading aerospace industry hubs," said Calin Rovinescu, president and chief executive of Air Canada.
"Combined with our recently announced non-stop flights between Montreal and Seattle, the world's other major aerospace hub, starting next year, we are helping solidify Quebec's position as a global player in the aerospace industry, which will help maintain and encourage the growth of high-skilled, high-paying jobs in the sector."
The route is Air Canada's sixth destination in France and represents further growth from its Montreal hub, where the airline has launched 35 new global routes since 2012.
Holiday Europe launches
Bulgaria-based airline Holiday Europe has completed its first flight, transporting 218 passengers from Antalya in Turkey to Nuremberg in Germany.
The carrier, which operates one 219-seat Airbus 321, plans to increase its fleet to seven Airbus aircraft by October.
A statement issued by the airline said in the long-term it hopes to launch charter flights to 50 cities.
Petko Christoff, chief executive of Holiday Europe, said: "Our European-based airline company started to perform flights in this month, and will offer service to millions of passengers in the field of touristic charter transportation operations as of the end of 2019."
Holiday Europe has agreements in place with Onur Air, which provides fleet, crew and technical support.
Malindo names new CEO
Malaysian-based Malindo Air has appointed Mushafiz Mustafa Bakri as its new chief executive, succeeding Chandran Rama Muthy from 23 September 2019.
Bakri joined Malindo Air in 2013 as a Boeing 737 pilot and is currently the director of safety, security and quality of sister company Thai Lion Air. Malindo said Muthy will take on a new role as group strategic director of Lion Air Group.
The group comprises five airlines: Lion Air, Batik Air, Wings Air, Malindo Air and Thai Lion Air.
Hawaiian's economic benefit revealed
Hawaiian Airlines generated the equivalent of $9.3bn in economic benefit for the state of Hawai'i and supported more than 60,000 jobs in 2018, according to an independent report.
The analysis by ICF, a global consulting services company, examined the most recent publicly available full-year data to assess Hawaiian's economic impact to its home state.
"Due to the State's unique geography, HA (Hawaiian Airlines) provides a service to Hawai'i that is unmatched anywhere else in the US and most of the world," the report concluded. "The regional economy would be severely stalled without the airline's inter-island, domestic and international flights."
The report, which was commissioned by the airline, noted that in addition to direct benefits derived from visitor and employee spending, the airline generates regional employment and revenue through spending on daily operations, capital investments, and indirect spending by visitors and passengers.